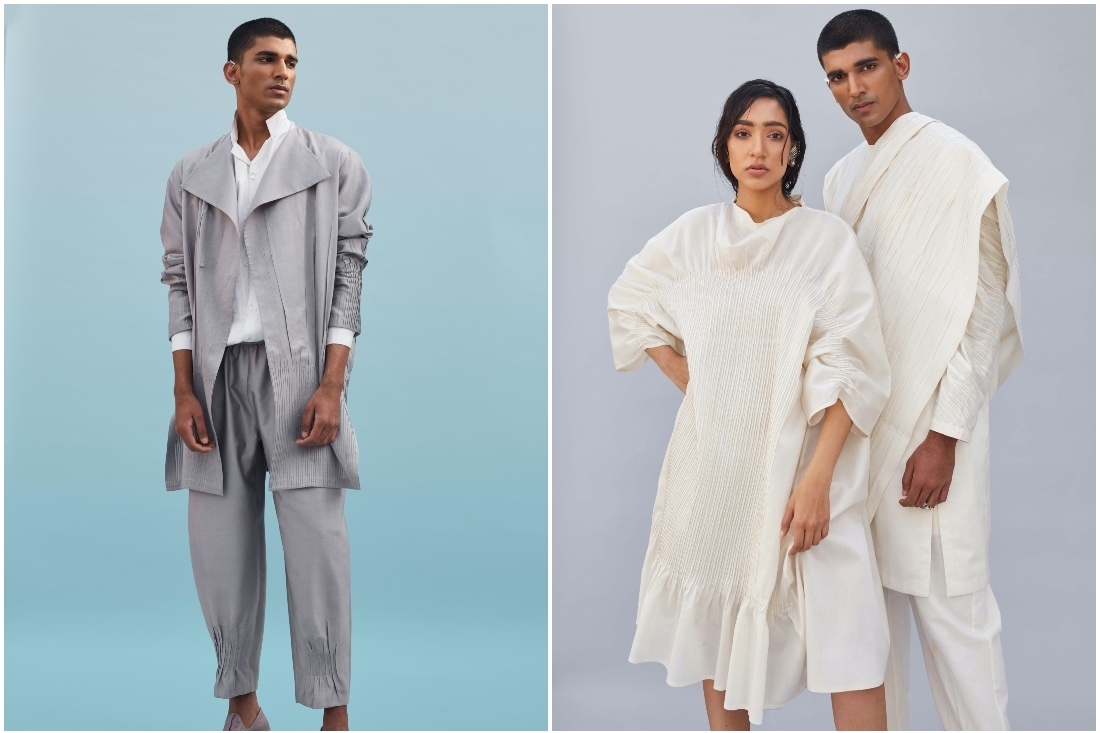 After a somber year that has just passed by, aren't we all longing for some sunshine, happiness and colour? Ujjawal Dubey of Antar-Agni believes we all deserve it. And to echo that, he is causing a stir with his new collection, Echoes. For this new collection, Ujjawal has not only experimented with new colours but also with a new kind of energy, by adding a new form to the clothes with pleats and gathers. The hidden message is to 'gather yourself and burst forth into life'. We got in touch with him to unravel more.
You've always stood for responsible, homegrown, gender fluid and powerful fashion. How challenging has it been to keep up and stay true to your ethos?
This is something that comes naturally to us. We do not create a certain type of clothing to fit in the brackets of gender fluidity/responsible et cetera. We create because that is what we connect to. Once there is a strong connection, creation comes easily.
What was the starting point of the new collection for you?
Just playing with pleats and gathers! We started experimenting with pleats last season with our collection Slate. We felt there was much more to explore so the play continues. This is a new element we have started working with and the possibilities are endless.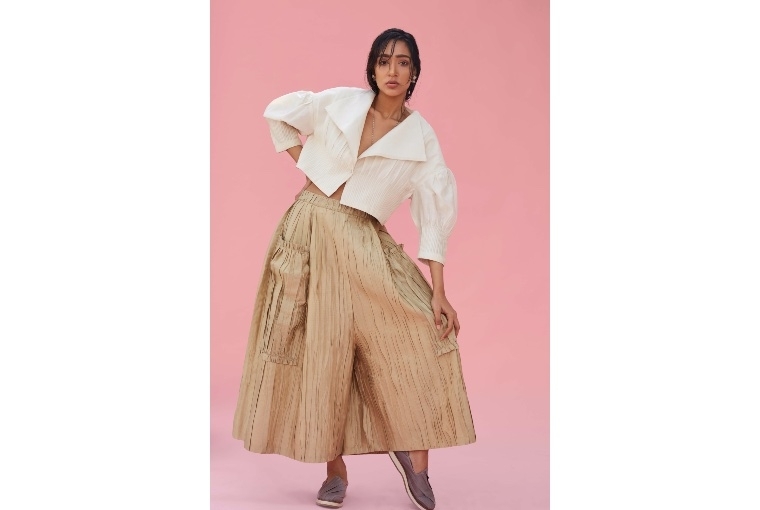 Tell us how the colour palette came to be?
We generally stick to our neutrals and deep hues. However, this year is asking for some happiness and sunshine and that is what we were also longing for, hence the colours. Celebrating the spirit of minimalism, coupled with maximalism, we decided to incorporate ivories, smoke, champagne and hits of blush pink in the collection made up of silks, cotton and cotton silks.
What inspired the pleats and gathers in this collection?
This is literally a new form, pleats/gathers, and hence the new energy. It was just our longing to break away and do something new that has the fluidity and structure that we always work with, and yet has a new twist.
Define the mood of the collection for us?
This collection takes the world we live in and the mood that seeps into our every day, with our feet firmly planted in reality. It's a collection of juxtapositions, with which I hope to bring fresh energy. The collection explores a new form of energy in way of pleats and gathers, while still echoing the nonchalant vibe of the brand. With a gathering of fabric to create silhouettes and shape, the hidden message is to gather yourself and burst forth into life. The silhouettes elevate this approach to design in bringing boxy grace, with a dramatic wink of irony.

Text Hansika Lohani Mehtani
Date 24-02-2021