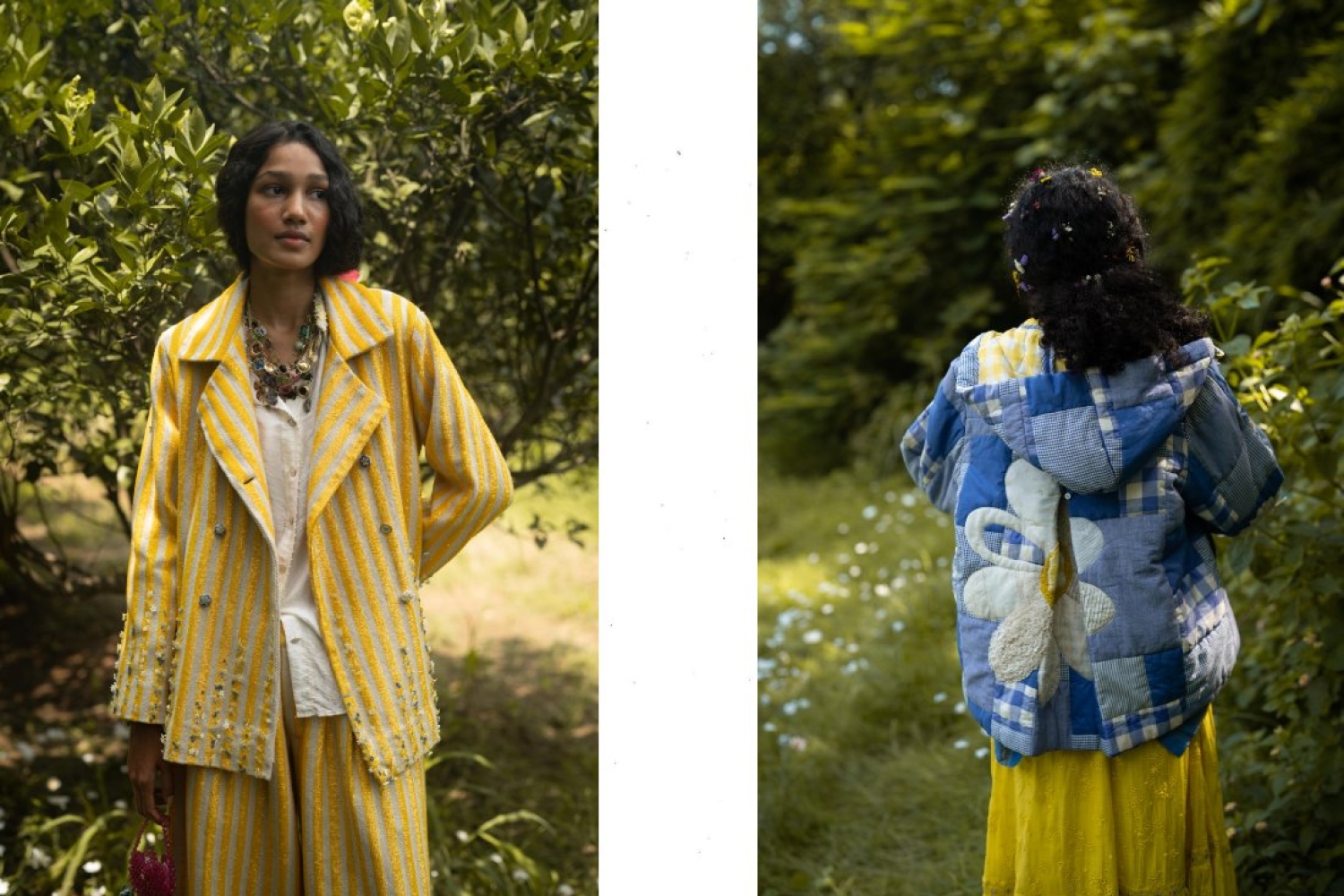 Forget Me, Forget Me Not
péro
A whimsical, dreamy patch of foliage filled with daisies and forget-me-nots. Such is péro's imaginative capacity for their recently launched Spring/Summer 2023 collection. A trip to a quirky, fantastical land through their signature crochet, laser cut fabrics, beadwork, stumpwork, patchwork, appliqué, cutwork, schiffli and more techniques with the use of the dainty daisies and delicate forget-me-nots. With the print surfaces for the season being developed using hand painted daisies and forget me bouquets tied with satin ribbons as well as disintegrating bunches, the collection and its colour palette lends a sense of calm and joy to the senses. We're in conversation with designer Aneeth Arora who lets us in on some of her initial thoughts, the creative collaboration for this season and more.
The Starting Point
Every season we give ourselves one thing to explore and research on before we begin the season and this season we decided on instinct to work with daisies and forget-me-nots. For the name we actually wanted to imitate the game that usually surrounds the daisies wherein one plucks the petals but since we also had forget-me-nots we avoided going with loves me, loves me not and we indulged in a little word play with forget me and forget me not. We felt that the name established both the flowers very well for this season.
The Creative Collaboration
The socks for this season have been made in collaboration with a brand in Italy and we've been partnering up with them since the past ten seasons at this point. What we do is we give them our designs, I personally call it upcycling and then for every season we do something different for them. Usually we collaborate on shoes but this season we can't particularly call it that. We procured these really interesting Korean shoes that we upcycled for the photoshoot. It is what I would call a silent collaboration since we bought and then further upcycled them according to the season's sensibilities.
The Mood Board
Like I mentioned, the initial thoughts included just daisies and forget-me-nots. The reason we chose these two flowers was because the stories that relate to these ones in particular are very romantic and we thought they had a connection that way. The initial mood board was only illustrations and uses of these flowers, the different ways in which they're engaged with in the mainstream. Be it children's poetry books, albums or greeting cards. There were also a lot of interpretations of daisies and forget-me-nots in that mood board.
The Future Plans
As a team we focus more on smaller goals, a five year plan comes later for us but we rather focus on our six month goals. We always give ourselves a season to start something new or add something new to the ongoing things that we have going on. We like to add two new things to our vocabulary every year. I personally believe more in slow but steady growth. Growth for us has always been organic, we've never pressured ourselves that in a set amount of time we need to reach a certain turnover or distribute in a certain number of countries. It has been a constant and steady effort and we've been bearing the fruits of it over the years. The future for us always means the next season, we work in advance like that. We're already looking towards Spring/Summer and Autumn/Winter 2024. It's almost two years in advance. Apart from that we already had a smaller launch of the home collection but we've also aggressively been working on a péro home collection which will only be more defined and bigger at Maison and Objet in the coming September.

Words Unnati Saini
Date 24-03-2023