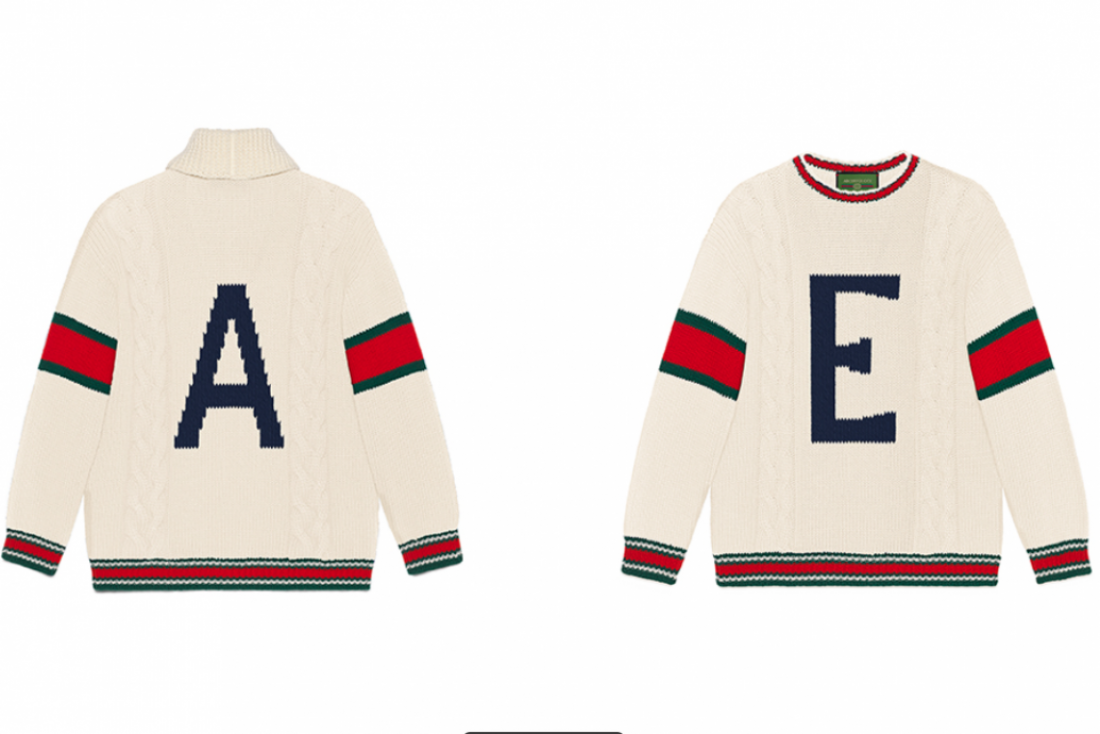 At the essence of Gucci's philosophy, the DIY – Do It Yourself – personalisation service is born from the idea of self-expression where customers are invited to create customized Gucci items that reflect their personalities. An engaging way of allowing customers to express themselves, the Gucci DIY programme includes identical pieces for men and women, men's tailoring, sneakers, and signature bag styles of the House, including the Dionysus, Sylvie and Ophidia. The offer is now expanded to knits, their styles interchangeable for men or women, and women's outerwear, knits and tailoring.

The knitwear in the new DIY package comes in four base colours (green, blue, red and white), and the personalized detail is large letters that are intarsia-knitted into the garments. This makes them unique, as the customized decoration is incorporated into the knitted body, rather than being appliquéd through the use of patches. There are three styles interchangeable for men or women, all in 100% wool 3-gauge cable knit: a crew neck, a shawl collar bomber and a button-through cardigan. All styles feature stripes around the bottom, on the cuffs and on the sleeves, that reference the House Web stripe. On the crew neck the large letter is displayed on the front, while on the cardigan and the bomber, it appears on the back.

These knitted pieces come in specially designed packaging, decorated with "ABCDEFGUCCI". The garment labels show this playful reference to the alphabet in gold text on a green background, with the interlocking GG motif, also in gold, and the blue-red-blue House Web stripe. These elements also characterise the packaging for the collection, comprising decorative cream boxes with black edging.
To celebrate the new Gucci DIY knits, six artists have recreated the styles inside works published on Gucci's social media accounts and on gucci.com. The original works include Angela Deane's friendly ghosts wearing the sweaters painted on top of winter scenes, Isabella Cotier's portrait style illustrations, and artist and illustrator Marc Burkhardt's richly detailed creations featuring a gorilla and a tiger with the knits. The collaboration follows an initiative earlier this year involving 12 artists and talents who interpreted the customizable Ophidia tote and Ace sneakers in works that connected their artistic style and individuality.
Gucci DIY's new programme also includes exclusive women's made to order pieces designed to be customized with initial patches. Leather jackets–a biker and bomber style–are also available as made-to-measure items and customers can lengthen or shorten the sleeves and jacket length. These leather statement pieces feature metal studs, rhinestones and multi-coloured hand-painted flowers, and can have a letter applied as a patch in gold thread on the chest (the bomber), or in red or gold thread on the left arm (the biker). Another biker jacket style, in black and white shiny, grainy leather, with hand painted dogs and multi-coloured rhinestones, is lined with a printed floral pattern on a cotton-linen fabric. This style reveals a large letter in either white or red thread, adorned with flowers, on its left arm.
Chunky cardigans with intarsia floral designs can have letters adorned with flowers hand-embroidered onto the garment. Lined, belted robes in either washed silk-satin or matt marocain, with all-over multi-coloured floral embroidery and contrast white piping, also feature a letter with floral decoration as a hand-embroidered addition on the centre back (the silk-satin model) or the breast pocket (the marocain). A letter with floral decoration can be hand-embroidered onto the breast pocket of a wool-mohair tailored jacket with matching flared trousers. A black and white tweed jacket with blue and red grosgrain trim and gold tiger head buttons, and matching skirt, is designed to feature a patch on its breast pocket made up of two small letters and a small bow—all embroidered with pearls and applied by hand.
A light tweed cardigan and matching skirt in hibiscus red or gardenia, with a blue-red-blue grosgrain House Web detail, can have a large letter in dark blue thread hand appliquéd to its upper left side. And finally, an ivory-base silver-sequinned tweed jacket with tiger-head buttons and black velvet edges and details, with a matching skirt, is adorned with a single letter patch in black micro sequins that can be hand-applied to the upper left side, above the pocket.
The ready-to-wear menswear DIY selection is also expanding to include new designs of decorated sweatshirts, hoodies, tailored jackets, bomber jackets (in silk duchesse or leather), and black stone-washed denim jackets. All can be customised with patches featuring initials, and a choice of linings (some plain, some patterned).
A special augmented reality app available in a select number of Gucci stores worldwide, and a sophisticated product configurator on gucci.com allow customers to imagine what their chosen Gucci DIY item will look like with their own design. The new Gucci DIY Collection is available on gucci.com and selected Gucci stores.