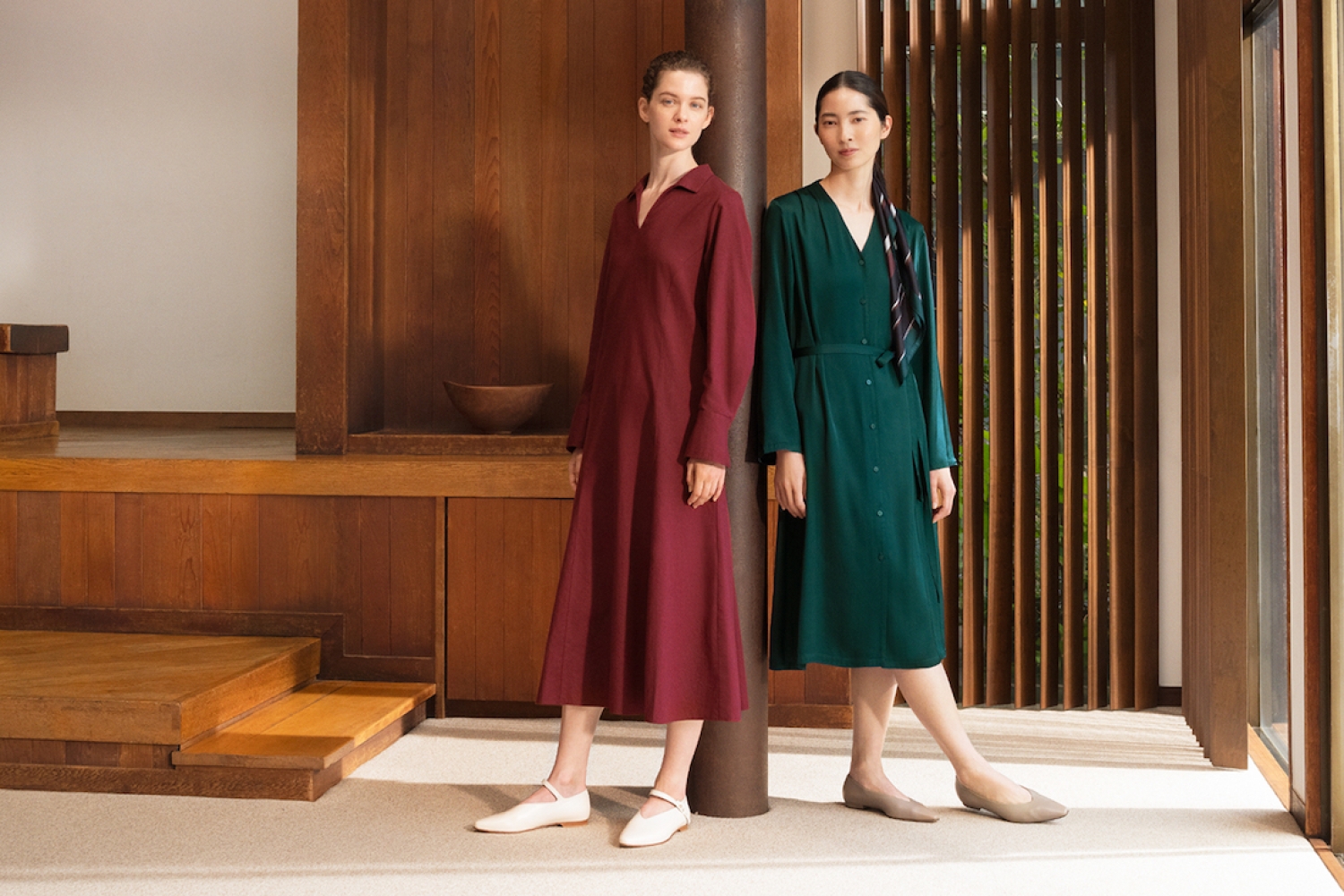 This LifeWear collection emerges from the fusion of the UNIQLO focus on everyday clothing combining exceptional functionality and fashion, and Hana Tajima's elegant forms and soft silhouettes that continue to captivate women around the world. The new line presents dresses with simple yet iconic stylings. Hana Tajima adds, "Styling an outfit begins by asking yourself how you want to feel. Who will I become by wearing this dress? Each dress has its own look. It expresses a part of our personality and individuality, allowing us to become the person we want to be."

A Graceful Expression - Subtle elegance for every day
Dresses with elegant and refined designs that bring out the beauty and individuality of each wearer create a unique look and add a soft radiance to everyday life. The collection utilizing three types of material - soft and draping rayon and lyocell, deeply lustrous satin, and warm flannel - features innovative details and designs such as cuts that accentuate beauty, and delicate pleat accents. On these stylish and lightweight dresses that convey dignified beauty, the wearer is instantly brought closer to the person they want to be.
About Hana Tajima
Combining refined elegance and effortless comfort, UK-born fashion designer Hana Tajima is changing the way women dress all over the world with her contemporary, functional designs. She has garnered considerable international attention in recent years for her unique designs, which are informed by her upbringing in diverse environments.

About UNIQLO LifeWear
Apparel that comes from the Japanese values of simplicity, quality, and longevity. Designed to be of the time and for the time, LifeWear is made with such modern elegance that it becomes the building blocks of each individual's style. A perfect shirt that is always being made more perfect. The simplest design hiding the most thoughtful and modern details. The best in fit and fabric made to be affordable and accessible to all. LifeWear is clothing that is constantly being innovated, bringing more warmth, more lightness, better design, and better comfort to people's lives.

Date 15-09-2022