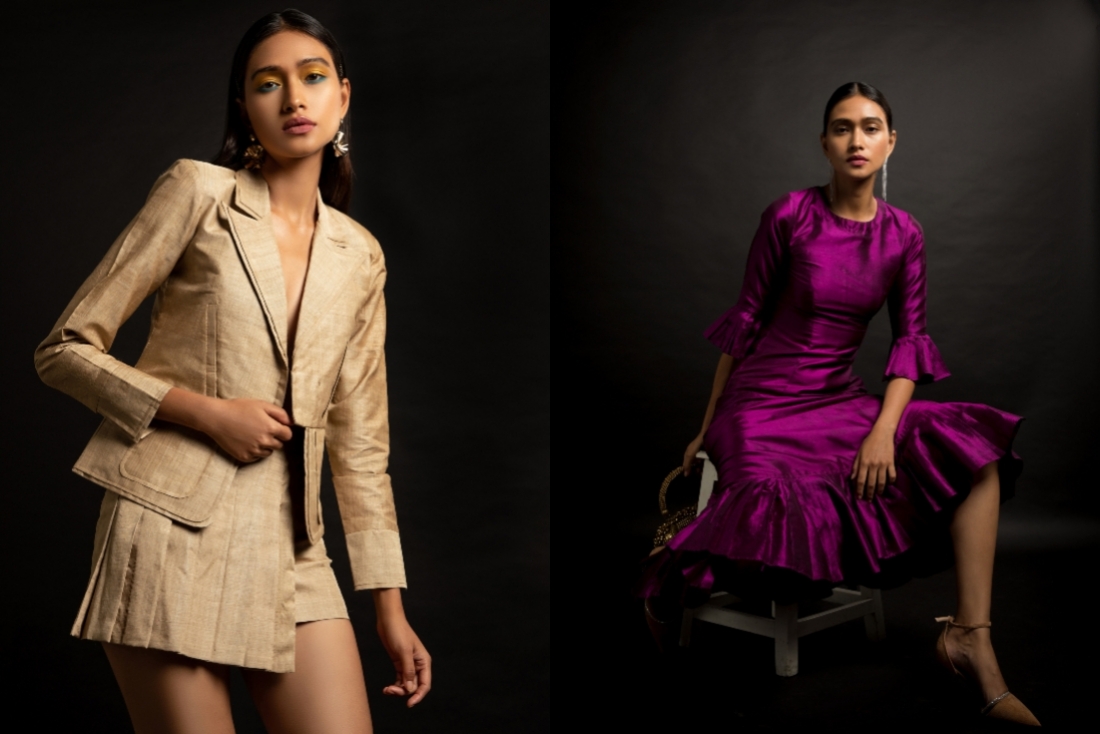 We are living in a time where the promotion of local craftsmanship is slowly also resonating with being ecologically conscious. Hrodyh, which means 'a cosmic heart', is one of those homegrown labels that vehemently believe in the dynamic potential of local Indian textiles and natural fabrics. By reinterpreting traditional Assamese silk in a contemporary way, and by giving precedence to wearability, their garments are illustrative of nonchalant elegance and inventive simplicity.
In conversation with founder Parishmita Das, as she delves into the evolution of the label, their Assamese connect, and the promising nature of sustainable and slow fashion.
When and how did your romance with fashion begin?
During my university days, I was surrounded by different artists, great professors and amazing friends from different cultural backgrounds. Being in San Francisco for nearly four years made me think of fashion as a lot more than just aesthetics. I can't think of a particular anecdote that made me realise my love for fashion. I have always appreciated materialistic things crafted with skill and perfection.
Tell us about Hrdoyh's journey as a culture conscious e-boutique.
I knew I wanted to create a brand but I didn't know what kind! In my final year of university, I was interning for a textile company in my hometown Guwahati, Assam, when I realised the potential of 'Axom Silks' especially Muga. Going deeper into my own research I realised this is exactly that gem I was looking for all along. And there was no stopping. I wanted to make use of our traditional silk in a contemporary way and also preserve the handloom craftsmanship. Our handloom silk along with the embroidery that is done on the loom itself, is no less equivalent to haute couture of Paris.
My education in fashion has helped me shape Hrdoyh's ethos and goals in a very calculated manner, which aligns with my conscious of promoting natural fabrics. Our tagline Joi Aai Axom, for example, means glory to mother Assam. And our silks have been the pride of our state since the Ahom dynasty. At one point of time, aristocrats from Europe were bathing in silks made from this part of the world. I am always going to take great pride knowing that Assam has such a great contribution in the history of Indian Textiles in terms of sericulture and hand-weaving.
How would you describe your design sensibility?
We emphasise on tailoring, perfecting our cuts, and making wardrobe essentials. We want our customers to re-wear their pieces because something made of silk can outlive its owner with the right care. Silk has several natural qualities, it is lightweight yet silk threads are super strong since they are naturally protein fibres. They form brilliant drapes, it shimmers as well and has trans-seasonal properties. Keeps you cool in summer and warm in winters. Muga silk can even provide up to about 85 percent protection from UV rays!
You have a striking and distinct colour palette, what inspires these hues?
The colour palette is inspired by my travels, my dreams, nature and handful of pantone colour guidance. We have decided to use Muga as it is naturally golden in colour. It is the only type of silk in the world that is naturally amber gold. And we also use un-dyed Eri silk because I feel the off-white hue of handloom Eri creates calmness, and balances the dyed mulberry silks. In any collection, white and black pieces tend to always remain consumer friendly at all times. We only dye our mulberry silks because mulberry silks have a metallic shine and dyeing the fabric makes it inherently rich and exquisite. Thus, the dyed colours serve as great party-wear.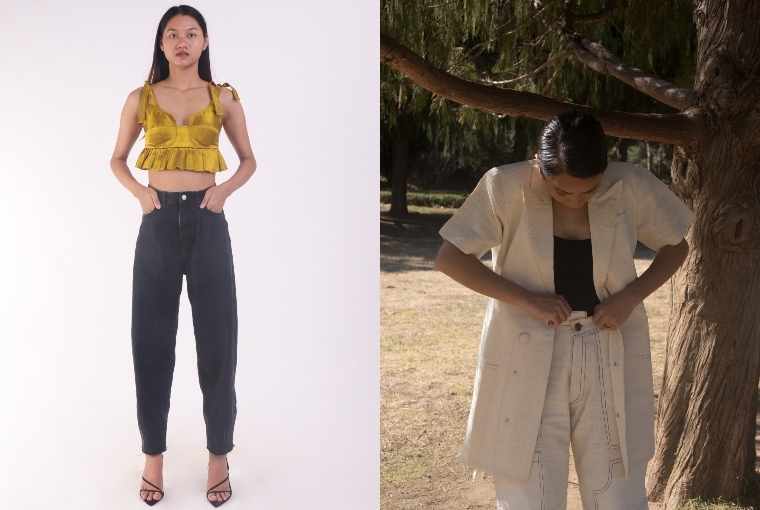 Since you have dual bases — in Assam and in Mumbai — tell us about the process that each garment undergoes.
We source our raw material, that is silk, from different regions of Assam. We source our Muga silk from home-based weavers who are mostly housewives, and weave for fun, while it's also part of their domestic duty. Our Eri silk comes from a vendor who runs an independent weaving centre around Bijayanagar in Kamrup district of Assam.
Mulberry silk is sourced from Sualkuchi — the entire town's population is invested in the handloom silk business commercially. Each family has about 10-15 looms that are constantly weaving yards and yards of Paat silk (mulberry silk). They do everything, from rearing the silkworms to reeling the threads, to dyeing it and finally weaving the fabric. After farming and reeling for 30-35 days, it takes another 12 days for just weaving the fabric alone. Thereafter, we design and sow our pieces in small batches in Mumbai. We are a made to order brand. We don't keep ready stock. We want our customers to experience bespoke tailoring and at the same time, we wish to avoid the problem of unnecessary dead stock. Right now, we are working on our Fall/Winter 2020 collection and by October it should be ready.
Fashion as we know it, is reshaping itself right now. What, according to you, would be the new normal for the fashion industry once we come out of this pandemic?
I personally feel the new normal would be to combat wastage of clothing and embrace slow fashion thoroughly. We must re-wear our clothes and therefore investing in clothes made of natural fabrics is very important. India is a country with an abundance of rich textiles. I feel it isn't about the bandwagon of getting into sustainability, but rather considering it in all aspects of your lifestyle. I know fabrics like polyester and fast-fashion offer unbeatable prices, but if Indian brands start to offer clothes made out of natural fabrics like cotton, khadi, hemp, bamboo, tencel, linen at great reasonable prices without sacrificing aesthetics, then consumers will avoid opting for foreign fast-fashion brands.
Sustainable fashion is currently seen as luxurious only because we aren't able to mass produce. We have to re-evaluate our purchasing decisions and business decisions if we as people of this planet want to overcome landfill issues, water pollution issues and child labour issues. Both overproduction and overconsumption will destroy our planet.
Text
Janani Venkateswaran