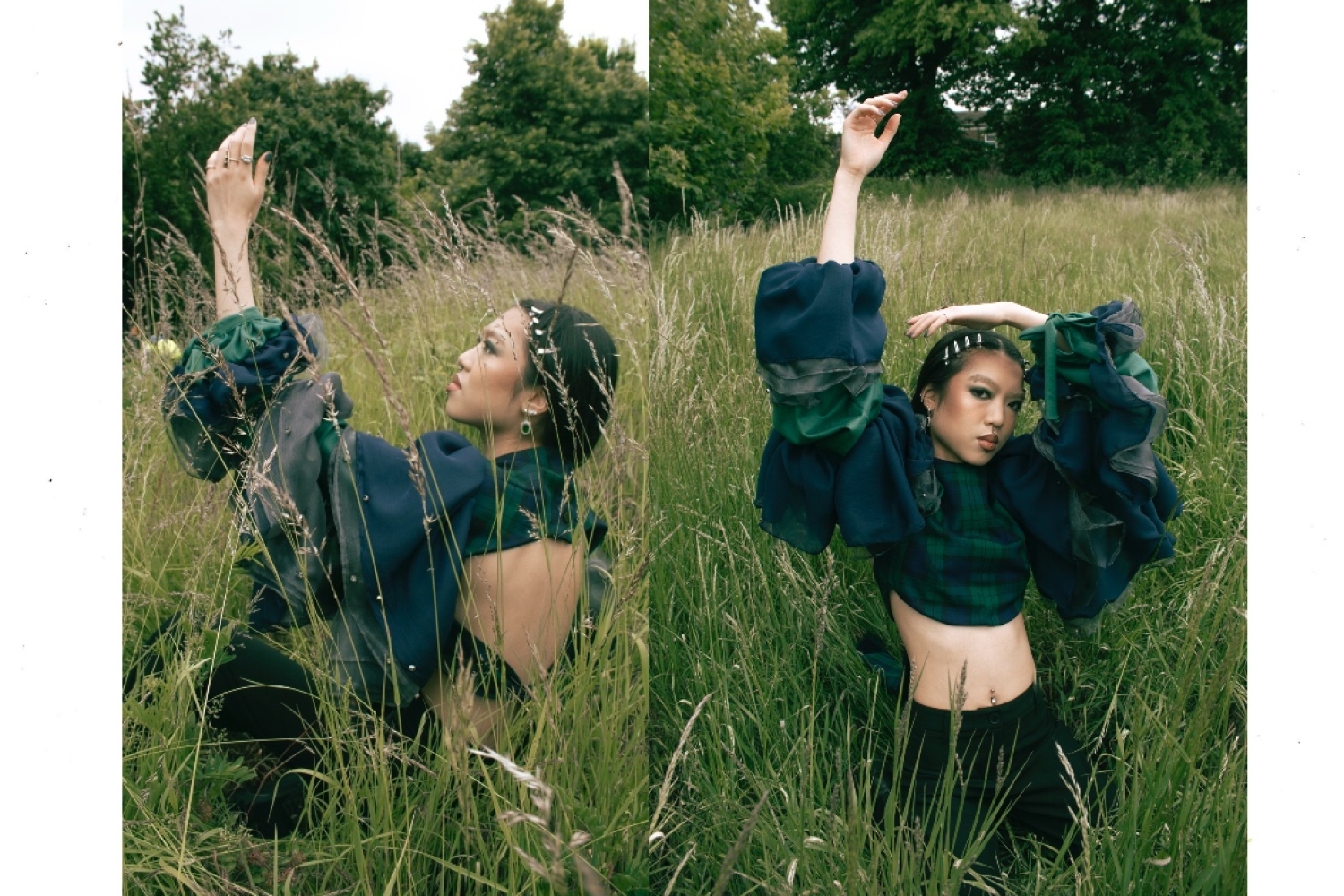 A student of fashion design at the London College of Fashion, up and coming designer Ishani Nandamuri found herself gravitating towards illustrations of Hiroshi Fujimoto in the manga Doraemon as a child, and ever since, her love for the arts has only heightened. She even developed a penchant for visualising garments for her sketches early on, leading her towards garment construction and her degree. The young and budding creative tells us all about her inspiration, process and more.
THE PRACTICE
"It is not he who is revealed by the painter, it is rather the painter who, on the coloured canvas reveals himself." This is one of my favourite quotes from Oscar Wilde. My practice is personal to me and it is a platform that I use to express myself. From everything that I believe in to all the things I stand for, day by day, I am exploring aspects of myself I had never known before. I want my work to encourage freedom in being oneself. I want it to have the power to empower, be it artisans who construct the garments or people who choose to wear them — I want it to feel unrestrained by constructed societal norms of normality.
THE INSPIRATION
I see my work as a form of escapism to a world where unconventionality is cherished and eccentricity is admired. I am inspired by the concept of absurdity since I believe it has led me to create my most exciting designs. Most recently, I created a collection inspired by the 'Sad Clown Paradox'. The way I see it is that the person behind the mask is unknown to everyone, including himself, however surrenders to the monotony and uniformity of being an entertainer regardless of his personal predicament. This applies to a majority of us as well. We often put on an act to seem more cheerful, cordial, and agreeable to engage with the society despite being entangled in a web of our own worries. So we are often out-of-touch with who we truly are.
I conceptualised this idea and took inspiration from both traditional court jester costumes as well as 1900s' clown outfits. My final collection for this project had silhouettes in wide, distorted, and topsy-turvy shapes, to emulate the movement created by the costume as a clown performs on stage. As far as the designers I look up to is concerned, I don't want to sound like a cliché, but Lee Alexander McQueen's work was truly revolutionary, as do I look up to Rei Kawakubo's Comme des Garçons and Robert Wun. I think such brands are reaffirming to me as a designer that being unorthodox can be my strong suit.
THE PROCESS
Well, any creative process begins with a source of inspiration. Mine might begin in a book I've read, a concept that I've come across in a documentary film, or perhaps while simply walking down the street. I enjoy juxtaposing two opposing ideas. One of my previous collections was based on the concept of 'Dehumanisation'. I visited the Natural History Museum in London which had gigantic skeletal remains of dinosaurs and I compared it to the sculptural work of Auguste Rodin that was full of life and in appreciation of the human form. Contrasting the concepts of beastliness versus sentience and dehumanised, empty fossils of animals with the powerful, emotive sculptures of humans, gave birth to a collection of heavily hand-pleated pieces. Designing these garments, choosing appropriate colours, and sourcing deadstock or vintage fabrics, are key to making a successful collection. Besides that, there is a lot of physical work involved in pattern-cutting, toiling, and correcting any errors. At the end of the day, my process of creation is very intimate, and it is a different experience each time around.

This article is an all exclusive from our September EZ. To read more such articles, follow the link here.

Text Unnati Saini
Date 08-09-2022
Photographer Sonia Abbas
Stylist/MUA/Model Gemma Quan