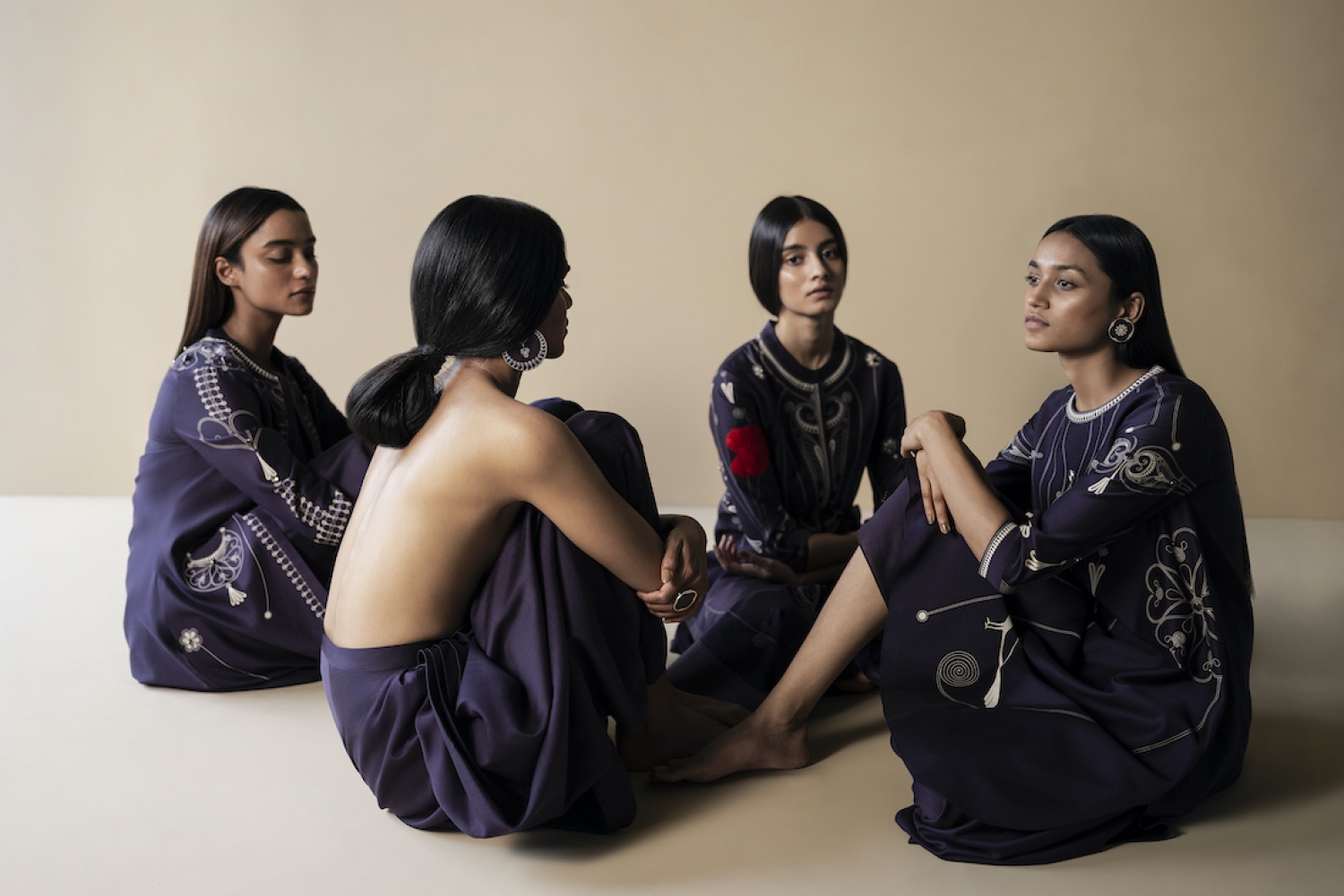 We saw our lives disrupted in the past year and with that, it brought into question our unbalanced lifestyle. Centred around survival we live in an unconscious ecosystem fuelled by chaos, aggression and ambition, where speed is now a virtue and patience is unreasonable. AMPM felt that it was important to step back, look back and draw inspiration from people that allowed themselves the necessary time to be inspired, the ones that created spaces where serenity was part of the fabric, who defined luxury for the modern era.
One often couples royalty with grandeur and glory, and don't look any deeper into their smaller actions, their everyday lives. But this time the label studied the Nizams really closely. Not their astonishing wealth, their military prowess, or their visionary patriarchs, but their legendary women, the private spaces they inhabited, their intimate daily rituals, their progressive views and their unparalleled style.
This season's story reimagines zenanas in modern-day as safe spaces for women, providing simple luxuries like time and tranquillity. Where they can slow down, without question or judgement, where they can be still, just for some time. Where they can indulge in elaborate baths and grooming rituals, in self-preservation and self-love. Where they can muse endlessly and meditate peacefully, where they can revive, realize and rejuvenate. The label draws this parallel between then and now, to highlight how real and sustainable impact can only be made if we allow ourselves to break from the norm, from the thought that more is more, from the misunderstanding that being busy means being productive.
We need to set our own pace whilst we align with the universe around us. And we need to do it with itminaan. The collection and the campaign this season capture the essence of this realisation in multiple layers.
For one, the styling for this collection is relaxed and has visible ease. Silhouettes were designed mindfully allowing for people to lounge comfortably whilst wearing them. Habotai silks, satin organza, Chanderi and linen in deep shades of burgundy, purple and black, have been extensively used to underline the sense of everyday luxury.
Influenced from the Nizams and their love for jewellery, the label has added exquisite details and delight in the form of beautiful brooches and buttons in enamel, set in silver-plated metal – that come as part of the garments. Kamarband-like belts with enamel details spread across the range, enhancing the versatility of each design. The range of bags embody the soul of the potli, albeit with a contemporary take. Techniques like cording and inset have been used to make them seriously desirable. The mules too are inspired by mojaris and are generously detailed, giving a certain modern Indian appeal when paired with the looks of this range.
Talking about the collection, Creative Director Priyanka Modi adds, 'Burnout is something most of us have felt in our lives. It could be in varying degrees, but working in a volatile environment tends to exhaust us. After a point it becomes difficult to function, to even get out of bed, you just feel like escaping and doing nothing. It is imperative that we connect with ourselves, figure out in peace what works for us and work in a manner that allows us to stay joyful, stay inspired. This collection is a result of one such necessary pause. During our research, we started questioning the reason why the arts, crafts and culture of some of the past eras are still so riveting. To the point that hundreds of years later we're still referencing them for inspiration. We realized that it was in the small things, in the details of the way they simply lived their lives, the answers were to be found there. Itminaan is not a one-time concept for us. It is something we look to carrying forward as a fundamental change in our organizational and personal lifestyle.'

Date 15-10-2021