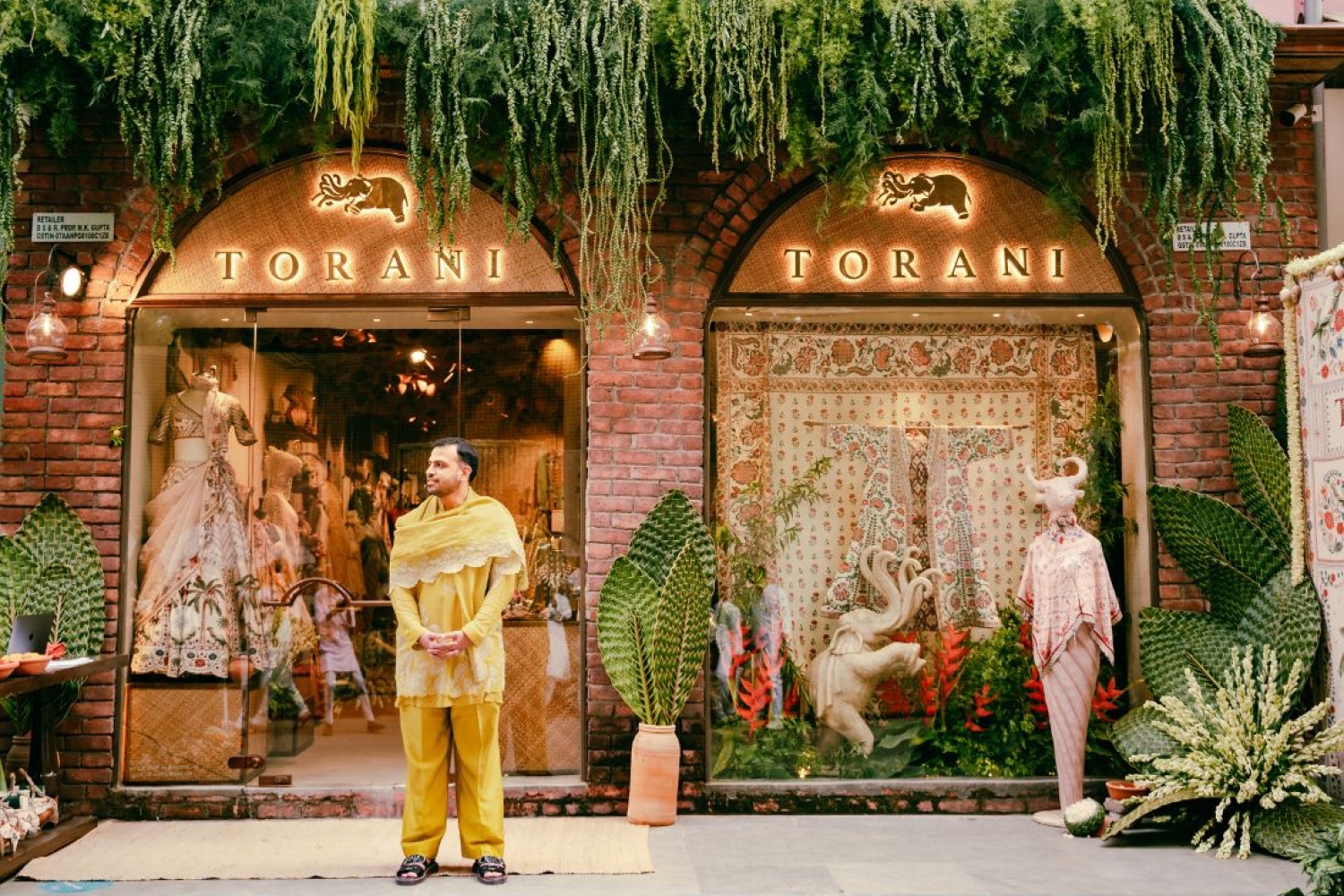 Karan Torani
A Museum of Memories
Karan Torani's new collection and Delhi outfit reflects his personal style and vision in many ways. The song Phir le Aaya translating to "coming back again" was like a homecoming of many things, he tells us. "Acknowledging my beginning as an artist with music and cinema, launching our second store at the same place we started our first retail space and also a cultural nod to my identity as a Delhi-ite, being my father's son who still seeks another Mehfil to soothe my soul." Everything took him back to where he belong. The memories collected over years became his canvas. "While digitally, as we release each of our collections — I always express the inspiration and mood with elements and notes from the past. I wanted our retail space to display the same layers of collectibles without having to say much. And thus came — The Museum of Memories. I scribbled my favourite poetries, words, quotes and remembrances with images, sketches, books and even simple objects that sparked an idea of creation within me."

What sort of poetry and visuals inspired you for the collection and how did they make their way into the garments?
I have been a typical hoarder ever since my childhood, not just with memories & photographs but with daily objects, newspaper articles, books and even magazines. All of which came to use here. Through the many years of archiving life and objects, I brought out all old cassettes of my father, that had Gulzar Saab's music and poetry. Film posters, and old Filmfare magazines with vintage interviews by Vishal Bhardwaj. Albums, life anecdotes and personal family images taken by Rekha ji. I wanted to layer them up with personal hand written notes, across the store with garments and textiles — symbolically depicting the impact they had on pop culture and shifted the way artists like me looked at music and cinema. For Example, images and lyrics from the popular song "Namak" were kept next to a collection designed by me titled "Kaaya" which spoke of female desire and sexuality.

Can you talk a little about the colour palette and fabrics used for this collection and the decisions that informed that?
I have often found myself in the dichotomy of being a custodian of everyday humble luxury versus an obsessive extravagant dreamer. The blend of the two is what makes a Torani muse for me. Think Frida Kahlo meeting Waheeda Rahman or Amrita Shergil meeting Audrey Hepburn. The idea
of a quaint personality meeting an untamed wanderer excites and motivates me both. It is possibly who I am as well. Our All new range "Rafu" is the perfect marriage of the two. A pendulum between a quaint palette of color, florals, embroideries and textured fabrics which settles into a canvas of balance, space and timelessness. It is also about minute and refined details in our design language. Chief amongst all our motifs this season is the Heeraman Tota & Khajoor ka ped — finding place in lehengas, saris and kurtas. A reminiscence of the glorious summers and monsoons the pieces come with decked up tassels, pearls, signature Torani buttons and Sindhi kadhai work.


What's new at your second store and what kind of conversations went behind its design sensibility?
On the 12th of August, we unveiled Torani's this store in Khan Market. While my brand is very much a product of our digital hustle. I, as an artist, have always believed in valuing and savouring physical memories. Hence creating this space was extremely special. It's not just a retail store. It's a
window into my soul and world. The world of Torani, where you can touch, smell and absorb the essence of our unique identity. Also I feel clothing, styling and dressing up is a very personal activity. Especially when it's luxury. Khan Market is the most expensive retail space in south East Asia, So the per square feet area is really limited in each of the current stores present there. We needed a larger area to express the brand's many divisions in terms of clothing, jewellery and accessory categories.

Our first store in Delhi will slowly transition into a pret and everyday luxury category, while this one will become more festive and celebration wear.
In terms of the spatial design — it celebrates my evolution as a designer which is a lot more flamboyant and free spirited than it was before. Given the product category was developing, I didn't want the area to look like a store but a museum. You'd discover thousands of terracotta matkas hanging from the ceiling — a symbolic ode to my Sindhi roots, hundreds of elevations to layer clothes as pieces of art rather than just garments. A centre installation hanging with a boat atop with jewels and precious accessories. It's a much more wholesome variant in comparison to all of our
spaces before.

What were the little details that made it special?
It was a special ode to Gulzar with the glorious presence of Vishal & Rekha Bhardwaj, the evening was a showreel of elements that I had bookmarked and savoured over the years. It was humbling to have national award winning artists and legendary performers Vishal and Rekha ji, join us with their family dressed in Torani. Since we also celebrated 5 years of the brand the very same evening, the night became a befitting tribute to my inspirations and the stories we tell layered with unique textiles and craft that were reimagined through the process.

Your work often finds inspiration in emotions, memories, personal experiences, do you believe vulnerability is what fashion lacks?
I can't help but agree with your statement. In the race of selling the most and producing the most — Fashion has lost its soul. We overlook cultural appropriation, feelings and even honouring our own inspiration. My designs aim to serve a meaning. Something you remember fondly and hold close to your heart. It's purpose is not just to sustain nature, but human stories, feelings and craft — all within one project.
Take us through the last few years of the brand. What were the highs and what did you learn from the lows?
Heartbreaks were altered to awards. Failures became golden lessons. Gambles transpired into giant leaps. The last few years have been a roller coaster ride for us as a team. Two global lockdowns, which put up a halt on all our operations as a fairly new brand resulting in major setbacks. But the highs were equally overwhelming — from being in the forbes 30 under 30 list, to building a team of 500 professionals, and launching 2 stores in Khan market. I feel our persistence as a team to stick around the tough times helped us take these leaps and grow.

What's next for Torani, both the label and the person?
Big expansion plans. Not just for clothing as a category but also in jewelry, accessories and perfumes. I look forward to opening stores in other cities across India - Namely Hyderabad and Kolkata to begin with. I have ambitions of making Torani global, though I feel we need to collaborate and partner more with institutions that bring a similar force and vision. More of which will be unfolding in the coming years. Personally I seek to focus on my health - mentally and physically as the past years have been an absolute and relentless dedication to the company resulting in a lot of setbacks, healthwise. I hope I can find a balance. I also wish to create a sustainable space where I empower communities and craftsmen — for which I am starting a personal training centre within my studio, that teaches young individuals who want to learn craft and empower them by training and later hiring them. This will run as a non-profit — and has been a personal dream that I hope comes true by next year.


Words Hansika Lohani
Date 30.08.2023