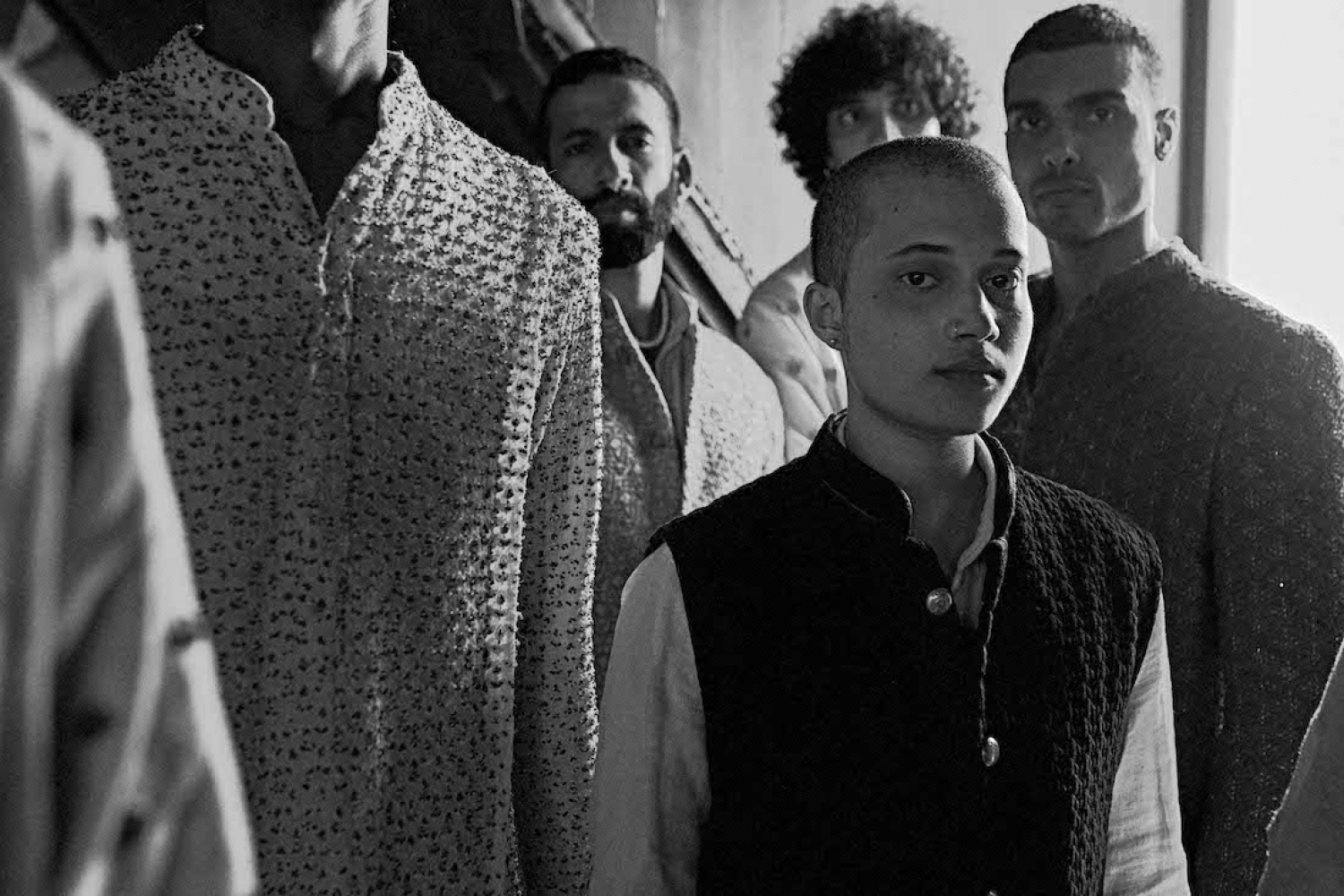 Celebrated menswear designer, Kunal Rawal, vividly recalls running around in the fabric room with his sister Sasha during factory visits when they were kids. Both of them would sit atop the fabrics stacked together and play games. They would try and guess the kind of fabrics based on texture. Since his childhood, the designer has found himself intrigued by the process of garment making. It was during one of these visits that he decided he wanted to pursue a career in design. What exists today is an eponymous label that looks at design through a dynamic lens, constantly attempting to push the boundaries when it comes to menswear in the country.
Their latest collection, Vision Quest, reflects on a carefree journey that rises above labels and roles. It is a narrative about growing up, and the sheer joy of holding onto a piece of childhood wonder to navigate through life's many quests. We're in conversation with Kunal who tells us about his process and more.
At a time like this, what/who is it that's keeping you motivated to create?
The landscape of fashion changed during the pandemic! The focus of menswear shifted towards comfortable silhouettes and smart design, and that in itself played a very big part in motivating me to create. I got into men's fashion because I wanted men to have the power of optionality. With occasion wear changing, as a brand, we hoped to create and modify traditional silhouettes to cater to the current climate in fashion and I think that in itself was a very exciting experience.
Playing with designs and modernizing traditional silhouettes to make them relatable for young India is another aspect that kept me really motivated. You will see a lot of this in our new collection. The Kurta Kaftan, our new back-button Bandis, our patchwork Sherwani, and even small changes to existing silhouettes like adding air vents to our heavier pieces so that they are more comfortable and easier to move in.
After all these years in the industry, how do you think it has evolved?
Indian wear is far more democratic today. For a very long time, menswear was very restrictive and we were designing clothes based on the parameters of what a man should wear and what a woman should wear. I'm glad to see that that's changing. I think fashion is becoming far more fluid today. After a long period of time, Indian wear is becoming cool again. We're seeing so many younger designers playing with silhouettes to make them more relevant to young India today.
Everyone loves traditional wear because it's a part of our heritage, we just weren't getting options of traditional wear that resonate with us and I think this year the shift is becoming more prominent. So yes, I do think the industry is evolving and has evolved a lot since I joined It.
Take us through the starting point and your inspiration for Vision Quest.
This collection, Vision Quest, touches upon the thought of vulnerability and individuality. As we go through life, we're constantly trying to find ourselves, and I don't mean in an existential way. I think occasion wear in the past has been dominated by restrictions. What is appropriate for a man or a woman to wear, what colour will look good on them or what will make them look out of place — we've had to work with these certain parameters to ensure how the garment would look. However, now the world is changing and people are becoming more experimental with their looks. This collection is meant for all kinds of people, irrespective of their size, shape, colour of their skin or their gender. Today it's about expressing your individuality, whatever that might be, and that's what the label stands for.
I'm a big believer in androgynous and gender-fluid pieces. We've seen a lot of this in streetwear and I feel the influence would change the way we look and approach occasion wear. Sonam Kapoor Ahuja has always been on the right side of fashion and who better to carry forward such than her. Ever since I worked with Sonam on our first film Aisha, she has been a fashion icon who truly embraces her personality and showcases it with what she wears, which is why I knew she would be the perfect muse for this collection.
The designer with Sonam Kapoor Ahuja
What did your creative process look like?
Our process always starts off with the story we're trying to tell with our clothes. As mentioned earlier, Vision Quest explores a more democratic way of dressing, where gender, age, colour, race, et cetera, all these parameters don't matter. After we know what we're trying to portray or put out, we start working on the product by asking ourselves who are we designing for, where are they going to wear it, during what season, and for what kind of an occasion. One thing we try to maintain in the creative process is designing for multiple types of people — so our clothes could cater to everyone rather than just one kind of a person.
How did the collaboration with Akshay Raheja come about?
I was trying to create music that resonated with young India. I had a particular sound in mind for the landscape of Vision Quest and was hitting a roadblock. My friend Rhea suggested Akshay, and from the word go, I knew he would be perfect for the project. Akshay created a piece that not only resonated with me but will also resonate with young India, while using traditional instruments like the sitar. It was the perfect match because just like our clothes, Akshay found a way to modernize something that was traditional, making it far more relevant for the youth today! We always try creating clothes that cater to events ranging from deep-rooted traditional to modern-day luxury, and the music Akshay created beautifully linked both worlds.
Finally, what do you think the fashion of now should look like?
The fashion of now should not look like anything. Fashion is fluid and personal and we shouldn't have boxes that state that an outfit is okay or not! There is no right visual for fashion. The visual can change depending on the person. For example, a few years ago, the groom's outfit almost always minimized that of a maharaja, with the safas, a sword, or other accessories. Now grooms have a lot more room to play with their garments. They can choose outfits that don't follow the traditional maharaja style.

Text Unnati Saini
Date 22-09-2021