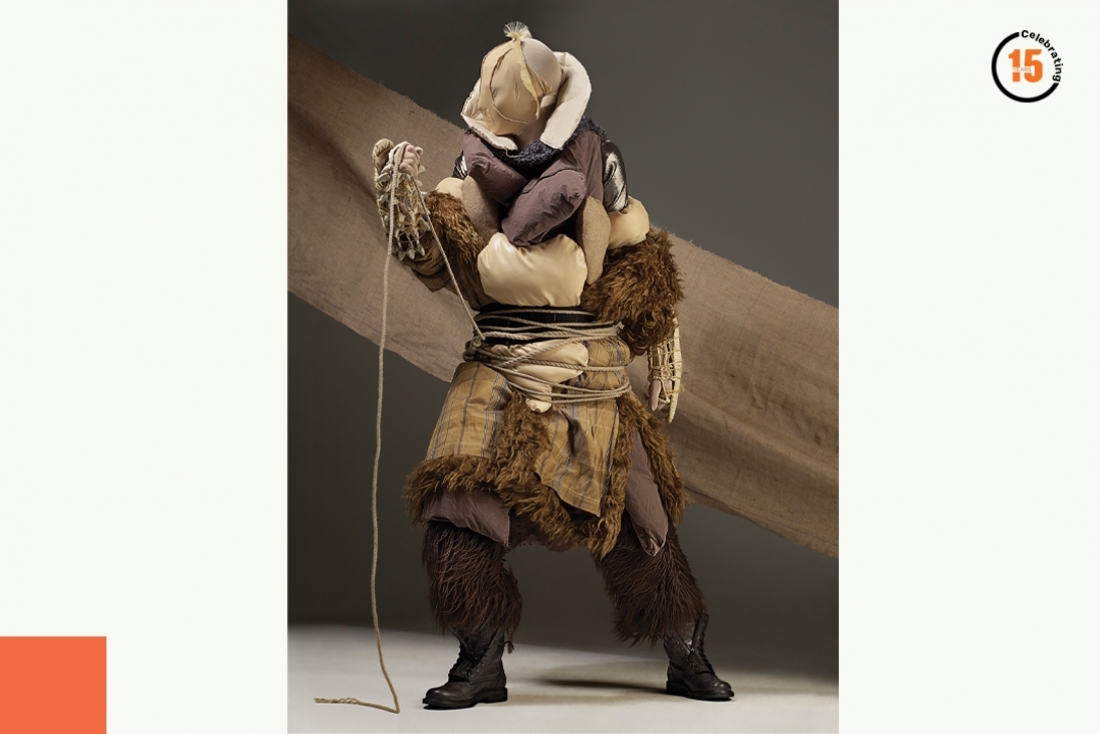 Photography: Anthony Maule
Lidewij Edelkoort: From The 15 Year Platform Archive
'I am trying to figure out where the future is going, using my intuition like an antenna. I can already grasp a few ideas and I have the skill to describe them, show them and explain them...'
Lidewij Edelkoort is not a soothsayer, however, she has the prowess to forecast trends, making her one of the most renowned personalities in the fashion world. Be it Prada, Gucci, Donna Karan or high street brands like Old Navy, Gap, Lacoste - the fashion industry waits for her to reveal her last word on what is going to be the next big trend. Her forecasting expertise and outstanding contribution in the fields of design and fashion have resulted in her being voted by time magazine as one of the world's 25 most influential people in fashion. Her collaboration has transgressed in the past, to work with Nissan, where she ideated for a concept car. Her senses led her to a car that focused more on lifestyle than speed. Micra, was a car designed for the family, keeping it comfortable, cozy and inviting. Little did she know, her very first foray into the automotive sector would not only win the Golden Wheel Steering award and European Car of the Year, but would also pay her the biggest compliment that came from her mother (who never praises her). She bought the car and that was a different kind of achievement for Li altogether. I had the fortune to meet her while she was here for ID 2013 in association with Elle Decor. As she sipped her espresso, she enriched my mind with a wealth of information that left me inspired.
Can you tell us a little about your growing up years and how and when your romance with fashion began? What made you decide that you wanted to be a trend forecaster?
I never planned any of this. I was a young girl of 16, when I participated in a competition to design a carnival costume - I made a very short dress with shorts under it. On seeing it, the jury said that it was not a carnival costume but it was amazing. They were stunned and impressed that a girl out of nowhere had designed something straight out of the runway in paris. so, a journalist wrote in the newspaper that 'maybe she should make a career out of it' and I was like 'why not'? So I went to the School of Fine Arts in Arnhem in the fashion department. I was not a couturier and I was not even an illustrator, but I almost always knew what would become fashionable. I was the leader of the pack in my class. Whenever we had big competitions, I would create the whole scenario and we would win sometimes. That was my skill, but no one knew what to do with it until one day, a lady came and gave a lecture on styling and that's when I thought that I could do this. So then, I worked in a department store in Amsterdam where I learned what the trade of fashion is. it was a very exciting period of the '70s; all the fashion was very new. I could dress in ways no one had ever seen. I could buy old armour from the korean war and still look very chic. Everybody in restaurants would applaud me as the dress was so original. Then, I went to Paris and spent my famous poor years there, the romantic years where I didn't have much work but had lots of fun, dancing every night alongside Yves Saint Laurent and Karl Lagerfeld in Club Sept, which was a very famous club, everybody was always there. At that point, I also came to India to do collections and that was my first encounter with this country. I worked with several exporters and I loved doing that, as the fascinating thing about India is that, in one moment you could make a sketch and two hours later, you could see the whole physical thing. You make embroidery and they go to the market and you come back with many more possibilities - it's very stimulating for your creativity. I would also always take my rupees and go to the Maharajas' palaces and live the big life. Then, I went to work with the national forecasting organization in France, after which I started my own company. I have forecast trends for the last forty years of my life.
"'I predicted 17 years ago that in 2020 our society will be a hybrid society, where everything will merge and I think we are getting there.'"
What method do you adopt and what kind of research goes into unraveling the future?
Part of it is a gift and part of it is through learning. We all share trends and have common thoughts that are hovering in the air all around us and that's why different cultures tend to do similar things in other corners of the world. I am able to pick up these ideas earlier than others, as I have trained my intuition like an athlete, so my intuition has become very powerful. It's become a part of me, as all the observations that I don't even notice, just get instilled in my thoughts automatically. I do observe constantly and that gets organized in the compartments of my brain. Then, one day I need to make a forecast for a particular season or decide on a particular colour and I have access to this information, so I just open up those compartments and get the information. So that's how it works, partly you learn and partly you learn to trust what you feel, especially about young designers. For example, in Paris, I just did the trends for winter 14/15 and I decided to go completely nuts, bonkers. So, the season is called Bold - Fashion's Plan B and it's completely the reverse of everything we do now. If you don't trust yourself in the sense of timing, then you don't dare to make such predictions. So I became very well known as I was ready to take risks.
You have been in the business for decades. What is one of the key evolutions in fashion that you have seen in the last decade?
No evolution and that's the problem. Since 9/11, we have been in crisis one way or another. People are holding on to what they have out of fear. The current generation of designers, couturiers and marketers feel they will not have as much as their parents, so they are holding on to what they have. I call them the 'trench coat generation' because they have everything wrapped around them. This also explains the success of very classic garments. There hasn't been any invention of a silhouette or new way of wearing things. It is also because the luxury houses now are leading the game and luxury houses are really not interested in fashion - they look at fashion as the backdrop for their accessories. So, the clothes have become very plain, like a canvas, and the handbags and the shoes are upfront and in focus. This is why I am going crazy as I feel we have had enough. We have tried everything - to be reasonable, to be frugal, to be minimal, to be spiritual - to fight this crisis.
You are in the midst of creating a biennale in Arnhem, which will take place in June/July. Can you tell us a little about it?
The event is called MoBA and I am investigating fetishism in fashion. The work that we have seen and will be exhibiting is all very innovative and conceptual. You see the spiritual and fetishism aspect of it. And of course, our relationship with animals is ever growing. There are sexual connotations and mythical connotations. We will show the fetish for adornment and how we like to cover ourselves with bangles and bracelets. This generation was born in crisis, so they haven't experienced loss - for them it's a period of experimentation. From India, we are working with Little Shilpa and maybe some others. So I am happy that I am on track with the younger generations. The idea of fetishism is all over the biennale banners and now that we are curating it, we are finding young designers and I am very excited about this. I feel we are in a breaking moment that, if we continue to make the same thing it won't work because we already have whatever there is in the shops, in our cupboards. If there is less money, then the urge should be more. One should save and buy something when they are ready so that it will make them feel more special, unique and different - everything fashion is supposed to be. Now again in India, it's very different as you still have traditional dress and modern dress and that is so fascinating that you still own that aesthetic and I hope you continue to do so as it's so beautiful.
"'I think India still needs to find its own voice, but there are many Indian designers all over the world who are making their mark.'"
L- Photography: Anthony Maule
R- Photography: Marcel van der Vlugt
One sees that mostly all creative disciplines are merging. How would you connect fashion to art, design or even poetry?
I do believe there is a growing interest in this creative generation to blur all borders. So the architect wants to embroider, the designer wants to make a film. I think this merger is a positive thing as each discipline won't be isolated anymore, and especially for a magazine like yours, you can interweave each discipline now, which you couldn't have done before. It's confusing but at the same time it's very interesting. I think the younger generation really wants to be the Renaissance man. They want to be able to do many things at the same time and the world also brings to their doorsteps many proposals that they can explore. Having said that, I think writing is still removed from this amalgamation. But I predicted 17 years ago that in 2020 our society will be a hybrid society, where everything will merge and I think we are getting there.
You shoulder a great responsibility as not only do you forecast trends but you also influence culture in many ways. Does it ever unnerve you?
You influence but you are also just a radar. My advice is going to companies that are very design driven like Vogue and many other design houses, so they pretty much know what they are doing. The designers have their own style and opinions, and the houses have their own codes and their own markets. So let's say my advice serves the purpose of a radar or it's like a grain of sand that is very irritating and constantly reminding you. It's not like I am a guru and people are following me, it's more like a mirror game. The designers, the product developers and the CEOs, they listen to me and many of the things that I say have already crossed their minds, but I am able to put it into perspective for them. When we work with our clients more directly, it's like ping-pong. They have opinions, I have opinions, so we go back and forth. It is an equal game and ends up being very productive. I am lucky to have worked with the best companies in the world.
What do you think of the fashion coming out of India?
I think India still needs to find its own voice, but there are many Indian designers all over the world who are making their mark. With the Indian economy growing and India becoming so powerful, I think fashion will explode here. And the most positive thing about your country is that you have a great history of textile and as far as I am concerned fashion design starts with textile. Unfortunately, in contemporary schools in the world, people just go to the computer and make a sketch, but I am sorry, that's not how fashion is made! You first need to know the concept and then you collect data, then you collect colour, and then you collect material and from the material you can start thinking about shape. That is a great advantage in India.

This article was originally published in our March/April 2013 issue and we are revisiting it now as a part of the Celebrating 15 Years of Platform magazine series.

Text Shruti Kapur Malhotra
Photography: Ruud Van Der Peijl