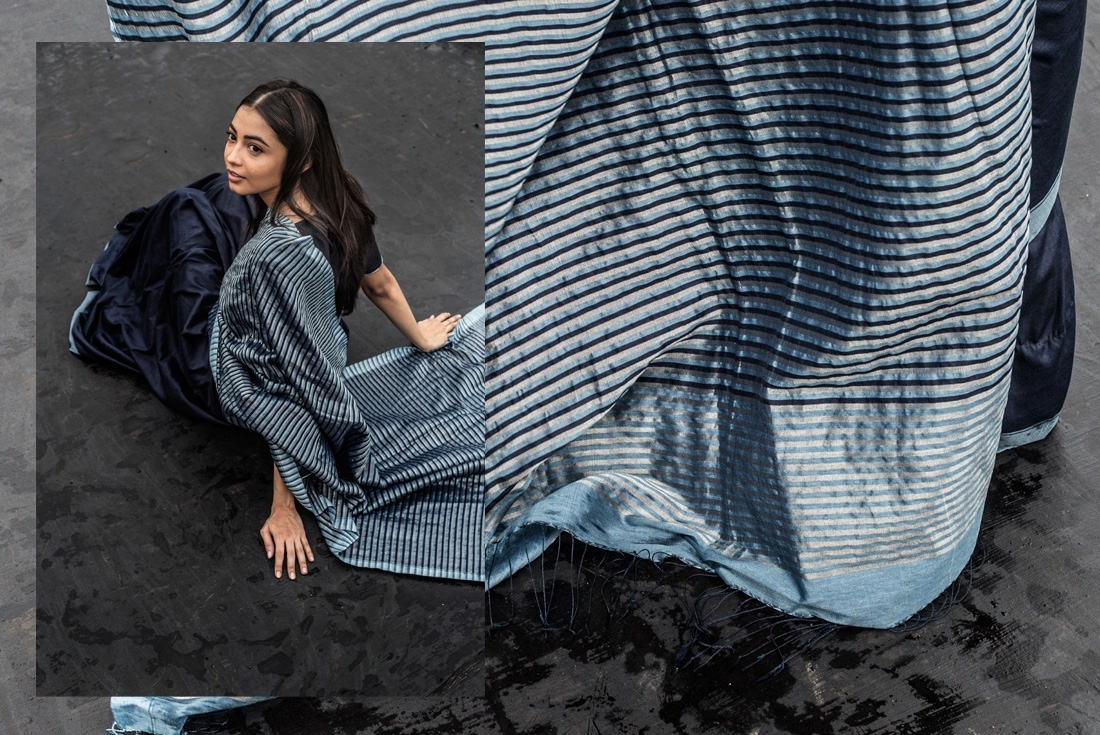 Maku Textiles
Santanu Das
When Santanu started designing clothes, his motivation was not to find himself on a runway. Instead, it was his way of digging deeper into his culture, and creating something that would not just meld into your wardrobe and look pretty, but start a larger dialogue about sustainability. When he conceptualised Maku Textiles while still studying at National Institute of Design, he found inspiration in his mother's wardrobe, and knew that the answer to his label's identity lay in his own roots. With a trans-atlantic shift back home from New York – where he was working with Lori Wietzner – Santanu found himself in forgotten villages peppered across West Bengal. As he sat working with tangail and jamdani weavers, he realized that he had found what he had been looking for. Toiling over looms, he soon found a voice for Maku, that didn't snatch away the innate creativity of the weavers, but instead, added to it.

Over a conversation, Santanu walks me through slow fashion, Maku's paper-thin, wispy clothes, and his fascination with indigo. I delve into his world of white and blue.

How did Maku come about?
After finishing my course at NID, I ran off to New York and started working for a design studio called Lori Weitzner Design Inc. Lori Weitzner makes very high-end wall coverings in luxurious silk jacquards. Soon I was bored with these expensive machine-made silk drapes. I was looking for an answer to these end less consumption patterns. Thus I engineered my project to come up with a range of textiles, meant for wall coverings, using craft skills in the Indian subcontinent. I strongly felt it is more meaningful to pay 15 dollar a yard to a weaver in a village in India than a high-tech factory in Japan, producing hundreds of yards every day. But it was important to shout it out, therfore I chose natural indigo as my medium to communicate the core value to the consumers. But unfortunately at home, unlike the fashion world, work does not deal with consumers directly. Therefore when I came back to india and was trying to make a living out of art, I chose to start my indigo journey again, but in fashion this time. Thus Maku born on 2nd September 2011. But it was November 2012 when we had our first exhibition.

What drives Maku's ethos?
Everyday we are flooded with choices. With every single choice, we grow a little more intolerant to our surroundings. This act of intolerance is one of the global crisis we face today. Maku attempts to address this problem by limiting choices. The brand has been designed to force its audience to look deep into a narrow array of products, material and aesthetic. Maku's aesthetic pool is so silent and invisible, that it demands certain interest and curiosity from its consumer.

Who is the Maku woman and how do you define her?
The Maku woman is someone who is defined by her choices which are carefully designed. She exudes an old world charm but she steps ahead of her times. She identifies with excellence but prefers the subtlety of imperfections. Her aura is mystery and her eyes are deep. Little that we know about her, intriges us to explore .

Take me through your Spring Summer '17 collection and its influences.
As Maku's shift from collection to collection is very subtle, our seasons are majorly dictated by shades of indigo and our textiles. This summer we have used a lots of natural whites in form of fine 100% khadi cotton, hand-woven bengal malda silk and cotton blend, linen and jamdanis. We have used pale shades of indigo, representing spring's soft skies. You will also see lots of stripes and checks. This season we have brought back the traditional four petal flower motif in jamdani, which we had used in our first collection. This was important because it trigered the trend in jamdani weaving very subtly. Prior to this, traditional jamdani motifs were not used much in main stream fashion. Design layouts were given to the weavers to weave customized textiles. This was slowly eating away at the skill of the weavers and was diminishing their faith in their own practice and its visual language. When we picked this simple motif - so that even newer generation of weavers can weave - they were surprised and had very little hope for the design. But soon our production picked up, and also newer way of using jamdani (as an all over motif) became popular. Soon in the following years, weavers started getting more and more orders on such traditional motifs. Today I see many newer sustainable brands using jamdani, and it makes me feel very happy.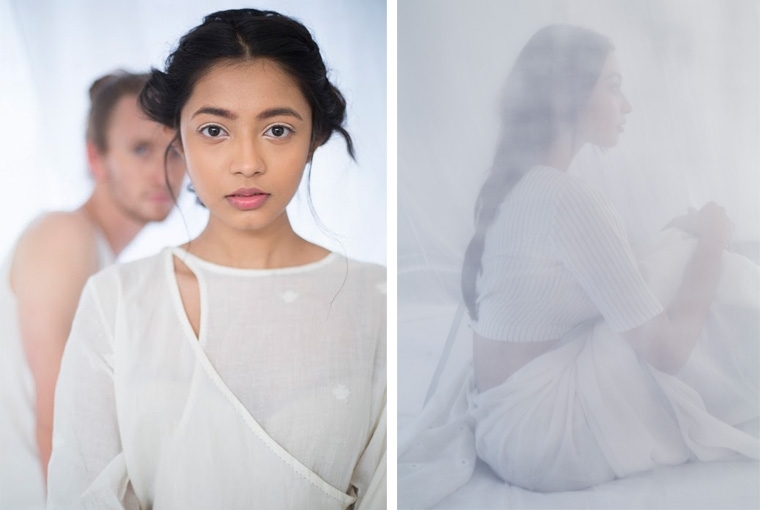 A few years ago, you worked extensively to revive tangail weaving. Since then how have you worked on recovering traditional weaving practices?
Five years ago we started with 5 weaving families in West Bengal, who practiced tangail weaves. After 5 years, today we still work with them. Only difference is the number. Today we are working with around 100 weavers. These weavers are our greatest strength. We never work on a designer-weaver basis. Rather, working on the design offers us a platform to sit with our weavers and co-create all our surfaces. We are just the central design team, we do not make them loose their identity. Each one of our fabrics are very specific to the region. From texture to motif to finish, nothing is foreign to the village. Even from village to village, skill set of weavers changes. We work according to their abilities.

Tangail and jamdani are the same technique. Both are extra weft inlay brocade on fine cotton muslin. Jamdani is celebrated worldwide, whereas tangail was restricted only to Bengal. But as a bengali boy, I have witnessed tangail more in my every day context, since my mother wears tangail sarees everyday at home. These memories of the cotton handwoven sarees, with a narrow selvedge border, and few scattered inlay motif all over the saree in bright colours on a white background, resonate with me till today. It is a distinctive characteristic of Maku fabrics. Besides, I have found many Bengali friends shared similar connection with these tangail sarees. But today, saree weaving culture at home has remarkaby reduced. Thus market for these sarees has shrinked only to the local rural market. But rural market prefers more colours and jacquared patterns. Thus tangail is slowly moving toward its extinction. May be in next 10 years, it will exit silently and there will be nothing left in this practice besides our memories.

Working with indigo dyeing is an integral part of Maku's signature. What led to this?
The most magical aspect of indigo is the extraordinary chemistry involved in it. But it also depends on soil, temparature and handling. It is almost like wine making. Thus the process of dyeing with indigo is similar to cooking, knowledge which is imposible to document with only words. Thus it demands all our senses to internalise the craft and sustain the practice. This is also the path of philosophy we follow at Maku. From fabric to silhouettes, we harness these senses. We appreciate every imperfection and diversity that is offered by our practice. We seek beauty and peace in every fold.

What's next for Maku?
Maku is neither fashion, nor art. It is my deeper urge to bring a change. A purpose which gives me focus. An attempt to change the world. Change towards sustainability. Change towards tolerance. It is not luxury, rather it is a lifestyle. Therefore, it is not enough for us to aspire to sell through high-end retail chains and offer shows at runways. Rather we want to touch as many souls as possible. Through our fabrics, aesthetics and spirituality. We want to make Maku available in every major city in the world. We want to connect to people who believe in our ethos, and reflect back on their sentiments to our products. It might not be the answer to the crisis. But a collective hope towards a better world.

Take a look at Maku here.


Text Ritupriya Basu