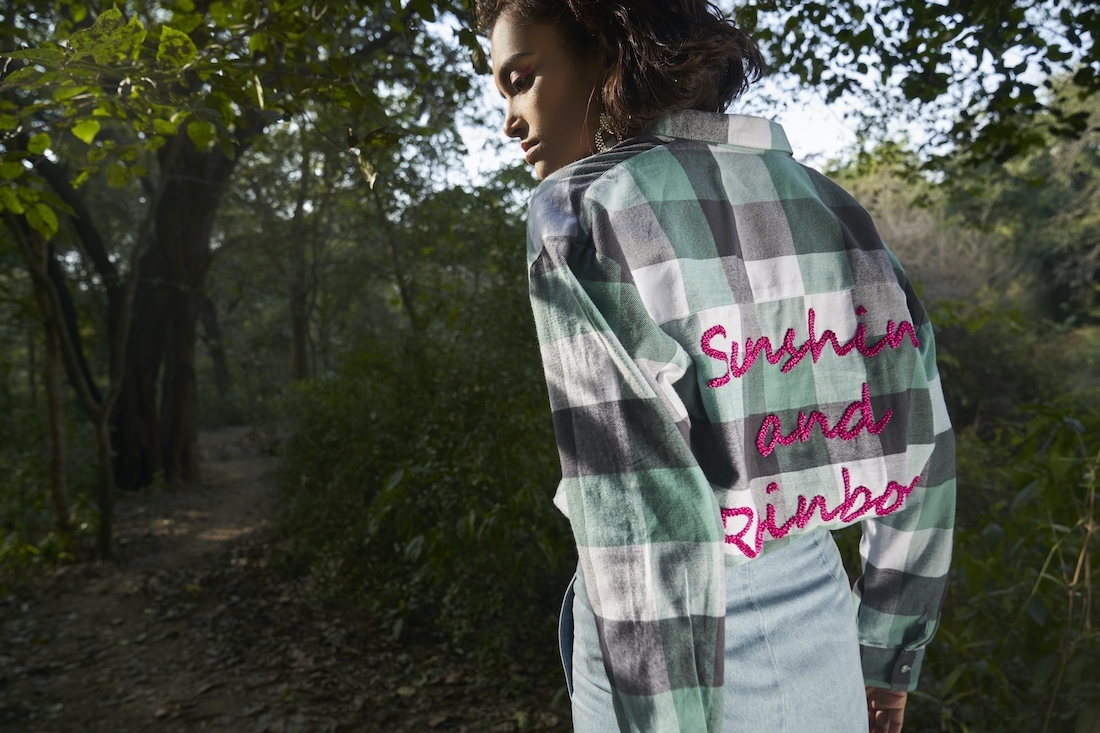 Aiming to create a collection tailored for a woman of conviction, who has a wild streak and loves giving stylish twists to her outfits, Aaina Mahajan's Mellow Drama recently launched Wild At Heart. Depicting all that's fuss free, experimental and fun, the collection is carefully constructed for women who don multiple hats, juggle different roles and have the vision to perfect each role that they take on, which translates into their sartorial choices. The collection emphasises on silhouettes and patterns to produce something mature, trendy and comfortable pieces. They've not only experimented with a range of fabrics and abstract prints but have also produced ethically. Pure light washed denim, corduroy georgettes, viscose and cotton jerseys in neutral tones are just some of the fabrics enhanced by funky prints, checks, fine thread embroideries, embellishments, sequin sheeting and appliqué.
Designer Aaina Mahajan tells us more about the label.
What inspired this collection.
We drew inspiration from the idea of drawing parallels between the modern, uninhibited woman and the wild. Both grow at their own pace and are majorly self-sufficient when it comes to their own growth. Essentially, the idea behind the theme was to capture the free-spirited and unapologetic nature of modern Indian women. Her style reflects her wild and independent side, her sense of fashion is representative of her breaking away from the norms and tapping into unexplored adventures. This collection features statement pieces that are effortlessly glamourous. Subtle with just the right mix of drama, it reflects the untethered and undaunted modern Indian woman.
Take us through your creative process for this collection.
We spent a lot of time going over the different aspects of the collection, especially since we wanted to incorporate slow fashion. We focused on enhancing each and every garment and concentrated on the finer aspects, to put together pieces that can be worn for years together. We also focused on more silhouettes and patterns to produce something tailored, trendy and comfortable. Along with introducing athleisure, the collection includes a wide range of silhouettes from coordinates, loungewear and jumpsuits, to dresses and separates.
In order to produce pieces that are subtle yet tweaked with just the right amount of drama, we emphasised more on detailing: think fringes, statement sleeves, tassels, tapes, buckles, zippers, eyelets and studs, patchwork, embellishments and trims in suede and metallic accents. Our aim was to emphasise the timelessness of fashion, coupled with the use of breathable fabrics, making it perfect for any occasion.
How does sustainability find itself in the Mellow Drama blueprint?
A lot of consideration went into the making of this collection, in order to guide it in a direction that was environmentally conscious, and at the same time, attempting to create limited and timeless pieces. We have worked consciously towards incorporating a process of manufacturing that is ethical, one that works towards greater ecological integrity and social justice for our workers, as well as the environment. We try to procure our raw materials as ethically as possible. We source pure viscose and cotton fabrics in natural fibres from the local mills, try to minimise waste as much as possible by working on a process of pattern making and cutting that has minimum fabric wastage. We do not use leather or fur in our collections. We have also tried to incorporate eco-friendly dyes such as digital printing, as it requires less water.
How has the label been faring through the pandemic?
We had launched our earlier collection during July and have launched our second one now. Launching two collections and remaining visible has been an ongoing process. Now, with the situation settling down and people adjusting to this new way of life, we are performing well through our online website sales, and have seen a massive increase in numbers. We have put a lot of thought into our garments and designed them to make the pieces fashionable and timeless, and it makes us very happy to see our efforts come to fruition despite the circumstances.
Date
22-02-2021