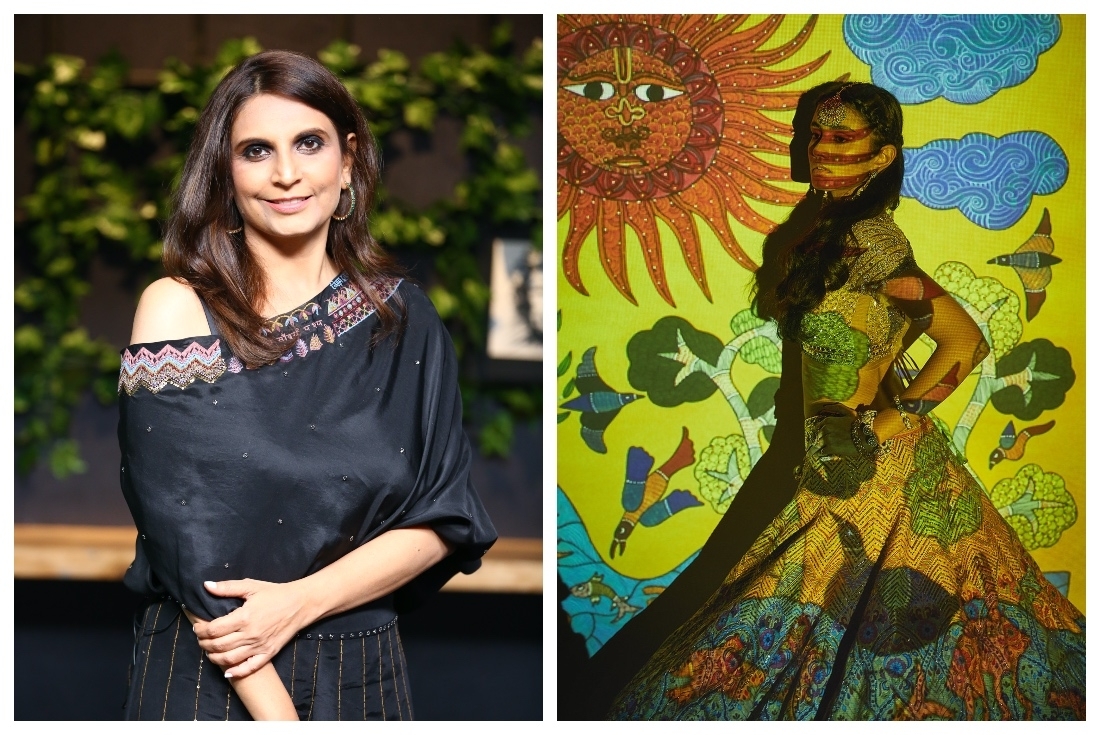 Designer Monica Shah's long standing relationship with textiles, began when she was a child. She recalls travelling to Gujarat and Kutch with her family and being immensely fascinated with bandhani and paithani. Her journey with design continued as she pursued her diploma in Interior Design at Rachna Sansad School of Design, followed by a course in fashion at Central St. Martin's, London. It was only after six years in Furniture Design did she move on to JADE. A curious and creative soul, Monica's artistic brilliance is a testament to how successful the label is today.
We're in conversation with the designer about her venture, The Chanakya School of Craft, which had a recent collaboration with Dior, design during the pandemic and the fashion of now, amongst other things.
Do you remember your first interaction with textiles?
Yes, I do remember my first interaction with textile. I used to travel to Gujarat and Kutch with my family, as a child I used to get fascinated by bandhani and paithani, et cetera.
After all these years, what does your relationship with fashion look like now and what is it now that you aspire towards?
I have always believed that fashion is a language of self-expression. It tells the stories of our identities and our culture. I look forward to exploring this more and more with every collection. I want fashion to be something that makes women feel empowered and confident in their own skin, rather than making them chase trends or feel bad about not being able to follow a trend.
Tell us more about The Chanakya School of Craft.
The Chanakya School of Craft was started with a two-pronged vision — to empower women from underprivileged backgrounds to pursue sustainable careers, and to preserve and nurture Indian crafts and techniques by passing that knowledge to future generations. The curriculum is modelled not as vocational learning, but rather as holistic education. Our students not only learn crafts and techniques, but the history behind it, as well as how to turn them into viable careers.
Our first batch graduated earlier this year. It's an ongoing journey, an investment of a lifetime. The fruits of this labour are not borne overnight, rather they're seen over years. We just have to keep going.
At a time like this, what keeps you motivated to create?
Just the love for creating, and the passion for arts and crafts. I know and understand that I am a part of something much bigger than myself. We are directly contributing towards sustaining the artisanal community. The Chanakya School of Craft is a haven for girls and women from underprivileged backgrounds, to build their own future and pursue their dreams. Knowing that I am a part of a community helps me stay motivated.
Finally, what do you think the fashion of now should look like?
Comfortable, conscious and versatile. It has to be for everyone, not just a select few. It has to make people feel comfortable and confident in their own skin. It has to be versatile, so that the wearer can experiment and re-wear in multiple unique ways.
Text Unnati Saini
Date 05-04-2021