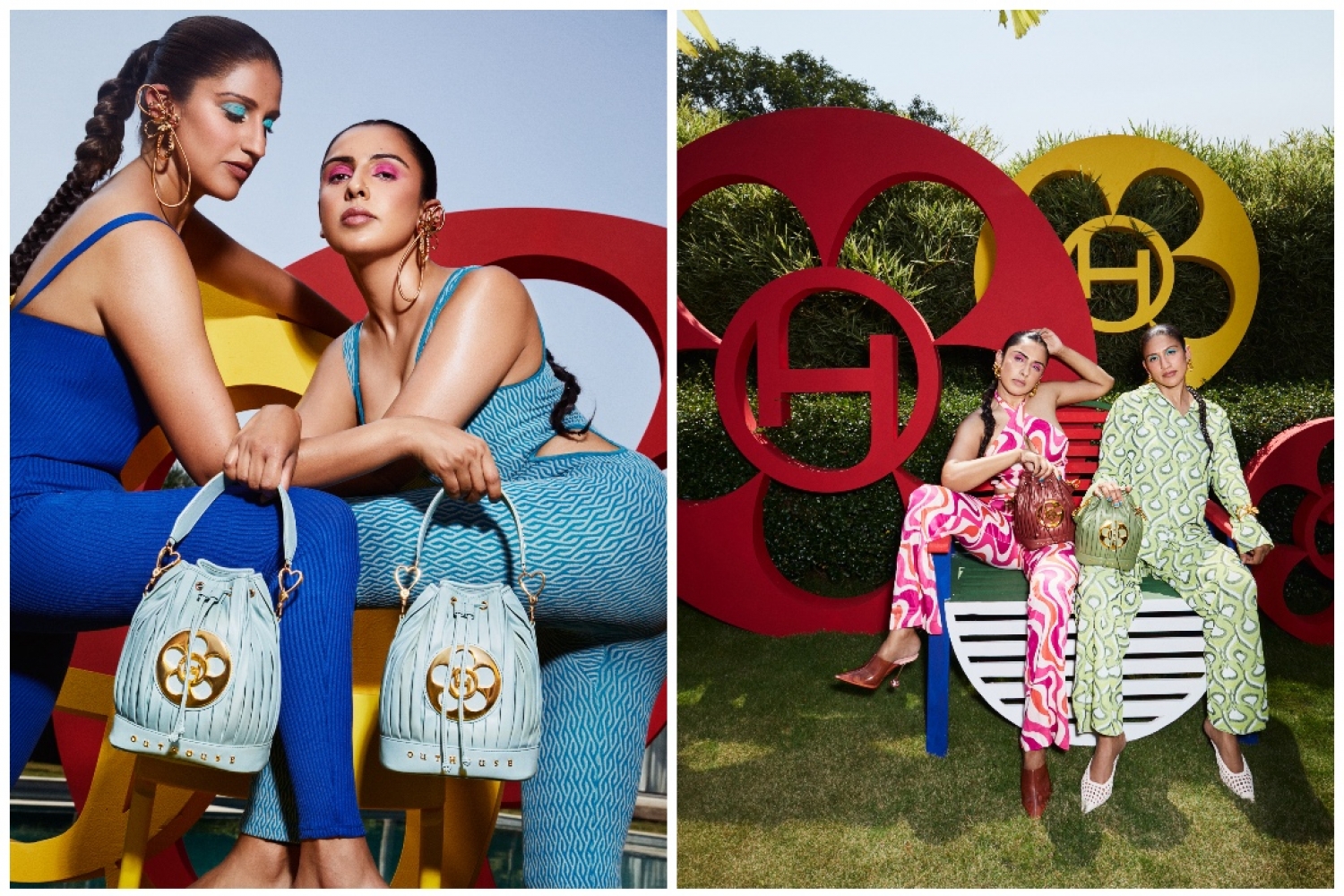 Sisters Sasha and Kaabia Grewal have always shared a common entrepreneurial vision, leading them to working together as a team in order to achieve it. Their brainchild, Outhouse, is one such endeavour. While they continue to share a beautiful bond as sisters and co-founders of the jewellery label, as designers, their personal aesthetic and style varies immensely. Sasha enjoys a more dramatic and boho appeal whereas Kaabia's sensibility is extremely quirky and edgy. We're in conversation with the sister duo as they tell us more about the growth of Outhouse over the years and their newest bag launch, amongst other things.
In these past few years, what were some of your highs?
Outhouse is about self-expression, empowerment and creative innovation. These qualities came to us at a very young age as sisters. We've grown up being the pillars of strength to each other. Starting from a pure slate always helps you be fearless and take bold steps, not withered by its after effects. Totally overwhelmed and thrilled we decided to start Outhouse. It wasn't easy. Not only did we not know anything about setting up an enterprise, but also, we were doing this in another city. It truly started as a hobby — designing jewellery for our friends and doing small exhibitions. As little girls, we were very determined to make a brand of our own, however we did not know if it would be jeweller. We just always dreamt big.
Some of the biggest highs were being selected at the Lakmé Fashion Week MSA (main stage area) which really gave us a great head start in the industry and there was no looking back. Also, being nominated as the best in this New Jewellery Sector by Fortune 30 under 30. This was the first time a costume jewellery brand was recognised. Another one would be winning the Vogue Fashion Fund. The brand has been worn and celebrated by various celebrities like Kim Kardashian, Cardi B, Beyonce, Eva Longoria, Sienna Miller, Tyra Banks, Sonam Kapoor, Priyanka Chopra, Alia Bhatt, to name a few. We have had a fair share of highs and lows, which every brand goes through, but the only learning from the highs has been to set another high, as we like to challenge ourselves to our truest potential.
And what did you learn from the lows?
In terms of lows there were many. The first challenge we faced was the metal we were catering in. I'm talking of a time where value was driven by the metal the jewellery was made in, as opposed to design, so that was our biggest challenge. But we kept going as we knew there was a gap in this segment, especially in terms of great affordable designs. So I wouldn't say it was really low but it took us some time to make the consumers understand the value in design.
A graceful balance of design and craftsmanship will always remain Outhouse's biggest USP. We have always endeavoured to achieve mastery in every aspect of creation, and provide women around the world jewellery of the highest calibre. Hence, as an overall learning, I would just say that wanting to evolve and pushing the envelope of design, and building a great brand experience with passion and consistency, is very important. Also, having the power to take risks.
We're very proud of the brand we've built. We are completing ten wonderful years next year and looking forward to many more. As a team, we've had our highs and lows but we only learn how to deal with them over time. For us, everyday is a challenge and everyday is a victory. Of course, during the pandemic things did change for us, but we only had to rise from the situation. We worked collectively as a team to overcome the phase, and now we're back with a bang!
Tell us about the new bag collection. What was the starting point and what inspired it?
Outhouse thrives on constantly pushing the envelope with design, and redefining how accessories are created and adorned. Every piece aims to be a piece of art, a style statement and a conversation starter, which embodies a bit of culture and heritage, and also the soul of the Outhouse woman. This has also helped us diversify our product categories, which initially focused on jewellery. Now we're proud to be known for our consciously handcrafted bags. Made by hand in our studio, our offerings are a culmination of the finesse of the craftsman, technical prowess and a keen attention to detail. For instance, we've reinterpreted the classic silhouette of the bucket bag into our own playful version. The OH Poppi Bucket Bag is consciously handcrafted in PETA-approved vegan leather. The bag is enlivened with the five petals OH Poppi monogram. A charmed way of carrying your essentials, this day to date bag is a multi-functional icon that can be worn in more ways than one. This piece is finished with 22Kt gold and sweetheart lock metal decoration.
This is not our first attempt with bags, we launched our first collection around four years ago, and received an overwhelming response, which led us to introduce more styles. We have made a conscious effort to use vegan leather since we launched our first bag collection, and have continued doing so ever since. Our last drop, Furbie, was also crafted in vegan leather, so was the Birdy, the ultimate (eco) essential tech accessory. Outhouse is also known for its fanny packs and sling bags.
How do you think sustainability is incorporated in the Outhouse blueprint?
As brand owners, we believe that small but effective steps need to be taken in regards to sustainability, which is why we are exploring new ways and alternative materials to replace the unsustainable materials we all depend upon. Sustainability is a journey, and we are constantly striving towards being a fully sustainable brand. We realise it is a crucial time to redirect and repurpose how we want to move forward as individuals, and as a brand, and encourage a new thought on how we do what we do and the way we do it. Outhouse has always made a conscious effort towards sustainability, we do this by sourcing ethical ingredients such as jute and cork from homegrown, local vendors, in order to support Indian artisanship.
How do you think the Outhouse aesthetic evolved over the years?
Outhouse's aesthetic is synonymous with statement style, exploring aesthetics inspired from music genres to Indian royalty, and a plethora of other areas. The constant urge to keep doing something fresh and stimulating is what we feel keeps us moving ahead. The brand truly believes in blending modern techniques with fine craftsmanship from India. However, all our pieces are designed keeping in mind the aesthetics of the Outhouse girl who is modern, bold and a confident woman. While it is steeped in Outhouse's signature aesthetic of chic yet daring creations, we believe our reinventions add to the softness of the brand's repertoire — a bridge between yesterday, today and tomorrow.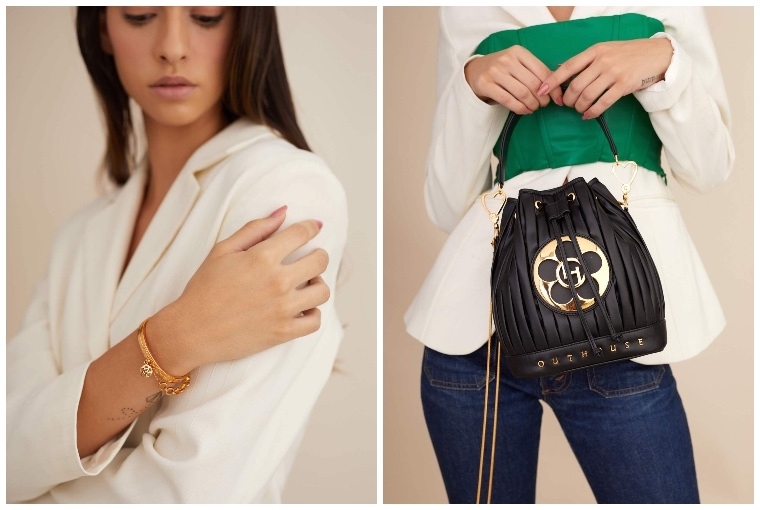 What do you think the fashion of now should look like?
Fashion is very personal. It can be minimalistic or maximal. The key is to experiment with different styles, not compromising on comfort. One's creativity is also reflected in the way they carry themselves. So, there are no set rules for fashion.
Text Unnati Saini
Date 03-12-2021