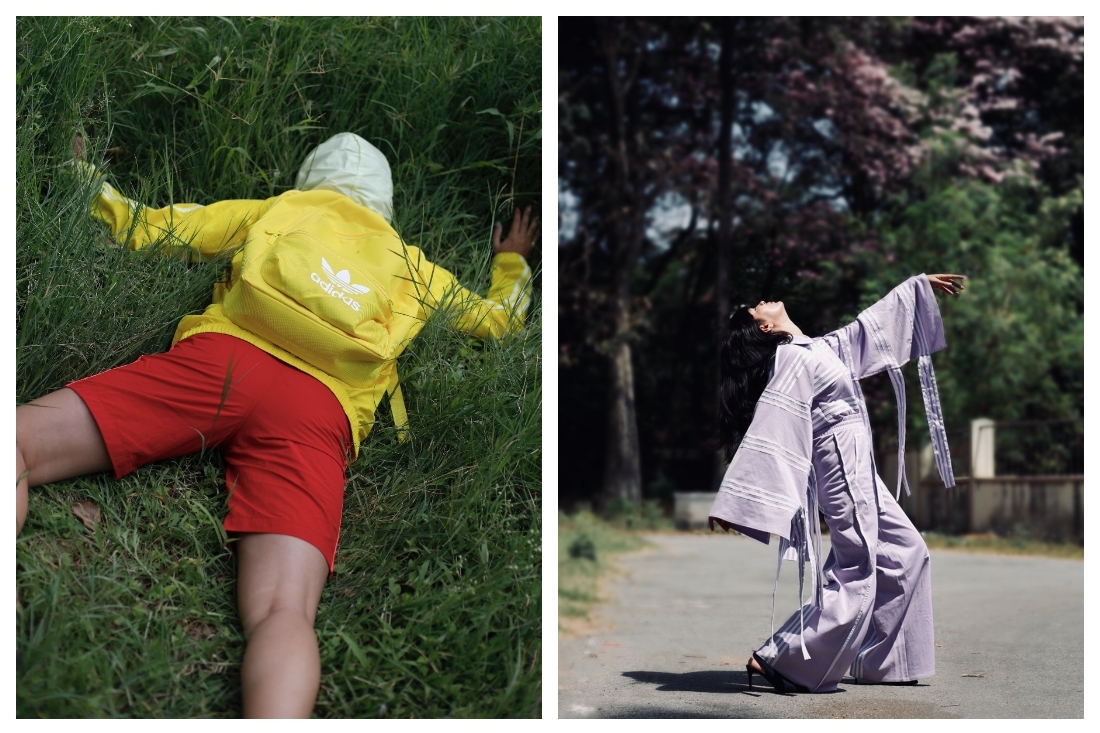 For Adidas; L: Monsoon , R: Shivani
Whimsical, colourful and dreamy, these are some adjectives that can be used to describe the artistry of fashion photographer, Rashmi. Some of her imagery, which consists of her subjects in the larger premise of nature, goes to show a deeper connection that is usually missing from the mainstream. The backdrop isn't a prop, and Rashmi endeavours to present a unified narrative. Below, the photographer deconstructs her craft.
The Artist
I've been privileged to have access to a film camera since the age of 12. 17 years spent schooling at Rashtriya Military School Chail, Himachal Pradesh had a role to play in my love for photography. The wilderness, calmness and diverse colours that each mountain had to offer, made me want to capture them consistently. If I'm asked to choose between the ocean and the mountains, now you know what I'll choose. Initially, I never really wanted to be a photographer by profession, but my time at NIFT shaped my direction. Post this, I also got a chance to intern for my graduation project under the guidance of my Guru, Tarun Khiwal.
The Inspiration
The work I like to do is driven by unconventional 'wisdom'. It's interesting to look at places where nobody is looking — you're get to see what nobody does. That's somehow my driving force. I have a long way to go as an art and fashion photographer, but the little work I have done, satisfies my soul. Also, opening my eyes almost every morning to a blurry vision of the landscape around, is most certainly the root cause of my love for blurry images. If we talk about being motivated towards something, I think your mind will always push you if you truly love your profession. Every little thing in and around you forces you to create, create and create. Also, a little bit of yoga helps a lot!
I wish for my viewers to eventually take away some solace! I like my photographs to be raw and relatable, which I believe, really attracts my audience.
L: For Adidas
R: Self Portrait from the series - Wind
The Process
For my own creations, I am able to draw inspiration from conversations, stories and social media. I jot down my vague ideas and nurture them, and eventually I brainstorm the possibility of executing them. It's a different process when it comes to my client projects. Even though the process stays intact, the source of inspiration and the boundaries of my imagination, are largely driven by factors controlled by the client. This is where I feel I have a long way to go as an art photographer — for my profile to have enough weight to sell the idea of an unconventional approach to my clients.
L: Manogya for the series - Yearnings from countryside
R: Kiran
The Pandemic and Beyond
My working style is intact but it has evolved too. This pandemic has made me disciplined. I began thinking about my physical well being. It made me realise that there has to be a balance between your personal and professional life. Being physically fit is a lot more important than everything that's important to you. For now, I'm working on a few ideas for some magazines and my own portfolio. I hope to see them featured soon!