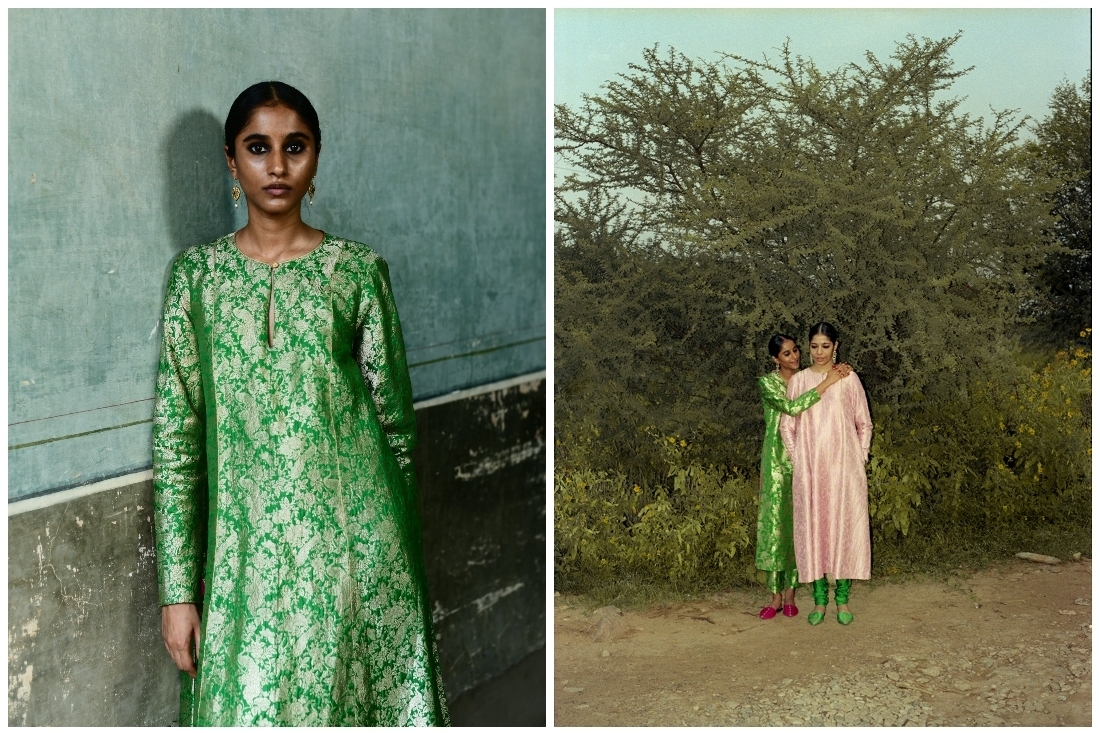 Rooted in craft and community, Raw Mango's relationship with handloom began in 2008 as an investigation of possibilities. As a design house, it continues to evoke new conversations in textile, culture and politics, with its eclectic range of garments and objects. The label draws from the colours, philosophies and the vibrant culture in India, to create a unique voice, questioning place and perspective through design. Constructed with the karigar community across Rajasthan, Madhya Pradesh, West Bengal and Varanasi, Raw Mango's designs innovate upon century old skills, in pursuit of defining a new aesthetic vocabulary.
Founder Sanjay Garg has always demonstrated a creative vision. For the finale show on day one at the Lakmé Digital Fashion Week 2020, the festive collection Moomal revealed design sensibilities that transported the audience to his home state of Rajasthan, which is often considered as the craft soul of India. Inspired by heritage and deep rooted in Indian culture, the collection took the audience through a trip down Sanjay's memory lane, beckoned with fond memories of Rajasthan. Part nostalgic and part re-imagined for the future, as he was inspired by the Rajasthani folklore, the new festive collection was a contrast and harmony of colours, textiles and silhouettes.
Rajasthan encouraged Sanjay to turn his creative gaze on the bold colours and combinations of the region's multiplicity of layers, which lives across colours, textiles and motifs. These are explored on poshaks, lehengas, jackets and the graphically constructed cholis. The central motif, the peacock, dances amidst strong bold lines of textile and embroidery. The label's newly introduced Bandhej techniques gave this traditional craft a distinct contemporary focus. We're in conversation with the man himself, who tells us all about what's been motivating him to create and what the changing face of fashion will bring for the future:
Do you remember your very first interaction with textiles? What was it?
My daadi (paternal grandmother) had a 'sandook' (suitcase) in the storage room and she always needed to be present in the room if I wanted to look inside. There was a bandhani dupatta with peacock motifs, that she has had all her life, and wore over both saris and lehengas. It has never left my memory.
At a time like this who/what is it that's keeping you motivated to create?
My motivation is to drive the business. We are here to help sustain and secure the ecosystem of our weavers across the country. Our spirit has not dwindled, and in times like this, it is more important than ever to support one another.
Tell us all about this new collection and the personal connect that you share with it?
Moomal is a collection which draws from Rajasthan, my home state. Revisiting it formally to develop a collection has been years in the making — it is so rich in its layering, colours and textiles. Developing a collection involved pursuing an idea, this time between the relationship of folk and classic elements.
What were the kind of challenges you faced adapting this new normal of a digital show, as opposed to a physical one?
Till date, we have presented a majority of our campaigns digitally and have found it to be very rewarding as we reach a much larger audience. This time, we were working with team members across time zones and geographies — it was challenging but I am very happy with the outcome.
There are a lot of changes going on in the industry. Do you think we'll actually be able to cultivate a sustainable future?
Sustainability for me is a bigger word and it goes beyond a trend. For it to become a foundation, there is still a lot of work to do, and not necessarily from designers alone. The media, government and weavers, all have a role to play. There are many pillars that need to work more cohesively together.