Designer Ateev Anand's journey with fashion has been dynamic. He began with a degree in fashion technology and went on to pursue further education in bespoke shoemaking from the London College of Fashion. Eventually, he returned back to establish his own label that would make custom footwear and accessories, and somehow shifted trajectories when he began looking into recycling of textile waste. Started around three years ago after immense research, Ateev's label re- prides in focusing on conscious craftsmanship and promoting circularity in fashion. Ateev tells us more about his practice below.
The Practice
Creating slowly, and with kindness. We look forward to integrating all the aspects of our recycled textile manufacturing process in-house. Sustainability is a state of no fear, a friend once told us. That sentiment drives our actions, alongside the following tenets: Respect — we seek to create an honest relationship with our planet and everyone who comes together to realise our ideas. Responsibility — we are mindful of our physical impact on our surroundings and the impact of our choices on the generations that follow. Recycling — we are committed to building circular and conscious consumption patterns in fashion.
The Process
We launched a new line called 're-ceremonial', which is our way of elevating recycled cotton textiles to very refined and elegant clothing suited for Indian celebrations. Recycled textile yarns have long been used as a substandard raw material, if at all, but when adapted to the hand loom and crafted with patience, they are capable of being turned into modern-day heirlooms. This slow, circular approach to clothing inspires us.
All textiles in our collection are made from recycled cotton yarns that are handwoven, and plant dyed using recycled dyed sources like tender coconut skins and marigolds from the Siddhivinayak temple in Mumbai. The pieces are meticulously embroidered using earth conscious embellishments, and a large part of the collection is completely hand-sewn using the same yarns with which they were woven.
I would say our conscious craftsmanship is our USP. Every piece is slowly made in the most considered way by staying aware of our environmental impact through energy usage, natural dyeing techniques, and microfiber shedding. The classic silhouettes themselves are crafted intelligently to allow for multiple wears, so as to remain in the wearer's wardrobe for longer and continue to be loved.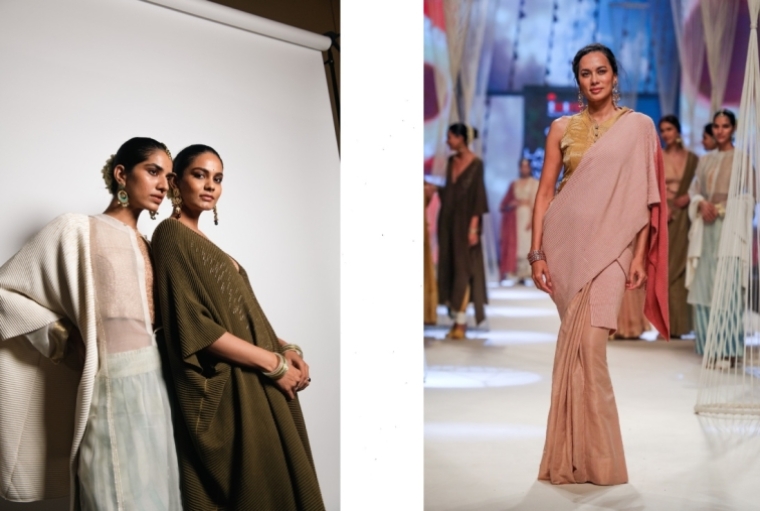 The Fashion of Now
I wish for us to be more authentically aligned with the values and traditions of our subcontinent. The culture of our land holds the ancient knowledge of living in harmony with our environment — I wish we discover more of that. The way to the future is by going back to the start. I also feel there is a growing niche that is seeking to wear their values on their backs. They might find the conversations we are trying to have quite interesting, and we hope we can create a space of community for these individuals through our brand.

Text Unnati Saini
Date 29-11-2022