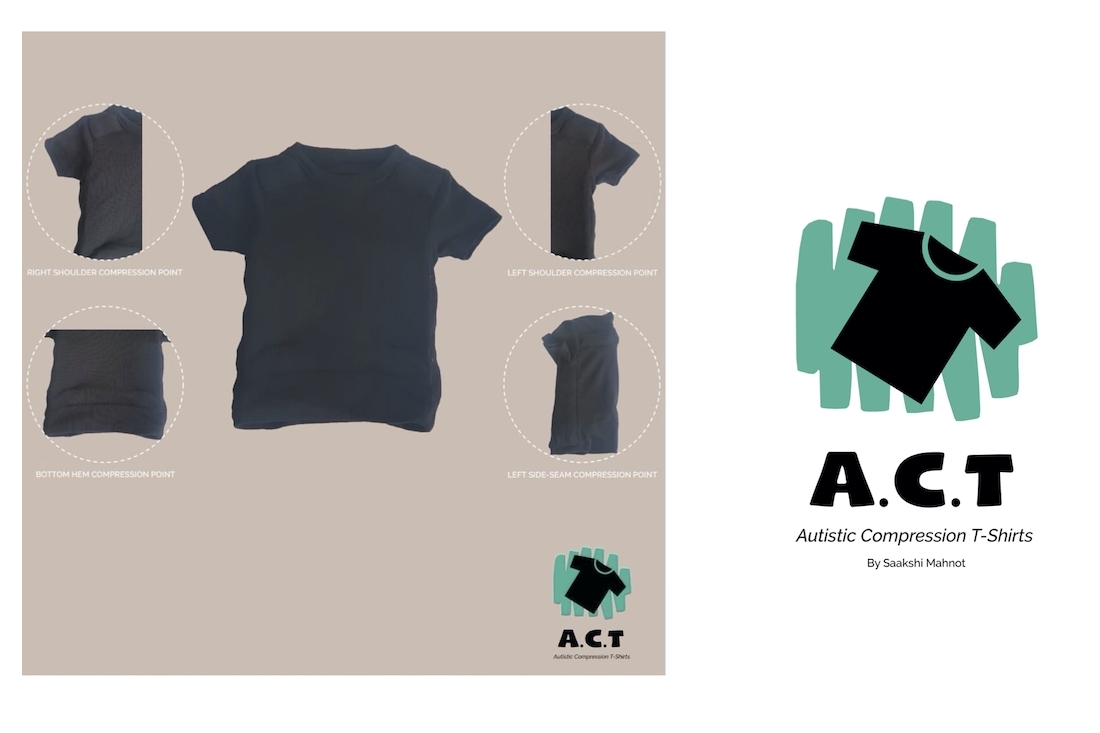 Clothes have never been just clothes, they're a repository of identity, emotions and so much more. They're an expression of one's truest self, speaking for the individual and what they stand for. Yet, ever so often, one finds that the fashion industry overlooks representation of diverse individuals and the atypical. Nothing but tokenism is offered in response. In our society which is slowly and steadily pushing for acceptance of diversity, Saakshi Mahnot is designing t-shirts that are autism friendly. It began as a part of her graduation product, due to her keen interest in product development. Saakshi was someone who was completely unaware about autism and its symptoms when she started out. She tells me, 'I stumbled on the absence of appropriate clothing for autistic children while researching fire-repellant garments. It took me about six months to complete the project — from the research to getting the garments ready.' What followed for Saakshi was four years of hustle and dedication to create awareness about what she was doing and to establish her t-shirts in the public space.
The NIFT graduate was motivated deeply towards developing the t-shirts more so after beginning her research. She came upon the grave fact that no solutions were available in India for autistic children and the only option was to source internationally at much higher costs. Saakshi explains, 'This wasn't a particularly feasible option for most families. Autism is generally characterised by hyperactivity and an inability to express.' Driven to explore the causes of this hyperactivity, was what finally pushed her towards working on this project.
Explaining how the t-shirts work, she adds, 'Lace, raw cords, labels, irregular necks and synthetic fabrics are small examples of how regular clothing could potentially lead to hyperactivity in children.' What the general public is usually ignorant towards is how most fabrics cause irritability in children on the spectrum and their inability to perform quotidian tasks such as fastening buttons or raw chords can further rile them up and curb expression. Saakshi's t-shirts are centred around a kind of therapy used specifically for autism. Called decompression therapy, this form of treatment aims for application of weight on the child's body, the material of her t-shirts creates tightness on the child's body. In addition, six weights are incorporated with the clothing for more pressure. This pressure imitates the feeling of a hug for the autistic child. This feeling of a hug and physical contact proves necessary for calming the children. The weights are removable and the versatile t-shirts are also meant for regular use. She also calls them therapy and daily wear t-shirts.
As driven and passionate as she is with her cause, Saakshi finds inspiration in how there are a multitude of areas to be tapped within the country when it comes to exploration of clothing for diverse communities. She elucidates, 'With the pandemic and with various campaigns gaining importance such as vocal for local, it is time for me to get my t-shirts recognised and primarily to create more awareness in order to understand the solutions available for children on the spectrum.'
Talking about inclusivity in the Indian fashion space in our contemporary society, Saakshi has noticed efforts by individuals for paralysed, wheelchair bound and visually impaired people, which she deems as impressive. Where she sees the lack is in mainstream brands indulging in initiatives to include disorder clothing as a part of their collections. She's of the view that including this kind of clothing as a part of their CSR activity would increase awareness to a great extent.
The pandemic, like for others, has been hard on her, yet she moulded the situation in her favour and started reworking these t-shirts after a prolonged period, considering how rough the situation must've been for families with autistic children. In the future, Saakshi hopes to reach out to these families with a wider set of solutions available within the country and she's working on developing a full range of autism friendly clothing.
Text
Unnati Saini