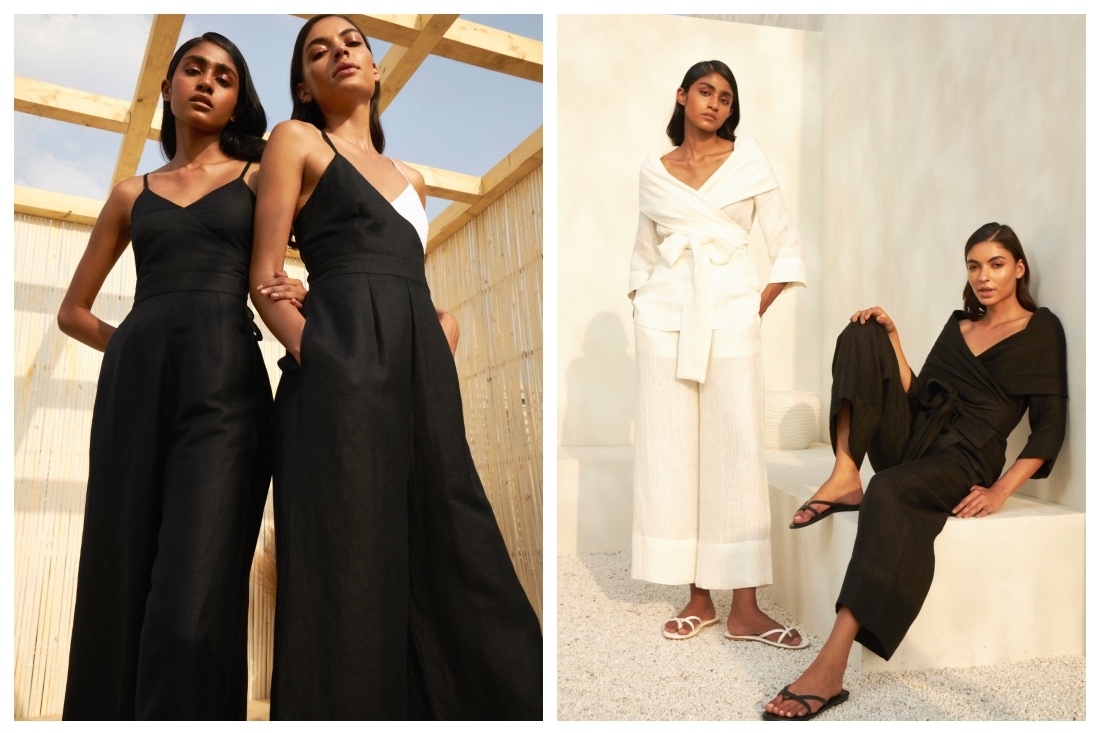 Offering fluid fits and handcrafted finesse, SAND is Shirin Mann's brainchild and her creative labour of love. She is also the founder of India's first ever designer jutti label, NeedleDust. SAND (Such A Nice Day) is a celebration of all things simple, unrestrained and fluid. It is a conscious, sustainable luxury label, that uses fabrics made from aloe vera, eucalyptus, rose, soybean protein and Banana, along with organic pure linens, cottons and hemp. Summer styles keep your body cool in the sweltering heat, and winters feature the finest cashmere and pashmina to keep you snug and stylish. With an earthy colour palette, intrinsically linked to the brand's name, SAND plays around with the tones of nature. For Shirin, the brand is an extension of her own taste, aesthetic and style -- easy yet crisp, minimal yet bold. She takes us through the inspiration, creative process and future plans.

The Designer
I spent most of my growing up years in a boarding school. I went to the Convent of Jesus and Mary in Shimla, after which I came to Delhi to pursue Bachelors in Political Science. Then, I went on to study Masters in International Journalism from Cardiff University, where I finished my dissertation on the changing phase of Indian Politics in the Dr Manmohan Singh era. Clearly, I was always very inclined towards politics and I wanted to be a political journalist. I remember when people used to ask me what I wanted to be when I grow up, I used to say an IAS officer. I only said that because of my dad, but honestly, I had no clue what it meant. It so happened that when I came back from Cardiff, I began working with a start-up investigative paper. I take politics as my genre, and after that I moved to women crime for a while. However, I gave it all up when accidentally, fashion happened to me. Fashion wasn't my ultimate goal at all. I don't think that I was even close to thinking about fashion and design, and therefore I never studied fashion or design. I was introduced to Fashion out of a need of me wanting to wear Juttis. I designed my first pair of Juttis and I saw a massive gap in the industry regarding this product. That's the story behind how Needledust was born.
The Label
SAND [Such a Nice Day] is my own personal aesthetic and is an extension of who I am. SAND was also born out of this massive gap in the Indian industry specifically. We live in a country where humidity is very high, but we're always exposed to wearing polyesters. Our first choices are always brands like ZARA, H&M, et cetera, and majority of their clothes are made of polyester. Given our weather conditions, we really shouldn't wear polyester. Our bodies can't take it, which is why we sweat so much. So with SAND, I wanted to bring in the correct fabrics that are skin friendly, like organic linens. For me, the hand-feel of the fabric is of utmost importance. It's extremely important for it to feel lightweight, airy, skin-friendly, soft and luxe. All the fabrics that we have chosen, fall under this criteria. While linen is said to be a very stiff and not so summer friendly fabric, I wanted to change that. We use organic linen that is really soft and lightweight. We also use organic cotton like double lawn cotton, cotton gauze and variants of linen like linen gauze.
I also use plant based vegan fabrics like aloe vera, Eucalyptus, rose, soy bean protein, banana leaf, et cetera, as they have massive cooling properties and are known to keep your skin guarded. All these fabrics are organic and consciously made. The other aspect that inspired SAND was the silhouettes. I feel that while we use plant based clothing because it's cooling for the body, it has another benefit — loose silhouettes that are fluid fits. I wouldn't call it anti-fit because anti-fit can also be boxy. I like to call my garments fluid fits because they are very feminine, flowy, and they make you feel really confident about your body. Your clothes should make you feel fierce and confident, and that's exactly what SAND does.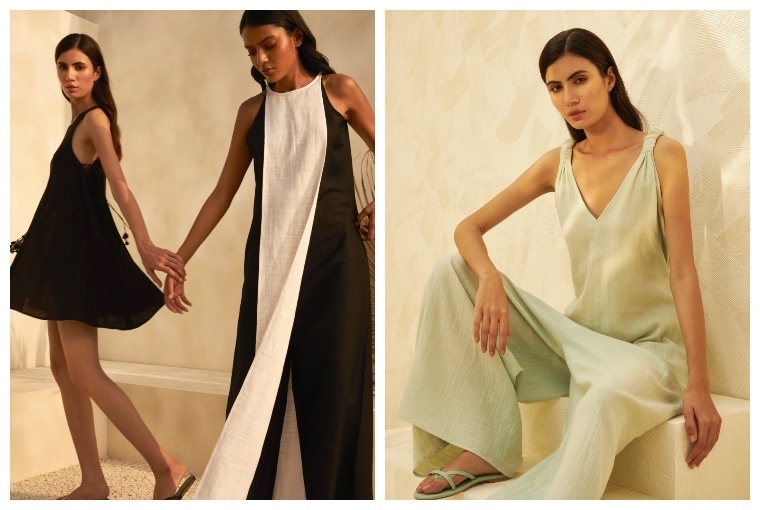 The Colour Palette
The colour palette for SAND was carefully chosen, after dyeing for several months to get the correct six primary colours. I'm a believer in colour therapy and I feel colours are mood changers. So we have taken colour therapy into consideration while picking the perfect colour palette for SAND. Our primary colour palette ranges from sand, naturals, ivory, dusty, to pink, mints and mustards, which are extremely cooling for the mind and soul.
The Creative Process
Our creative process is absolutely crazy at the moment. I'm really particular when it comes to design and quality, and now with two brands, it's been a little overwhelming. Our day starts with creative meetings between the
Needledust
Team, and the
SAND
team, and then with both the teams together. We discuss designs, colour palettes, on-going processes, deadlines, next collections, when we're rolling out and when we're not, and the work progress. It's the same process for both, as I sit with the design teams and discuss all of this. The next step is to meet the Karigars, since I do all the manufacturing. I have to make sure every single day that the designs that are on the agendas are being made well. We also have meetings between the design team of
Needledust
and the merchandising team of
SAND
, since I'm the creative head of both the teams. Now, many accessory designs like the
SAND
belt and the
SAND
footwear are a part of the brand, and will be launched soon, so both the teams and I, sit down together and carry on as the day progresses.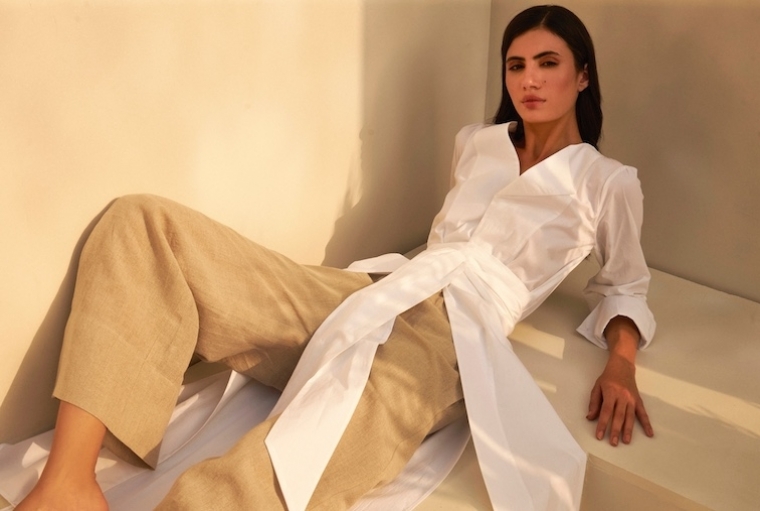 The Future
The pandemic had a massive impact on the business. At that time, SAND hadn't started so it was just Needledust. I work very closely with my workers and artisans, and I believe that they are the backbone of the industry. My first thought was that if we do shut down, what would happen to my workforce. They rely on me and I have a sense of responsibility and commitment towards them, so it was a major and primary concern for me. The pandemic gave us time to reset and re-think our business choices, and how we would move forward. Even though the time was extremely difficult, it brought a new way of thinking for Needledust.
I started SAND before the pandemic hit, but having those eight months of lockdown, gave me more time to research, develop more silhouettes and styles, which was extremely prime for SAND. In a way, it gave birth to SAND and helped us create the first collection of our dreams. With Needledust, a lot of things changed in terms of the work environment and work force. We were able to build our new office and give our team a more natural and creative space, along with a larger space for our workforce. It's made Needledust come back stronger. In all, yes, the pandemic was a huge setback for a lot of brands and industries across, but instead of dwelling on that, I'd like to move forward with SAND.

Text Hansika Lohani Mehtani
Date 12-04-2021