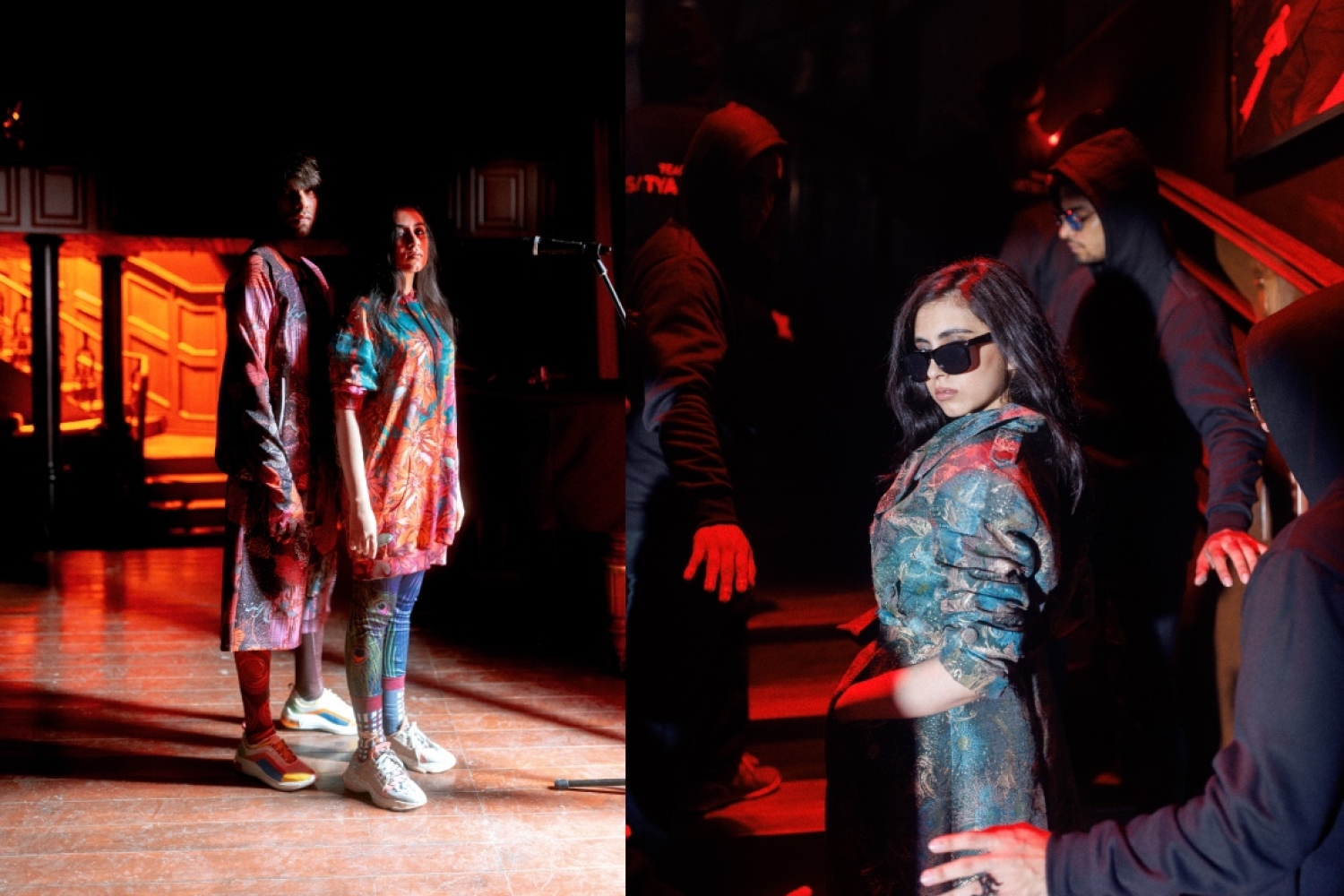 Satya Paul x Komorebi and Curtain Blue
Music is the pulse of Satya Paul and the legendary fashion house celebrates the intersection of fashion and music in its collaboration with two of India's most distinctive electronica artists, Komorebi and Curtain Blue,in a visual showcase Birds & Bees that is as much about the musicians as it's about the clothes. The video features the artists wearing New Order, a fashion collection that is a powerful take on the Art Nouveau movement. The aesthetics of the collection – designed by Satya Paul creative director Rajesh Pratap Singh – finds synergy in the synth-laden, seductive 'Birds and Bees', a track from Komorebi and Curtain Blue's previously-released collaborative EP of the same name.

New Order celebrates counterculture, rebellion, individualism and breaking free from conformity. Much like the music of Tarana Marwah aka Komorebi and Abhishek Bhatia aka Curtain Blue. Fans of the whimsical and drawn to experimentation like moths to a flame, both Komorebi and Curtain Blue are known for aural creations that are delicate and powerful, wild and graceful at the same time. The six-minute-long video, produced under the experienced eye of stylist Vijendra Bhardwaj, turns the concept of a fashion film on its head and shines a spotlight on the musicians instead. Birds & Bees blurs the lines between music video, fashion runway, and film and takes viewers on a journey through the lives of these two rockstars; tension simmers, and the rollercoaster of celebrity provides a rush.

Introduced to their music by long-time friend and collaborator, Midival Punditz's Gaurav Raina, Pratap Singh felt that the youthfully exuberant and flirtatious track complimented the collection. Bringing them together was an important motivation for Pratap Singh, who is focused on "Satya Paul's commitment to support the incredible talent in this country. This is consistent with the brand's ethos which has always recognized and embraced the linkages between fashion lifestyle and music," he says.

"Rajesh wanted to capture the journey of an artist all the way from the studio to the stage and what comes after, and he felt our single captured the energy of the collection and the concept," adds Tarana of their decision to work with Satya Paul on 'Birds & Bees'. "The shoot pushed both Abhishek and I out of our comfort zones into a newer, more confident creative space," she talks of the experience. At Satya Paul, music has been a frequent muse and through 2023, the brand's association with music will bring more musicians' vision to life.