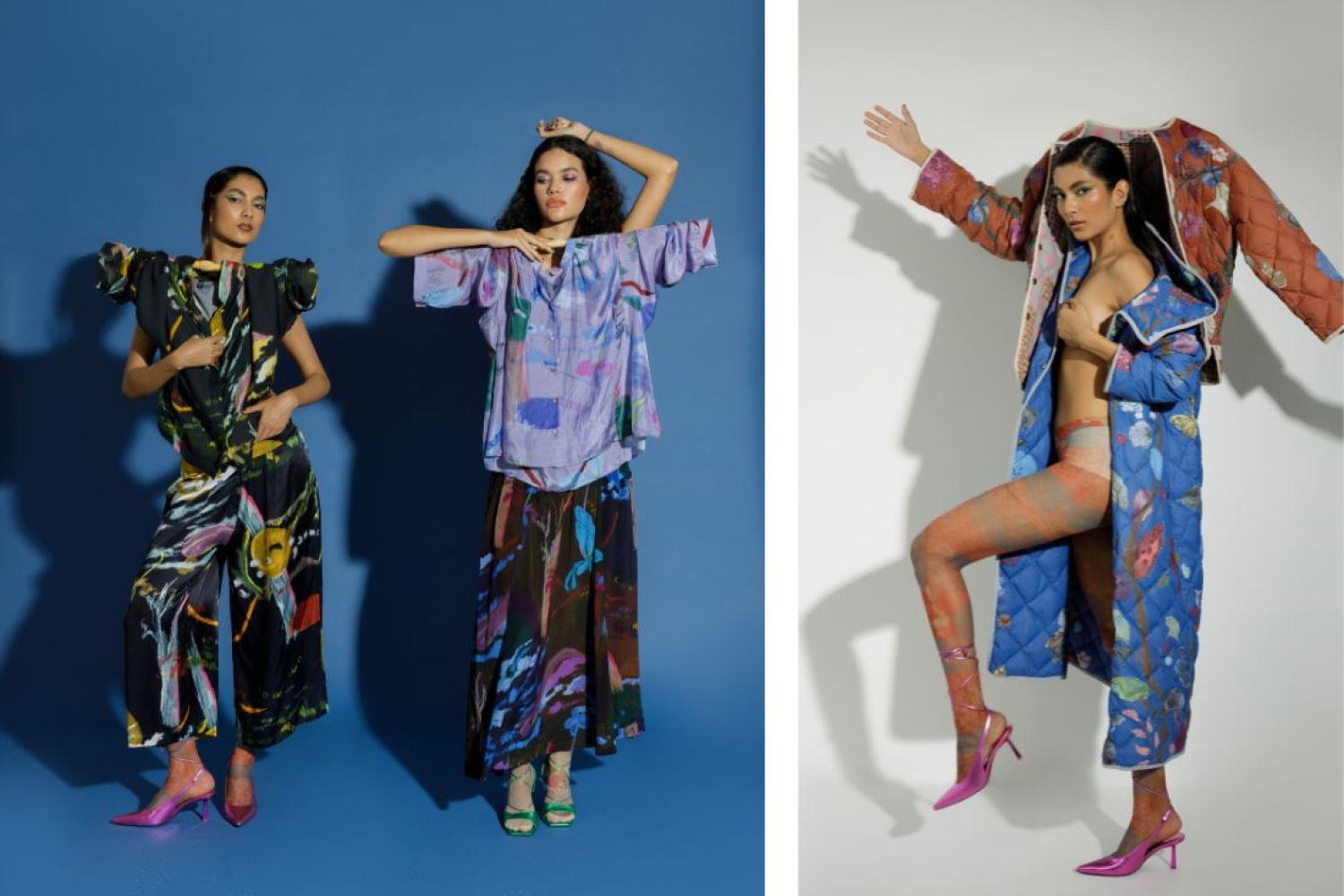 Yavi released their new AW'23 collection, Second Skin: A Journey of Authentic Expression. Second Skin is not for the faint of heart. It's for the trailblazers, the dreamers, the eccentrics who aren't afraid to wear their heart on their sleeves—quite literally. Why be a wallflower when you can be a wildflower? Why fit in when you were born to stand out? With Second Skin, your clothes are more than clothes. They're a conversation, a chuckle, a chance to challenge the norm and charm the world with your unfiltered self.
In a world that has emerged from the shadows of a global crisis, fashion finds itself at a crossroads. It isn't just about trends anymore; it's an art of self-expression, and Yavi's new collection is larger than life as it invites you to wear your heart on your sleeve. It seeks to defy conventional fashion norms and tell a tale of artistry that transcends the mundane and delves into the depths of how you feel. Embrace your true self, and let the world witness the masterpiece that is you.
"Our aim is to weave stories that resonate with my discerning clientele." — says Yadvi.
It's an exquisite symphony of emotions, woven into the fabric of every creation. The abstract prints and rich tones echo the harmonious cacophony of emotions, urging you to challenge norms and cast away the shackles of societal expectations. Furthermore, the butter soft, high-tech silk feels like a second skin, cocooning you in a safe space that allows true personalities to shine through. "It is a confluence of tradition and conscious craftsmanship", she adds.
Our journey begins by embracing the tradition, paying a tribute to age-old techniques passed down through generations. Yet, Yavi transcends the realms of time, evolving these techniques to create a state-of-the-art aesthetic that bestows formidable substance and value to our brand," says Yadvi, the visionary founder of Yavi.
Every creation in the collection goes through an enchanting Odyssey, loved and nurtured by skilled craftsmen at every stage. Each capsule carries a distinct narrative — from the celebration of age-old techniques to the contemporary impressions of found objects and AI-powered artwork. Additionally, we follow a sustainability route taking up practices like upcycling waste fabrics and honoring vintage textiles.

The highlight of AW '23 is in our engineered garments that are meticulously crafted wearable artworks, where each detail is thoughtfully designed and rendered, resulting in unique and exclusive pieces that stand apart in their complexity and beauty. In a fashion landscape that often favors fleeting trends, Yavi stands as a visionary brand, weaving the art of versatility into the fabric of each collection. The focus on versatility is not merely a feature; it is an artistic philosophy that elevates the wearer's wardrobe into a treasure trove of endless possibilities.
Yadvi has ingeniously designed a collection that builds upon 'In the Raw' (SS'23), forming a harmonious tapestry of fashion. Whether it be the current AW23 collection or the older one, each piece has a unique identity that effortlessly intertwines with others, transcending seasons and trends — Garments that stand the test of time, never confined to a single fleeting moment, but rather, cherished as timeless works of art.
Jackets that double as dresses, tops that transform into layering pieces - the inherent versatility of the designs allows wearers to express their individuality beyond conventional boundaries. A single garment seamlessly adapts to various occasions and settings, making each piece an essential cornerstone of a well-curated wardrobe.
The collection opens up endless possibilities for styling and layering to have fun with upcycled jackets, silk velvet collared dress, reversible quilted jackets, shirt dresses, printed shirts, co-ords set, block printed velvet jackets, lurex jacket, tunics, jacket with embroidered pockets, and down feather quilted jacket, etc.—the collection offers an opportunity of unique expression of creativity and sustainability, promising a captivating and versatile wardrobe for every fashion enthusiast and for every mood. Whether you're heading for a winter vacation, lounging indoors, or planning a memorable date night, these garments effortlessly adapt to various occasions and moods.

Words
Platform Desk
Date
18.09.2023