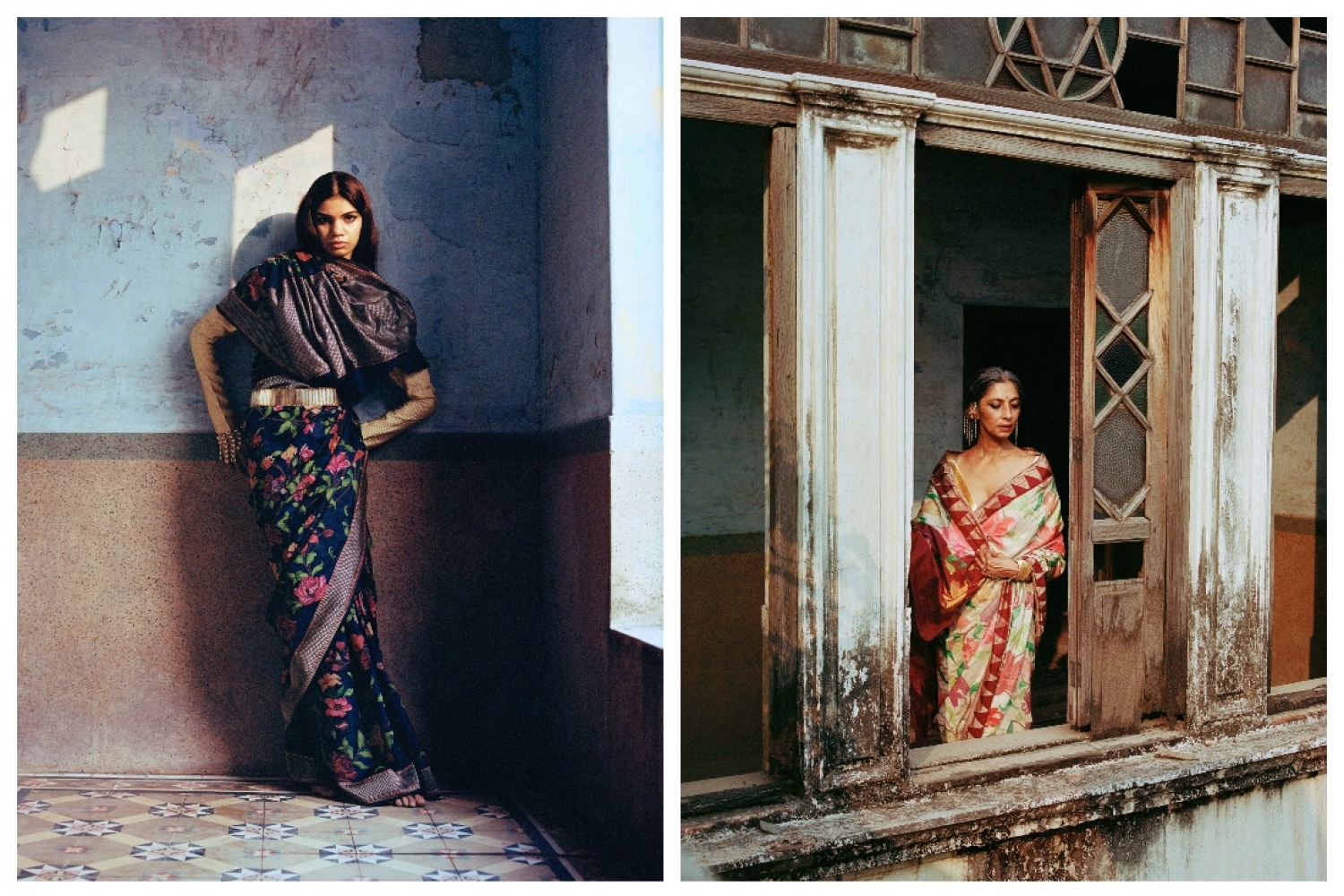 Steeped in Banaras's heritage and craft prestige, Shanti's offerings are akin to bespoke legacies. Silk blends with gold to tell every story through intricately woven sarees and lehengas. A true Banarasi zari is a cherished family heirloom of intrinsic and emotional value, to be passed down generations. Designed by Rama Mehra Studio, the store's rich warmth is immersive, helping you soak in this craft that is a living legend. Splashes of gold and silver welcome you against a plush colour palette, lit by delicate mogra light fixtures.
We're in conversation with Khushi Shah, the managing director, who tells us all about the label, their relationship with crafts and craftspersons, amongst other things.
Do you recall your first tryst with textiles? What was it?
Having had an upbringing in a family that has pioneered the art of Banarasi weaving and is a specialist in handloom products, gave me opportunities to develop a strong understanding of different kinds of weaves and an inclination towards learning more about the same. So, it was never too difficult for me to appreciate and value Indian textiles. It also made me realise the amount of work and creativity our weavers put in, which is absolutely commendable and worth appreciating.
Tell us about what your practice stands for?
As a brand, our priority has always been to empower our weavers. The amount of hard work and zeal put in by them to bring our visualization of designs to life is truly seamless and should be appreciated. At Shanti Banaras, we are constantly experimenting with a variety of techniques. For example, our latest experiment was to weave a real zari saree without a weft, because of which, the entire saree depicts a new and unique story. We have always aimed towards making Indian textiles renowned globally, by performing some out of the box explorations and keeping the legacy of handloom and hand embroidery alive, passing it down from one generation to the other.
Over the past few years, there's been this obsession to bring back traditional textiles, to preserve our craft and culture at large. Can you talk about some of the ground-level changes that you have (or have not) seen in the crafts community, and do you think we're doing enough?
Honestly, I don't believe that we are doing enough. While having a candid conversation with one of my weavers, he told me about how passionate his forefathers were towards creating authentic Banarasi sarees. Currently, since numerous brands have shifted to power loom, pure handwork is gradually subsiding, making it essential for us to take a step towards reviving it. Furthermore, he also mentioned that now his children don't wish to get into the handloom industry as the wages are the bare minimum. Definitely, the handloom sector deserves way more than this.
How do you think traditional craftsmen can survive and face the challenges in a modern world?
It is essential that they continue to make unique designs and keep an eye out for genuine brands that support their skills and empower them. Shanti Banaras has always been a home to hundreds of looms that have pure handloom and real zari work. We offer work to so many looms, specifically for real zari sarees, which was definitely a huge risk for us as well, however, the step was taken to revive the handicrafts and to communicate the importance of real zari to the people.
How is sustainability incorporated in the Shanti blueprint?
As a brand, we engage in weaving with natural fibers that include cotton and wool. We are now also looking forward to doing a small-scale production followed by order, only to reduce the wastage of fabrics in the process. While working intensively in the handloom and hand embroidery sector, we are empowering our weavers as well and supporting local crafts, instead of indulging in power loom.
Finally, what's keeping you busy right now?
Our new store at Mehrauli in Delhi has kept us busy. Additionally, we are putting together our upcoming collection.

The collection was beautifully shot by Bikramjit Bose and styled by Nikhil D.

Text Unnati Saini
Date 21-12-2021