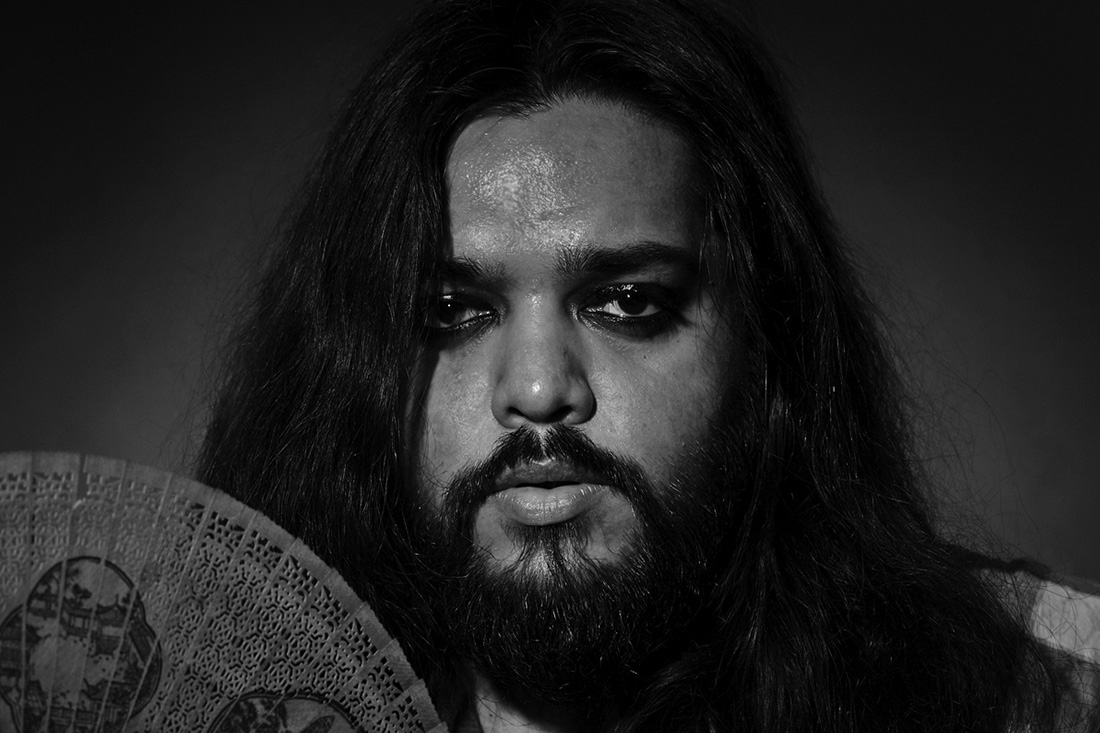 'Shape shifting, shrouding, swaddling and more'
It's not easy to take a stand. It requires a strong will, confidence and belief. And now more than ever, the times that we live in, demand the same. The political scenario has seeped in our lives one way or the other, all depends on how you show your front. An important artist of our times, Kallol Datta has never shied away from taking a stand. The only difference is he says it through design and sometimes art.
The sleeve has been brought into focus in the new collection. 'It has been burdened with details and visual texture aiding the viewers' eyes to travel a certain way when observing the garment. Stitched pieces were torn apart and then reconstructed to build these forms.'
'Now is not the time to create vacuous clothing,' he tells me. In conversation.
You've been studying the native clothing practices of MENA and the Indian subcontinent region since a while now. All your pervious works since 2017, including the new one in focus here, have succeeded from the same. What all have you learnt about it till now and what all has changed?
It started off as an exercise to create a database of shapes and silhouettes native to the aforementioned regions. I was interested to form templates to a point where the layering of these forms become second nature and introducing details in the clothing belonging to these regions are tied into the political, economical and religious developments on the ground.
At the same time I was looking into how the clothing industry was excluding a large part of the population by not making clothes available to that particular segment. What widespread urbanization did was make people who don native-wear, immediate cultural markers of their community. This was amplified even further as seen in the recent protests in Sudan of the girl wearing the ivory thobe with the gold moon earrings.
What inspired you back then to pick a symbol of conservatism?
That's always been one of the cornerstones of my work with clothes. To identify symbols and iconography to create subversive bodies of work.

Why did you choose Imphal, the city as the setting for this particular body of work?
I've been visiting the city for almost a decade now. It's nestled in a valley and that sense of being cocooned yet vibrant at the same time is what got to me during the initial visits. I've engaged with the city viscerally and have had meaningful interactions with the creative professionals in Imphal.
I've had to regrettably back away from showing my work in certain places, in the recent past, because the organisers and/or 'culture police' of those regions had certain issues with my work. I am not willing to censor myself and so I decided not showing at all would be better. Sometimes an absence brings forth more conversations. Imphal made me comfortable to document this project. Working with a principal crew that was wholly Manipuri was wonderful. There are certain objects included in the documentation that are motifs of the city to me.
Tell me a little more about the collection.
There is a lot of shape shifting, shrouding, swaddling and more. Hybrid forms – the hanbok meeting the angarakha, the chador fusing with a cape and the abaya co-existing with the kurta. The sleeve is brought into focus. It has been burdened with details and visual texture aiding the viewers' eyes to travel a certain way when observing the garment. Stitched pieces were torn apart and then reconstructed to build these forms.

When and how do you think fashion became political?
Repeating myself from earlier where the act of donning a particular garment makes one a marker, it is impossible for my work to be apolitical especially today when twisted notions of nationhood is equated to patriotism and skepticism is viewed as treason. I keep telling the younger generation of clothes makers to be braver – to include the personal and the political in their work. Now is not the time to create vacuous clothing.

Everyone noticed an influx of colour in your work a while back before you moved back to what you love—the monochromatic palette. Why do you hate colour so much?
Contrary to viewer perceptions, I've only had 3 (including Volume 2, Issue 1) lines that were monochromatic. The rest were all colour. I don't hate colour. I just understand black and now white a lot better.

Text Hansika Lohani Mehtani