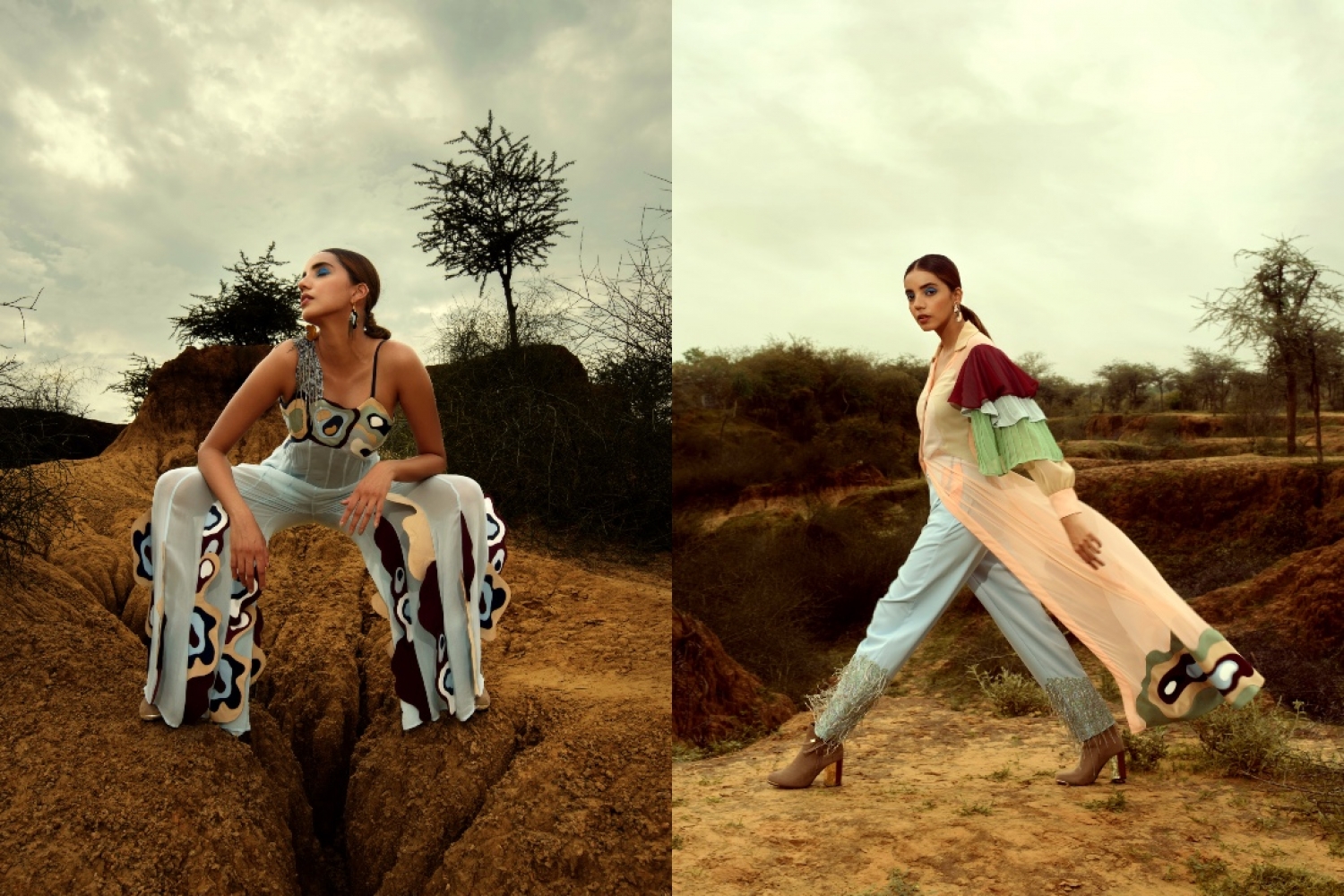 Designer Siddhant Agrawal has always found himself inspired by art, music and clothing. A creative being by nature, he has found solace and freedom in art from childhood. His first rendezvous with design, as he recalls, was when he had stepped out for an art competition that subsequently offered him an internship for a fashion export company's summer collection. The experience was unfamiliar yet Siddhant managed to find his footing. "I always had a dream of launching my own label since I was exposed to the fashion industry. I further went to study design at the London College of Fashion to fulfil that dream." He then went on to intern with multiple designers including the likes of Gaurav Gupta, Kanika Goyal and Mary Katrantzou from whom he learnt about quality and finesse and he strove to hone his skills before taking the plunge and launching his eponymous label.
Whimsical yet laden with crisp lines and sharp tailoring, the practice at label Siddhant Agrawal stands for strength, equality and power dressing. A storyteller at heart, the designer finds himself weaving narratives with a strong voice that manifest through his collections. Revelling in his emotional sense of being, Siddhant finds himself using it as a strength for growing his practice. While his mood board consists of architecture, bold lines and geometrical shapes, the futuristic designs are laden with his own unique aesthetic and philosophical inclination.
The designer's process is also methodically esoteric. He begins with a thorough exploration of the emotions he experiences in the moment which is followed by an extensive foray into archi- tectural shapes, lines, paintings and artist history, into which he instinctively leans. As he finalises on a colour palette for his collection, he starts the process of sketching, further experimenting with textures, patterns, textiles and 3D forms. Consequently, the sketches go under calico formation to play around with the designs visually and then the garment finally goes into production.
As it becomes de rigueur for labels to jump on the sustainability bandwagon, one is compelled to wonder what the term actually stands for. Does it merely imply rejecting fast fashion and purchasing garments made from more 'ecological' fabrics? The harsh reality is that this myopic outlook doesn't reduce the price the environment pays, considering the vicious cycle of consumption continues in all its glory. Talking about the current moment in fashion Siddhant explains, "I understand the concept as a journey of learning to respect the planet. We operate with this guiding principle at the core of our label and constantly strive to find solutions that allow us to be more responsible with what we produce. Every day we engage and deliberate to come up with newer ways of reducing our waste. We try to reuse innovatively and almost never misuse our resources."
The pandemic, like for many others, presented its fair share of obstacles for the label, yet Siddhant and his team managed to find their calm to rethink their design and work process. The extra time aided them in developing their digital footprint and gaining visibility in the market. The team has a lot planned for this year, an amalgam between modern silhouettes and traditional techniques is one of the few things in the works. Label Siddhant Agrawal hopes to only move onwards and upwards hereon.

To read more such articles from our Bookazine grab your copy here.

Text Unnati Saini
Date 02-10-2021