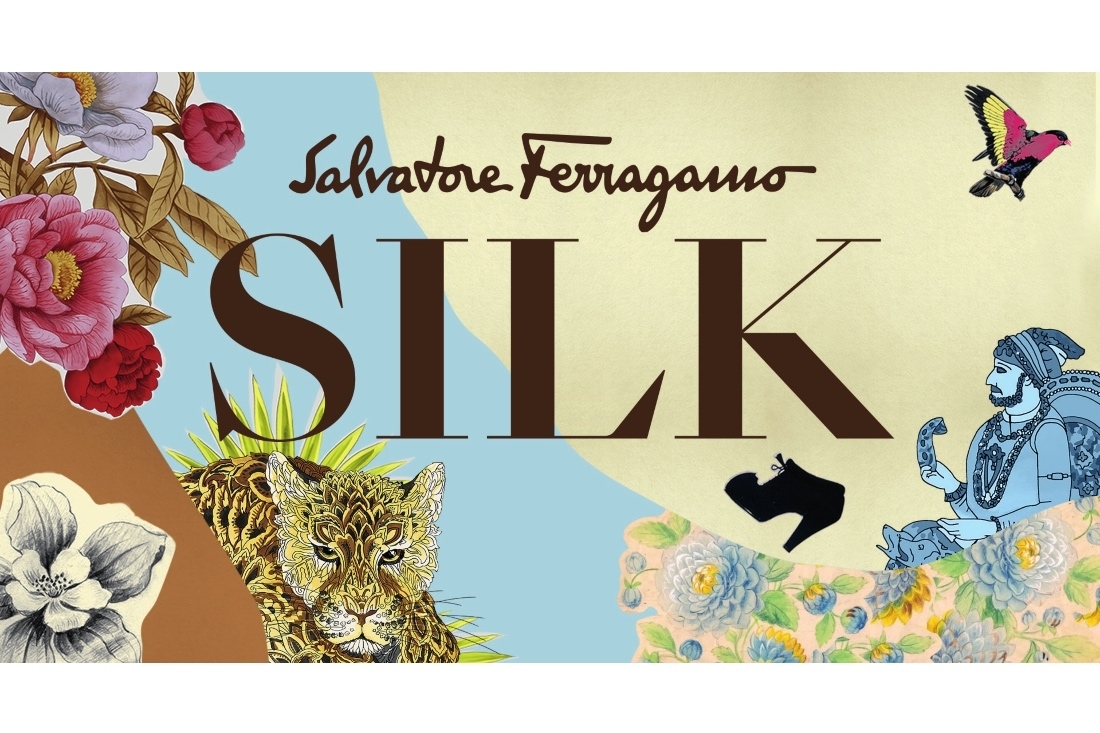 SILK: Salvatore Ferragamo
For five thousand years, the thin, shiny thread generated by lepidoptera slime has been used to make the most beautiful of fabrics, a symbol of royalty, elegance and luxury. Since the Middle Ages, Italy has distinguished itself in the manufacturing of silk fabrics. In the 1930s, Como emerged as the pre-eminent location in the country for creating printed products, playing an important role in Made in Italy's international success. The Como textile industry experimented with square-shaped neckerchiefs, exploiting their frame-like characteristics through the latest developments in printing, drawing on an infinite range of creative and chromatic solutions and establishing valuable partnerships with top names in fashion and accessories.

This exhibition shares the story of this perfect union between creative intuition and high-end industrial craftsmanship — that is, the story behind manufacturing a scarf — through the example of the Salvatore Ferragamo maison, as silk-printing is the very image of its style. Until 1960, the name Ferragamo was synonymous with women's footwear, even if company founder Salvatore always had the idea in his mind to create a fashion house that dressed women from toe to head. In the early 1970s, one of his daughters, Fulvia, created the first in a long line of silk accessories for women and men, characterized by personalized and exclusive designs that were manufactured in Como by Ravasi, Butti e Ostinelli, Ghioldi, Canepa, Ratti and Mantero, which were specially selected depending on the printing specialty required for each run.
Sun Yuan & Peng Yu, Were creatures born celestial ?, 2020, drawing in chalk on paper
Courtesy of Sun Yuan & Peng Yu and CONTINUE GALLERY
In the early 1960s, silk scarves, were still being bought from outside companies. The one exception was a scarf produced in 1961 to a Ferragamo commission, designed by artist Alvaro Monnini. The initial idea for this scarf, which ended up being made by Ravasi, was probably Salvatore Ferragamo's: the ironic and playful streak that pervades the subject, reflects his style, and includes unusual details in the footwear. The inspiration came from an eighteenth-century engraving by Giuseppe Zocchi in Piazza Santa Trinita, but rather than the real-life stones out of which the austere Palazzo Spini Feroni, headquarters of the Ferragamo company was made, on the scarf it is built out of stone-shaped wooden shoes; the windows are lined with shoes; instead of birds in the sky, winged high-heeled shoes fly on high; in the square, carriages are made out of elegant shoes, pulled by horses made out of the components of shoe uppers before being sewn together. The edges portray the shoemaker's tools.

The unique nature of this scarf, compared with Ferragamo's output, leads us to believe it was more of a promotional item for the company than a product for sale. Wanda Ferragamo was personally responsible for choosing the scarves that would go on sale. Ferragamo's regular supplier was Fiorio, a Milanese accessory manufacturer, which every season offered a selection of its designs, often not exclusively. In the early 1970s, after marrying lawyer Giuseppe Visconti, Fulvia, the fourth of the six children of Salvatore and Wanda Ferragamo, lived in Milan, and enjoyed accompanying her mother on her increasingly frequent visits. It did not take long for Fulvia to come up with the idea that the time was ripe for Ferragamo to produce this accessory on its own, with its own recognizable, customized designs working closely with the silk printing specialized industries, which were distributed in the Como area.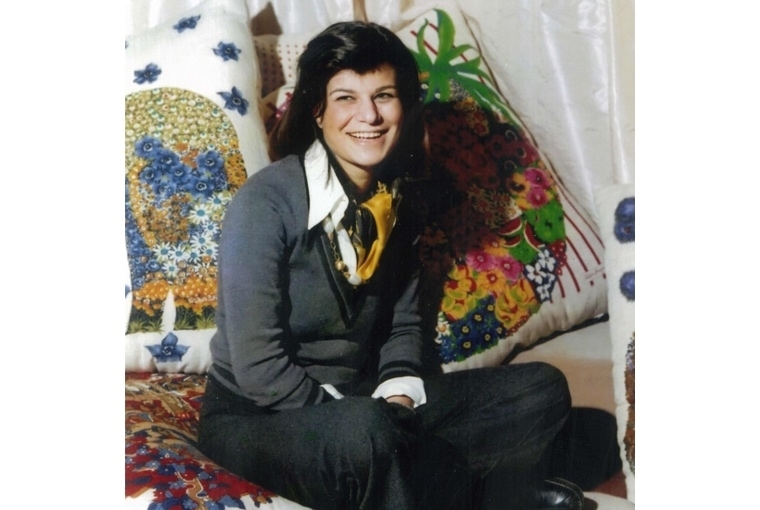 Ivo Bazzechi, Portrait of Fulvia Ferragamo, 1971, color photograph
Florence, Salvatore Ferragamo Museum.
The process of developing a scarf or printed tie is one of teamwork. Despite the use of technology, it continues to be a laborious and demanding process. In the beginning, internal draftsmen at fabric printers were used. Two years later, the company decided to hire its own professionals and illustrators on contract, as well as using in-house employees to design under Fulvia's supervision. Each designer added his own personal imprint to the scarf. But it was always Fulvia, as creative director of all silk collections for men and women, who 'played the first note,' tuned the instruments, gave the creative idea to the designers in charge of developing those initial sketches, which only after her approval and modifications, were created at real size. From the very beginning of her professional career, it was Fulvia who suggested sketches made using a collage technique. Miniature ethnic scenes, cultural themes and popular illustrations became recurrent Ferragamo tie subjects; flowers and the animal world dominated their scarves.

In the early years, the two decorative approaches overlapped: the firm's earliest designs consisted of animals made of a patchwork of flowers. From the late 1980s onwards, floral fantasies proliferated, alongside marine fauna, hunting subjects, footwear created by Salvatore Ferragamo during the early decades of the twentieth century and, above all, exotic themes, dominated by felines prowling through somehow-reassuring jungle scenes.
Salvatore Ferragamo, Peonie, spring / summer 2000 collection, silk twill foulard.
Private Collection
Created by top illustrators led by Fulvia, this eclectic creative world has been preserved at the company's historical archive, a veritable Wunderkammer that reveals how the apparent simplicity of these silk prints, intended for worldly use, actually conceals great conceptual and productive complexity.

Fulvia's untimely death in 2018 left an immense void. However, her passion and ideas live through the people Fulvia trained over the years, who continue to design and produce as if she were still at the helm of each collection and through the archive materials. They allow today's designers to re-interprete Fulvia's classic themes in a contemporary way, as may be seen from recent designs that put forward a new type of patchwork, obtained by vertically staggering two famous print designs from the past, or to re-launch the brand's most iconic scarves under the Ferragamo's Creations line. This documentary and human heritage keeps the unforgettable Silk Lady and her magic alive.

A virtual tour of the exhibit can be viewed here.

Date 08-04-2021