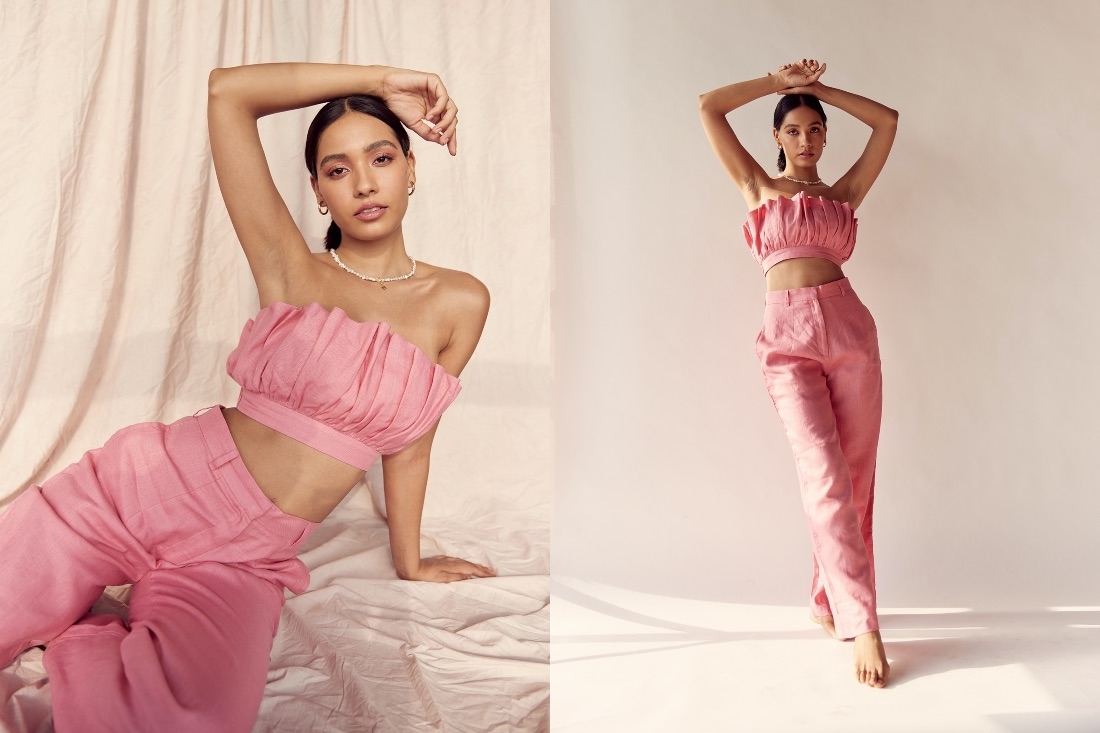 While growing up in a family closely involved in the business of fashion, Meghna Goyal, founder of the label Summer Somewhere, always wanted to steer clear of the industry. This led her to pursue a degree in Mass Media from Jai Hind College, Mumbai and eventually the entrepreneur went onto study Marketing from New York University. She worked as a brand strategist in New York before moving back to India. She tells me, 'I finally decided to expand the services of my family business, Salt Lake Shirts Pvt. Ltd., which has been in the garment export business for about 40 years. I now lead the design strategy at the studio, where we work on design for our clients in the US and EU.' Over the past few years, as she grew aware of the graveness of climate change and witnessed the impact of the fashion industry on the environment first hand, Meghna felt the need to establish her own label, Summer Somewhere — a means to express herself through fashion but in a far more conscious manner.
In pursuit of an escape, sometime in 2018, Meghna fondly recalls putting together a wardrobe for her vacation and coming to the realisation that there wasn't any homegrown label offering trendy holiday clothing in the country. Fusing together her love for travel and fashion, Summer Somewhere thus offers an assortment of versatile and trans-seasonal garments, with a solid repeat value — clothes that can comfortably metamorphose to the quotidian/ everyday as well. Meghna deftly adds, 'I'm a summer girl through and through. It's my perpetual state of mind and by extension, of our clothes as well, which is where the name comes from.'
Working with a drop system in place, the label aims at timelessness and adaptability. Building on their fun and flirty designs, with minimal and feminine details, they decide the silhouettes, followed by the colour palette and prints. Meghna's experiences take precedence when it comes to deciding the prints. For instance, the jungle print on the Ines midi dress from the first drop was inspired by her travels to Masai Mara. Talking about how they strive to incorporate ethical values in their blueprint, she asserts, 'At Summer Somewhere, we champion a series of environmentally ethical practises to support sustainability as much as we can: we work with eco-conscious vendors, and try to recycle all our post-production waste. Most of our packaging is made out of recycled materials, and our clothing comes in recycled cotton totes rather than single-use paper or plastic bags. We have also partnered with the NGO Grow Trees — with every purchase of our tote bags, we donate a tree, to be planted in Odisha.'
As her anxiety was on the rise during the pandemic, Meghna found herself turning to family and friends for motivation. Trying to stay hopeful in these adverse conditions, she finds solace in the universality of the covid situation. She explains, 'I think it's important to remember that this is temporary and it will pass. As cliche as it sounds, we are going to come out of this much stronger. Humanity will come out of this stronger. We're all coming together to help one another, we don't know each other but we still want to help.' While it was a disheartening couple of months without any revenue during the peak of the lockdown, the label persevered and eventually saw growth in terms of sales as the economy started restoring itself.
With lots more in the pipeline, the label is planning on expanding with knitwear this month. Apart from their next drop with new designs in the month of August, Meghna even has an exciting new collaboration in the works. Grateful for the response the label has garnered, mostly through word-of-mouth, the founder is also tirelessly working to reach out to a wider audience, beyond India. On a parting note, she shares with delight, 'We currently ship internationally, but we are working on several projects to make our products more accessible to our customers. We have plans of scaling up operations and additionally we're very excited to build a community of like-minded individuals.'
Text Unnati Saini
Date 14-07-2021