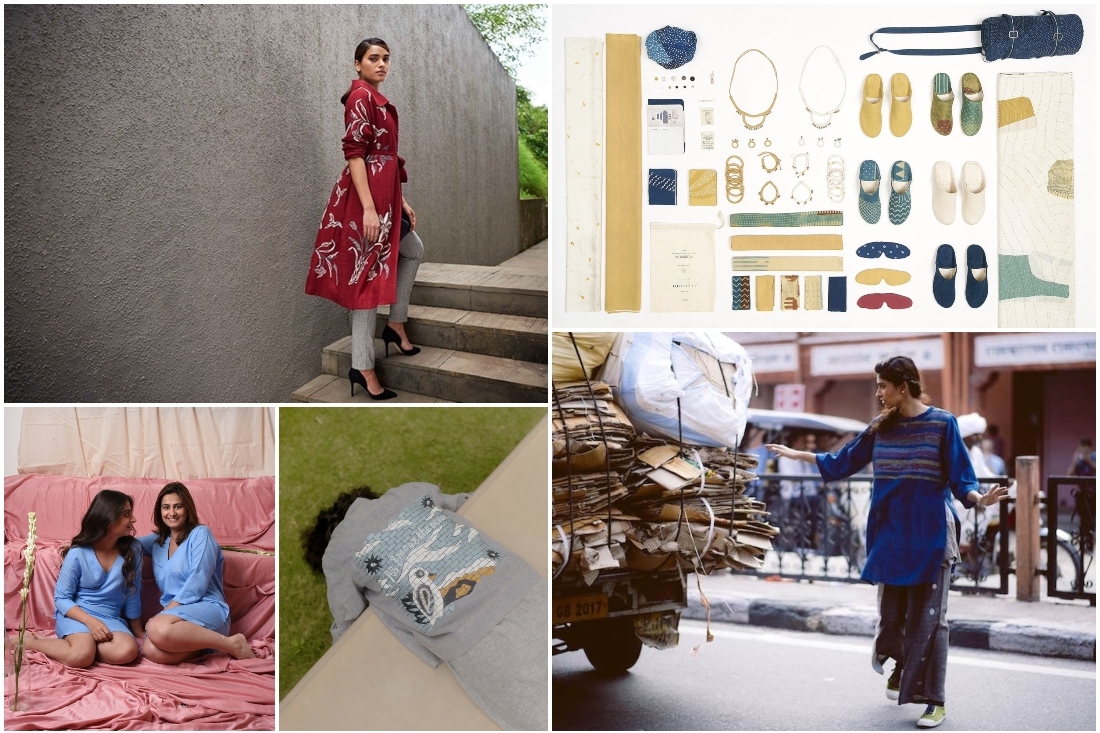 This year, the World Environment Day happens to collide with a global pandemic, making it even more necessary than ever to steer our direction towards what is now no longer climate change, but in fact, a very real and impending climate emergency. It needs to become a much bigger and more serious issue in everyday conversation. The onus now falls upon us to think about it, talk about it and act on it more actively than just celebrating the cause, which in itself is incomprehensibly large and pervasive. One way we can do this, is by being more conscious in our everyday choices, like our fashion consumption patterns. In this context, the term 'sustainability' is used figuratively but what is sustainable or 'ethical' fashion? Also referred to as 'slow fashion', it is essentially the opposite of 'fast fashion' — which is intended for short-term use and is extremely harmful for the environment. To put things in perspective, the fast fashion industry is said to be the second largest consumer of water worldwide. It takes about 700 gallons of water to make one cotton shirt. That is equal to the amount of water an average person consumes in 3 to 4 years! It is also responsible for 10% of humanity's carbon emissions, which is more than emissions from all international flights and shipping combined. In light of this, we have rounded up a list of brands that have been working diligently to help make a difference and lead us towards a greener future, with conscientious couture.
SUI
Founded by Mahima Gujral Wadhwa, SUI is a green label based out of New Delhi. Having learnt the impact of fast fashion back in 2016, Mahima started her journey towards a more mindful and conscious living. Essentially working with a lot of hemp fabrics and organic cotton, each piece made by SUI is crafted keeping the Earth in mind. Not only are the clothes produced ethically, SUI also collaborates with NGOs to provide an ethical workspace for underprivileged women, as well as contribute to their funds.
URTH
Udairaj Arora's label Urth puts minimalism and ecological consciousness at the forefront of their maxim. The brand follows a zero-waste culture and promotes consciousness by working with local NGOs to recycle and up-cycle waste from the atelier. A lot of Urth's minimalistic designs are inspired by the many moods of nature, with shades of blue, green and brown. In addition, the brand has also pledged to take care of the old trees in the city and plant some new ones. Towards the cause, a certain percentage from the total sale is kept aside every month.
GRASSROOT, by Anita Dongre
Much like its name, the ethos of Grassroot by Anita Dongre lies in reviving traditional handloom designs and craftsmanship. This sustainable luxury clothing line is a conscious step towards slow fashion, complete with the refusal to use leather and cashmere in their designs. In line with their philosophy, 'Revive, sustain, empower', the brand also collaborates with NGOs in Gujarat and Lucknow to empower local artisans, as well as rural women, providing them with a consistent source of livelihood. Inspired by Rajasthan's archaic craft traditions, Grassroot is conscientious couture at its best.
IRO IRO
With the ultimate goal to reverse the exorbitant environmental costs of fast fashion to the community, Iro Iro is committed to the cause of up-cycling waste fabric and reviving craft traditions. The brainchild of textile designer Bhavya Goenka, Iro Iro works with a succinct philosophy, which is to draft a circular system for all those who produce textile waste. Every product is made using the pre-consumer waste fabric, hand-woven into new fabric and a zero-waste pattern cutting technique is applied.
11.11 / ELEVEN ELEVEN
Founded by Mia Morikawa and Shani Himanshu, pret label 11.11 / eleven eleven has consolidated its roots in the luxury space, with an emphasis on creating links between farmers, weavers, vegetable dyeing and block printing traditions. The brand's signature fabrics are hand spun, organic cotton and non-violent silk dyed in natural dyes. So, not only is it good for the environment, but also for your skin! The 'khadi' way is the 11.11 /eleven eleven vision to build meaningful products by tracing its story from seed to stitch.
145 EAST
A Kolkata based, homegrown fashion collective, 145 East's signature gamcha designs are hard to miss. Not only does the label embrace an organic and ethical route to fashion, they also work with weaver units and communities in Bengal, thus reviving traditional homegrown textiles and culture. Bridging the gap between affordable clothing that's also sustainable, 145 East is local, fun and extremely fashionable.
KA-SHA
Founded in 2012 by Karishma Shahani Khan, Ka-Sha celebrates Indian handicrafts and tie-dye traditions. The zero-waste endeavour of the label ultimately led to the inception of Heart to Haat in 2019, which focuses on up-cycling and re-purposing production wastage and turning them into functional products, from bags to accessories. Having collaborated with several NGOs and artisans for projects of upliftment and textile promotions, this label swears by everything that it preaches.
ANAVILA
Re-defining conscious luxury and rooted in the ethos of sustainable fashion, Anavila Misra's eponymous label founded in 2011, is no stranger to mindful fashion enthusiasts. Known for her understated designs in neutral tones, Anavila focuses on a lot of handwoven fabric with handcrafted technique. A zero-waste principle is strictly followed with most of the leftover textile in the atelier re-purposed as objects of interest, such as toys and accessories.
DOODLAGE
Started by Kriti Tula, Doodlage is a perfect blend of sustainability and innovation. A large part of their fabric is made up of garment wastage, which is up-cycled into premium products. They also source fabrics left unused by other retailers. Recycling and reconstructing all consumer waste into chic designs, wearing Doodlage will not only make you look good but also feel good.
IKKIVI
Founded in 2016 by Nivi Murthy, Ikkivi is creating a global platform for emerging Indian designers, encouraging them to follow sustainability and revive traditional culture. The brand is committed to create awareness through their social media platforms, by collaborating with artists and writers who follow their ethos. Currently, this curative platform also includes about 20 independent designers, all of whom are sustainable and organic.
Text
Samadrita Khasnabis