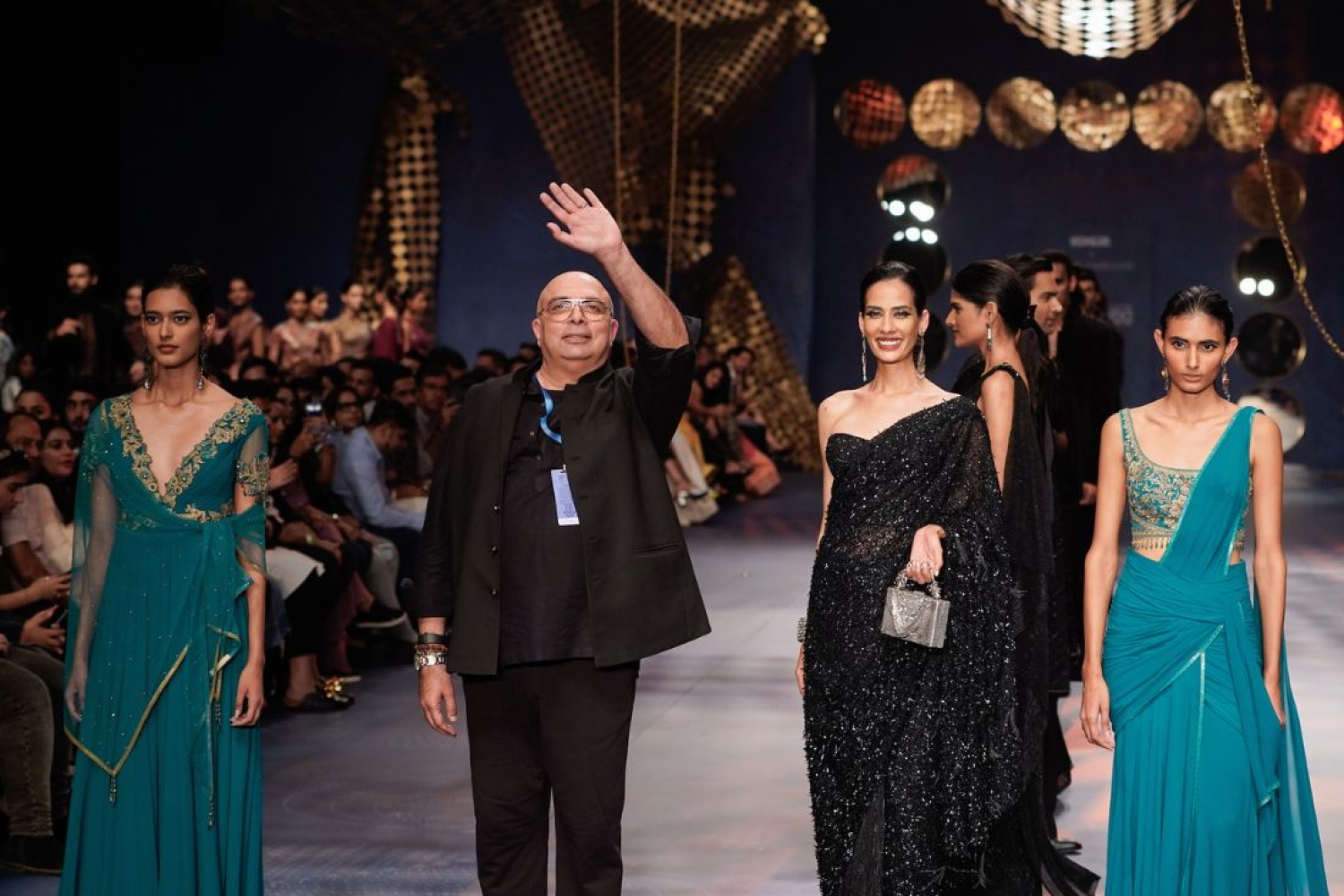 Tarun Tahiliani at Lakme Fashion Week
Tarun Tahiliani x Kohler unveils a collection that celebrates self-expression paying homage to timeless craftsmanship while embracing contemporary style. This collaboration is a fusion of ideas between Tarun Tahiliani and Kohler. While Kohler's rich tapestry of vibrant colors and exquisite motifs lends inspiration to this collection, it does so in a manner that elevates the inherent sophistication of Tarun Tahiliani's aesthetic.

"With the theme of 'A Celebration of Self-Expression,' this collection merges new-age forms with classic artisanal crafts. It is tailored for cocktail glam and evening elegance, where each piece embodies the essence of self-expression and is designed to illuminate your evenings with a touch of magic." This association is a new chapter for both Tarun Tahiliani and Kohler, exemplifying their shared commitment to design excellence while pushing the boundaries of design and innovation.
Designer Tarun Tahiliani shared "Its always been a pleasure to collaborate with design based company and in this case we collaborated with Kohler. I am inspired by their aerodynamic forms, their beautiful use of metallics, their shocking peacock indian colours and teals that they have bought into the collection as a homage to the Indian pallete and the artistry of Pushpa Kumari. Collaborations stimulate the mind and neurons in new ways and we have taken all our brand pillars further, under the inspirational dust of what Kohler does with their designs"

Mr. Vishal Chaddha, Managing Director– India & South Asia, Kohler Co also added "As we proudly celebrate 150 years of Kohler, and, as the world leader in design and innovation in the Kitchen and Bath space, we extend a warm welcome to all creators, artisans, and visionaries to join us in our journey of fostering the spirit of gracious living. Our debut at Lakmé Fashion Week x FDCI is an extension of our commitment towards art, design, and creativity. Through this collaboration with designer Tarun Tahiliani, we hope to inspire our consumers to transcend the realm of fashion and experience and our shared aspiration of craftsmanship, culture, art, and colours."
The Luxe Pret 2023 Collection
Meticulously crafted in an array of art styles including Art Deco, Gara, Byzantine, and more, Tarun Tahiliani's Luxe Pret 2023 Collection is an ode to glamor, innovation, and self-discovery. Each piece within this collection tells a story of confidence and empowerment, designed to illuminate cocktail nights, gala events, and red carpet moments.

The Cocktail Sequin Embroidered Collection
The Cocktail Sequin Embroidered Collection takes center stage, showcasing the mesmerizing artistry of sequin embroidery. These enchanting designs captivate the eye, creating an ethereal effect that adds a touch of magic to every occasion. With meticulous attention to detail, this collection features sequin-embroidered dresses that embrace the feminine silhouette with grace and sophistication.

Print Paisley: Timeless Elegance
The Print Paisley Collection draws inspiration from a timeless and intricate pattern, creating a captivating and culturally significant aesthetic. Whether used in traditional or contemporary contexts, print Paisley continues to captivate and inspire with its elegance and allure.

Kaleen: A Blend of Tradition and Modernity
The Kaleen Collection is a celebration of traditional carpet designs, transformed into wearable art. Traditional motifs are reimagined using print and delicate embroidery, resulting in visually striking pieces that bridge the gap between tradition and modernity.

Gara: An Ode to Intricate Embroidery
The Gara Collection pays tribute to the art of Gara embroidery, known for its exquisite craftsmanship and attention to detail. This intricate embroidery technique features motifs inspired by nature, mythology, and Persian designs, meticulously hand-painted and embroidered onto luxurious fabrics.

Art Deco: A Tribute to Elegance and Modernity
​The influence of Art Deco, celebrated for its elegance and modernity, is evident throughout the collection. Bold and abstract geometric motifs, inspired by the Roaring Twenties, infuse a dynamic and modern flair into the garments, especially in evening and cocktail attire.
Words
Platform Desk
Date
14.10.2023