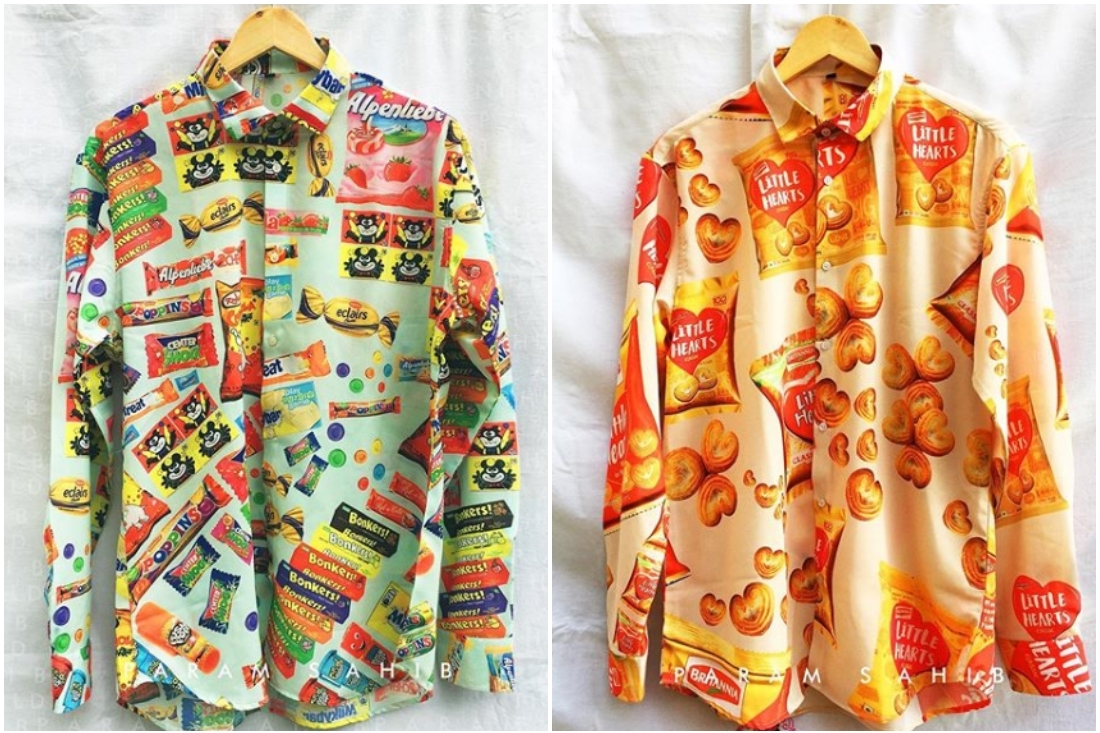 L: The Candy Shirt; R: Little Hearts Shirt
In the midst of all the fast-paced technology and new innovations that arise with each passing day, along with the constant hustle of the new generation, most of the 90's generation finds itself reminiscing about the simple things they grew up with. The 90s was an era that existed before the onset of the internet and our inordinate dependence on its splintered media culture. It's quite simple actually, with limited access to sources of entertainment and communication, the ones people did manage to enjoy meant everything to them. So, the fondness for this particular era is not surprising, it's a collective nostalgic experience, as opposed to the individualistic 2000s. As Marcel Proust and his madeleine demonstrated — seeing an object from the past can evoke a warm and fuzzy feeling.
As an Indian child, growing up in the 90s meant exposure to some staple details that achieved cult status and became iconic brands later on. Phantom candy cigarettes, Campa Cola, Frooty, the evolution of Nokia mobile phones, the introduction of cordless telephones, MTV, Nataraj stationery, renting VCRs to watch movies — the list is endless. These experiences can never be replaced and that's what makes this era even more beautiful. This nostalgic brand iconography and other pop-culture influences from this era have been adopted by fashion designer and illustrator, Param Sahib, in the latest collection of his eponymous label. Param Sahib, is an Indian origin label, living true to its coloured aesthetics and love for patterns and shapes, with unusual experiments in surfaces and textures. Sported by a score of experimental celebrities, the label is a fun and flirty take on contemporary Indian wear. 'Our main aim is to reinvent "pop" in every way and make it more special and personal to wear,' says Param.
Param and the Shaktiman shirt
The capsule collection, very appropriately titled That 90's Child, is replete with vivid pop-art, a riot of colours and kitschy retro themes. Param elucidates, 'the collection is an ode to my little sister who is a millennial and does not know about all the beautiful things that the roaring-nineties had to offer us as children, and shaped us into who we are today. From the most loved Mango Bite, to my stationery box, the lovely everyday dose of Parle-G with my morning milk and Kiss me chocolate bars, nothing is as precious as turning all these things and memories into something that could be worn forever.' He adds, 'The whole idea was to drench the wearer in their memories of nineties, every time they wear these unisex shirts.' There is also a conscious effort attached to the shirts — every time they make a sale on a particular design, five percent of the sale is spent on buying merchandise similar to the print and donating it to the less fortunate.
The designer shares a small anecdote or memory with the preview of each design, which makes the drop even more relatable. The avant-garde design of this collection is constructed in a way that transports the viewer to their childhood decade. For an even more wholesome experience, the designer also makes 90s themed digital illustrations, which you can check out on his Instagram page. Going through the drop is like opening up a box of your childhood memories, take our word for it.
Text Samadrita Khasnabis
Image Credits Parambanana
The Coca Cola shirt and the Phone shirt