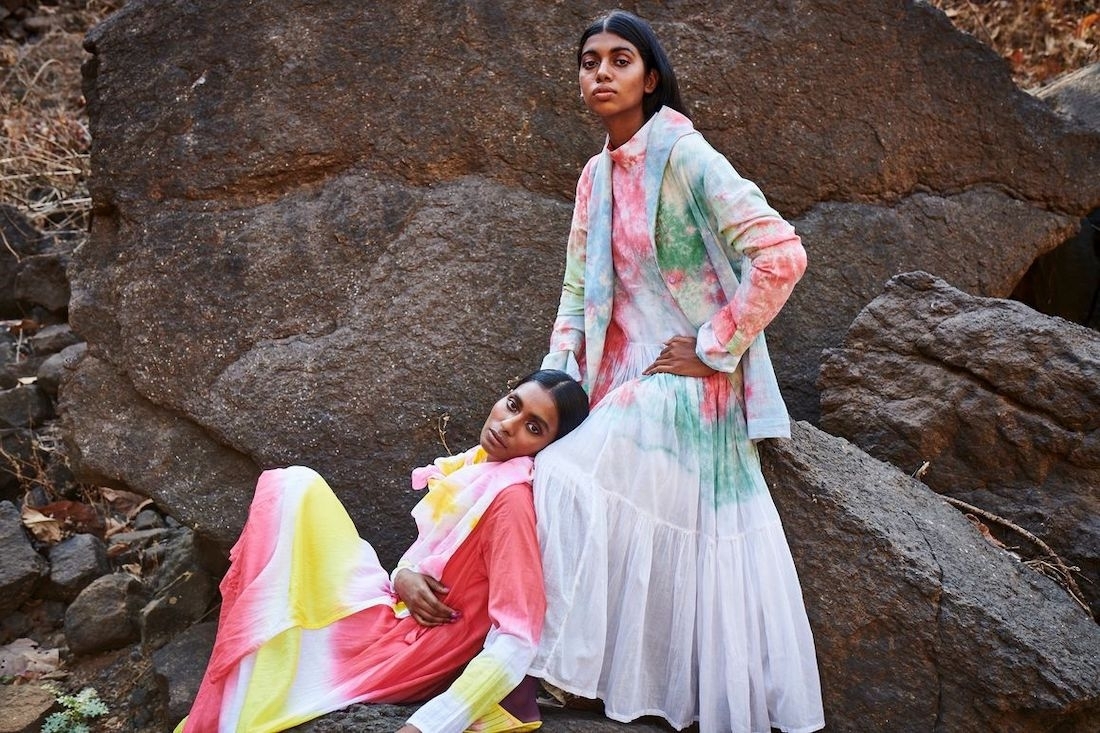 The Fashion Edit: Part II
The fashion industry over the years has spread its wings beyond garments and has explored newer avenues in the field of design. Some upcoming designers have broadened their horizons and lent their aesthetic capabilities to interiors, furnishings, home goods, jewellery and shoes to name a few, rendering a variety of powerful collaborations, thus validating themselves as far more than mere fashion labels. We explore some of these newer fashion houses in the country:
Okhai
Okhai's mission is to encourage Okhamandal women belonging to a lesser privileged background to acquire new skills; to give them the self-confidence and self-esteem required to earn by their own industry and initiative. Okhai understands the rich culture and traditions that these rural communities are steeped in and translates this heritage into products by pairing traditional art with contemporary designs and modern processes. As a brand, Okhai Handicrafts includes ladies' wear, men's wear, home décor products and accessories. The products use mirror work, patchwork and embroidery created as a vibrant expression of the rural way of life, their rituals and their legends.
Ka-Sha
The Ka-Sha ecosystem also prides itself on one of their major endeavours Heart To Haat, that reflects on their sustainable ethics. It came into being in 2012 alongside Ka-sha. It was a way to approach their production remnants with a zero-waste policy, by creating up-cycled products that range from accessories to clothing to home textiles. In the present moment it has metamorphosed into a much larger movement. It is now a waste management solution that approaches waste through novel processes and techniques, which can also be accessed by others as a response to the larger scrap issue currently plaguing the industry.
Kalki
The mustard yellow of turmeric, the earthy maroon of the soil, the striking blues of the sky, and the vivid greens of the hills — Kalki, a design studio, finds its muse in these familiar colours, which have embraced us all during our growing up years. Using textile as their medium, Kalki's work is a conversation between the cultural and the contemporary. They seek to be reflective of the wearer's identity and roots, and to be their voice. The studio works with local weavers and craftsmen right from sourcing the material to finished product delivery, and promotes mindful consumption. Playing with textures and hues, Kalki's wide range is ultimately nostalgia. 'I am made and remade continually' is the first thing you would see on their website. This philosophy reflects on how each one of us metamorphose constantly, and how each garment is constantly reinterpreted and reworked. From handcrafted homeware to a cafe of their own, this fashion label has it all.
Auruhfy
Auruhfy started as a label for home goods, but the founding duo expanded into fashion simply because of their love for textiles. For their home goods range, while promoting hand-block printing, they wanted to push out of the box and move away from the commonplace motifs of paisleys and florals and yet remain modern. Their minimal vibe has been designed all by themselves. Talking about their clothing, the founders explain, 'We went to Khamir in Gujarat which is an NGO. We wanted to understand the entire process of artisans and gather in-depth knowledge about weaving and natural dyeing, amongst other aspects. We decided on our collection Padma then and there itself, which till date is a big hit. Over the years, we also realised that there was a lot of leftover fabric for us. Sustainability for us doesn't just mean fabrics, but something that we wanted to achieve holistically.' The answer to this is their Katran Project, wherein they create varied products using all the leftover tidbits they have gathered. The newest addition to it is their gift-sets that have resonated with the buyers despite the slower process it involves.


Date 06-05-2021