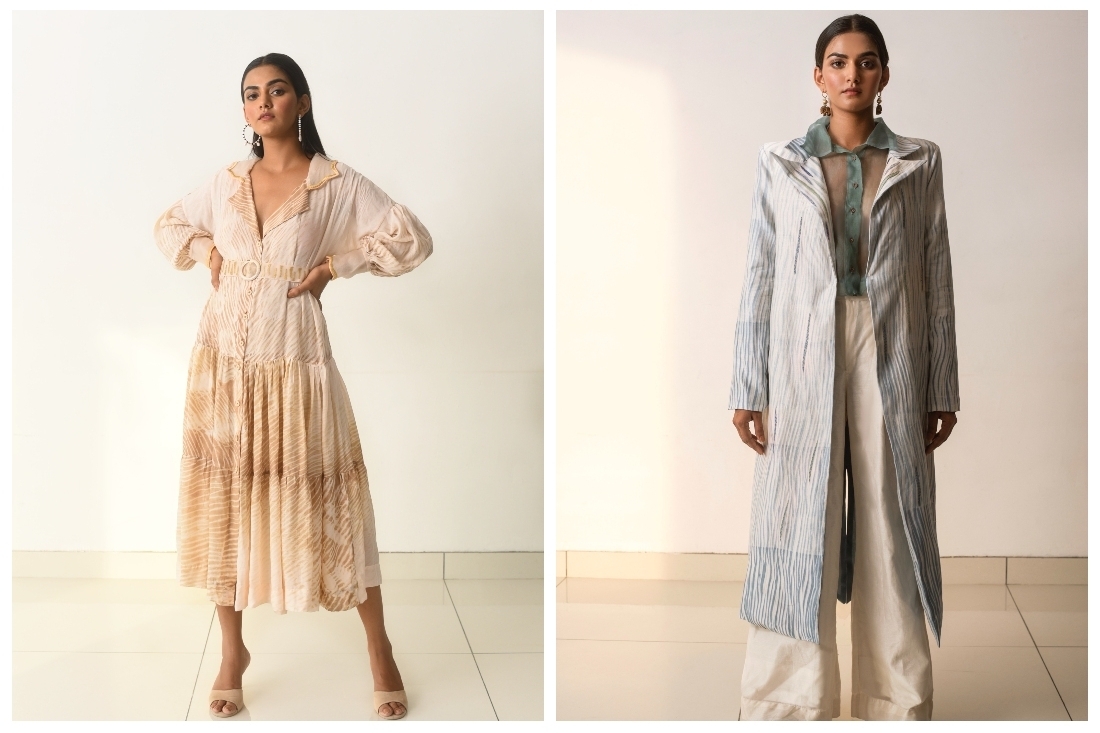 The Loom Art by Aarushi Kilawat
The Designer
I am Aarushi Kilawat. I am a fashion graduate from Pearl Academy and hold a short specialisation in Print textile and Fashion Styling from Trent University in Nottingham. I'm a solo traveller, an artist at heart and also been working as a social activist for the last 5 years. I always wanted to work for a cause and to me, design is something which serves the purpose and solves problems. I was always inclined towards art and design from a very young age.
The Label
My core admiration towards art and love for handloom gave birth to The Loom Art. I always wanted to design something which would serve a purpose. I saw that there was a need to bring handlooms back in vogue and honour the storytelling crafts of our country. The Loom Art believes in reviving old and dying craft techniques, making clothes that last for a lifetime and generating a platform for local artisans. The Loom Art was born with the idea of generating a platform for artisans and creative souls, for sustaining livelihoods of talented individuals, and making sustainability a way of life.
The Collection
Story narration is an important part of our brand. We get inspired by our everyday lifestyle and try to interpret that through self-narrative craft techniques. This collection is called Between the Lines, which is a creative depiction of the present scenario that we are living in, where we are trying to find a balance between the uncertain and yet a patterned lifestyle. We've majorly used Chanderi Silk, Matka silk and pure silk, which we got woven in Banaras, and we've used cotton silks that were made by our weavers in Murshidabad, Bengal.
The reason why I chose to work with the intricate technique of Arashi Shibori for this collection was the fact that this technique was not known by many. While Shibori has a bigger audience to cater to, Arashi Shibori has a very distinctive feature which is still less known. The beauty of this craft is that the outcome remains unknown and we can't do Arashi Shibori on any piece of fabric which is more than one metre in length. So, to create a garment, we had to divide it into different panels and do Arashi Shibori on the sleeve, collar, cuff, et cetera. When we put it all together, the colour impression creates an outcome which is totally different and unknown.
Sustainability and Beyond
To us, sustainability is a way of life. We believe that sustainable fashion is only complete when we look at the bigger picture and work in a way to achieve it. We strongly promote the idea of handwoven textiles and loom-made fashion, as we believe that handwoven fabrics can sustain for a lifetime and have a longer shelf life. The whole process of hand-dyeing is sustainable in its true sense when we give the major credit to the fair trade and fair wage policies. We believe that all the artisans and people working behind the scenes are the real superheroes. We believe that the credit needs to be given where it's due. 'HAPPY CLOTHES MADE BY HAPPY HANDS' is our motto, which defines all our beliefs.
I believe that there is an opportunity to reinvent and redesign the ideologies of sustainability, and their due course of channels considering the present scenario that we are living in. The present landscape has given us a chance to reset our beliefs and to understand how we can live with bare necessities. The way forward would be to slowly adapt sustainability as a way of living -- we can start by taking smaller steps. Doing it a bit at a time is better than trying to do it all at once and not get it right.
The Future
We recently became one of the finalists at Scouting for India at Milan Fashion Week. At the moment, with Lakme Fashion Week, we'll be focusing on that for a while and try to make our mark in the global fashion industry.