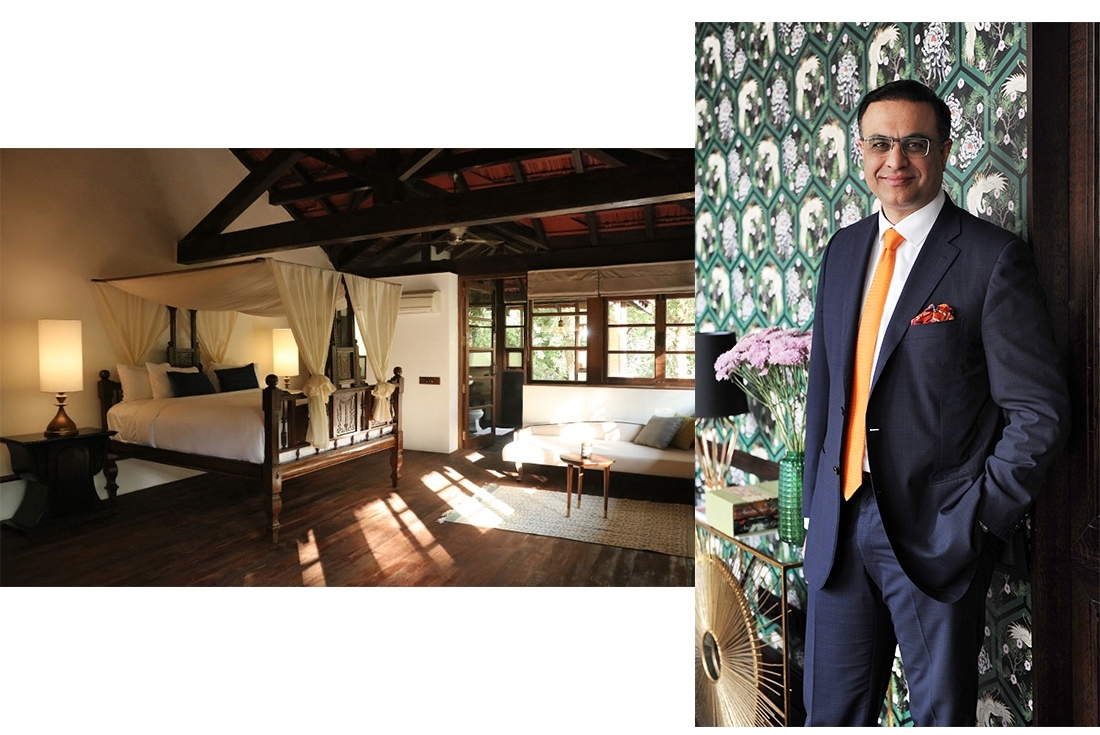 INTERVIEW OF THE WEEK
Hotelier, Kapil Chopra
The Postcard Hotel combines luxury with simplicity…how do you choose your locations/spots?
For us authenticity translates into simplicity, especially when now everything is so complicated. Authenticity is tough, its not simple but yes the experience of it is simple for our guests. Our hotels are simple unrestricted luxury hotels- hotels without rules. Check-in when you want, check-out when you want, have breakfast when u want, eat where you want, choose your welcome drink and so on. When we were creating The Postcard narrative we wanted to bring back 'the old way to holiday'. Pure, unadulterated, simple way for our guests to experience and connect. Our hotels offer that luxury in spaces that are true to the destination.
For us it is also about 'experiential' luxury. We choose hotels with a soul in locations that tell a story. The hotel has to go beyond being just a hotel. For example, in Goa each village that The Postcard Hotel is in is distinct; it's not just North, South or central Goa. I also feel it is also important for the hotel to offer an experience that is new for our guests, that lends an interesting aspect to the holiday- something that has not been experienced before by them.
We do not believe in building cookie cutter hotels in crowded spaces, in my opinion they do not reflect the true character or culture of the destination. In Goa specifically, our idea was to have great estates with sweeping views. At Postcard, authenticity is important to us- that's how we end up choosing our locations. It is important as we grow by the sea, the mountains, close to wildlife reserves, in wine estates or convert palaces and buildings of historical significance into a postcard.
Sustainability is one of the ethos of The Postcard experience. Can you tell us a little more about how you practice it?
We don't think it's about a piecemeal effort but about having a culture of sustainability as a firmly embedded pillar. It is not about incorporating a few standards and putting a few cards stating you are a 'responsible hotel brand'. For example, we have an authentic Ayurvedic wellness centre as opposed a Spa at our hotels in Goa. All therapies are inspired from this ancient Indian science of life. We have a resident vaidya who weaves in the ayurvedic beliefs and traditions and prepares individualised programmes for each guest based on their personal needs. Not only have we sourced authentic ayurvedic beds and medicated oils, our therapists who are from Vaidyagrama, actively prepare pastes, scrubs and shampoos using plants, flowers and herbs from our garden.
We don't import our toiletries, we have tied up with an Indian luxury brand. We do encourage our guests to take all opened bottles of our toiletries with them when they check out. To make carrying them easier we also place a handy 'Take Me Home' re usable organic cotton pouch along with a note encouraging them to do so. We also have bamboo toothbrushes and combs in our guest rooms as opposed to plastic. We were also clear from the beginning on having glass mineral water bottles for our guests as opposed to single use plastic water bottles. Yes most of the luxury hotels in India have recently moved towards it, which is fantastic.
A lot of luxury hotels use imported marble, for instance Botticino, along with other materials to build the hotels. In our hotels, again using Goa as an example here, we have used local stones including Cuddapah in the bathrooms and rooms. We have extensively used laterite for boundary walls, outdoor paths and flooring. Bamboo is available in abundance and we have used it for screens and fences. In our hotels you will also see beautiful Goan tiled floors and Manglorean tile roofs. We are doing all this without compromising on the design and architectural appeal of our spaces. At The Postcard Cuelim, which is a 350 year old resorted estate, the room to manoeuvre in the bathrooms and the aesthetics of the space called for the use of marble and sandstone. We sourced this from from Rajasthan. In our upcoming hotel on a beach close to Mangalore, pretty much a ground up hotel, you will see similar elements in materials used and architecture.
Also, why do we import fruits or flour? Sure we need to bring in some proprietary food ingredients, spices, sauces and also certain, cheese, wine and meats. But we question the reason for fruits, vegetables and flour. Mother Nature has pretty much provided sufficient options in seasonal produce. We go local and fresh with fruits, vegetables and bread. As a broad example, we appreciate jamun and mangoes in the summers and oranges and strawberries in the winter. We use buckwheat, quinoa and red rice extensively in the menu at our hotel in Bhutan.Procuring locally means practically zero carbon footprint, contributing to the local community, monitoring and choosing chemical and pesticide free fruit and procuring directly from the source means fresh fruit is available literally within hours from the tree for consumption.
I live in delhi, air purifiers were practically unheard of 10 years back, now almost every home has it. Clean eating is going to be the new way of life soon, which will only come from sustainability. We should not be transporting vegetables and fruits for miles or be using pesticides to boost production.

You've spent two decades on the frontline of hospitality, how would you summarise your journey?
It has been an absolutely amazing two decades for me. I was a part of that generation that saw pretty much the start of luxury hotels in this country. I was fortunate enough to see the birth of The Oberoi Vilas hotels and the luxury opulence of the Taj Palace hotels. As the president of Oberoi hotels, there was a great opportunity for me to be trying out new initiatives in that space. Its great to see the evolution of luxury hotels in India from what it was 25 years back to where we are now. Globally the appreciation for authentic and transformative luxury hotels started around this time as well (much before it came to our country) with hotels like Six senses and Aman. Indian luxury hotels were still about extreme opulence and using expensive building materials and importing most of what was used in these hotels. But it has come a full circle in the past 5 years driven by the domestic Indian traveller. Let me give you a great number here- there are only 10 million outbound tourists that come to India but there are over 1.6 billion trips that Indians take (including train and bus travel. Now let's assume that 95% of these are not travelling for luxury hotels. Still it is 80 million! 80 million Indians wanting to go to a luxury hotel. Indians have rewritten this space also bringing about a host of entrepreneurs in this space. I was in Kumaon recently and met a bunch of entrepreneurs engaged in running some very nice boutique hotels. It was phenomenally refreshing, all aided by the domestic Indian travellers who are travelling like never before. It has definitely opened up the market significantly. Rise of this has re-rated the luxury resort experience in our country. And I saw this as a great window to create a new experiential luxury brand out of india.

The Escape Artist Collection: Postcard X Nicobar
Also, what do you think is the next big thing in hospitality is?
Hotels have become driven by rules and policies on pretty much everything- think about it! We don't have that in our hotels and this is being embraced by Indian and global travellers. This will be the new norm. People have stopped wanting to stay in "room factories" they want experiential hotels in holiday locations. People want to break away, the want to feel the destination in the limited time they have available at hand. Biggest change that will drive luxury hospitality in the next decade- moving away from large hotels offering limited personalisation to moving towards smaller hotels with ultra immersive experiences, no rules, personalisation- allowing the guests to set their own pace. Also, people will choose placed where they feel connected with nature and the community. Clean eating is another one- preservative free, uncomplicated food. Travel changes you, it transforms you- people will look for hotels that contribute to that - this will define hospitality in the next decade.

How did the collaboration with Nicobar come about?
Core values of both our companies are similar and thats how the collaboration with Nicobar came about. It was a refreshing change to see a forward looking Indian design brand, that has broken the monotony of other Indian brands. Nicobar is a brand that also has a modern, nuanced understanding of travel and this collaboration felt like a great way to connect with the evolved traveller. We loved the fact they have a travel section! The escape artist capsule collection was carefully thought of to engage with our guests before they travel, weather it was a travel blanket, totes, t-shirts, travel pouches, wet sacks- we wanted to contribute towards easier travel. Also, with key chains and magnets we wanted the guests to take a memory back- take a piece off the holiday back.

The Escape Artist Collection: Postcard X Nicobar
Lastly, what's in store for 2020?
Many more Postcard hotels for sure! Including some surprising new travel circuits. I see luxury travel predominantly centred around the golden triangle (Delhi-Agra-Jaipur), Goa and Kerala. I don't see a concrete circuit or destinations in the North-Eastern part of the country. We will get there. You will see us definitely in new experiential destinations, including places where you didn't imagine a luxury hotel to come up. We will be in some spectacular wildlife destinations- let our guests enjoy nature at its very best. Our vision is that in the next 5 years whichever city in India you wake up in you should be able to get to a Postcard hotel in 2 hours. We want to be the only luxury experiential holiday brand in the country that our guests are waiting to experience.

Text Hansika Lohani Mehtani