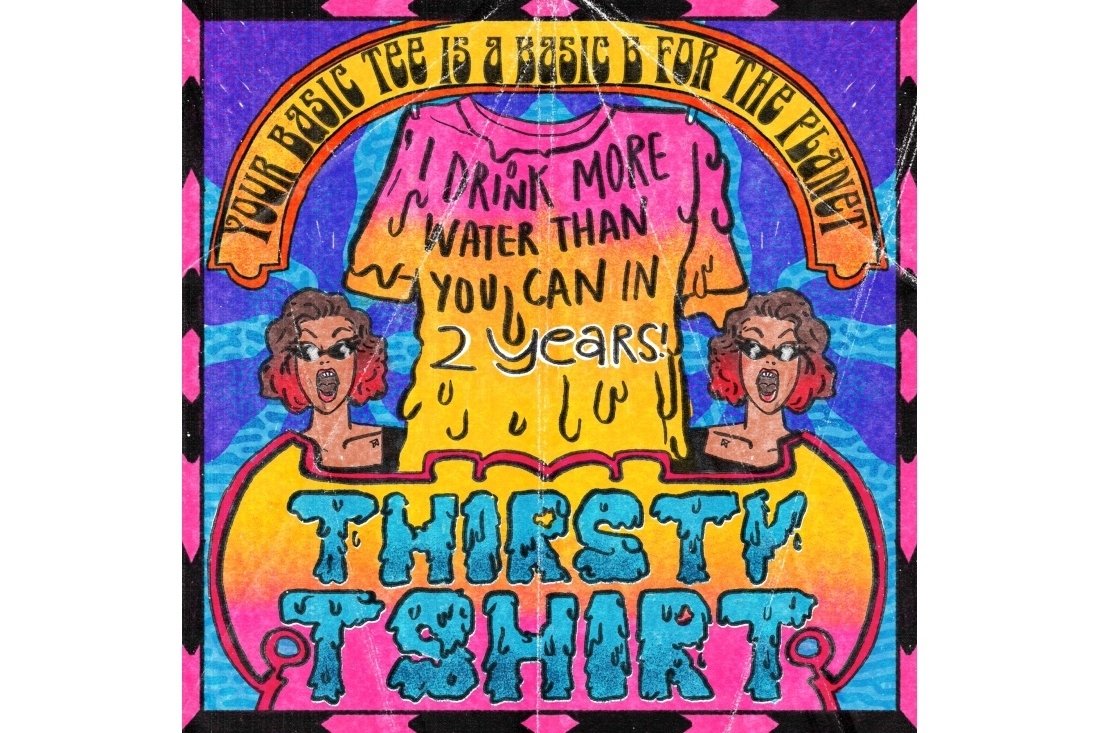 It is well established that the fast fashion industry is one of the most polluting on Earth. A single cotton shirt uses up to 3,000 litres of water to make and a denim jacket takes 7,500 litres — enough drinking water for one person for six years. Dynamic, youth-focused programmes conceptualised to create a conversation and a call to action around this pressing issue are the certainly need of the hour. ReFashion Hub, a collective working to bring together multiple stakeholders invested in wastewater reuse and management in the textile industry with long term positive climate impact, has hence collaborated with seven Indian artists and graphic designers to create a series of specially commissioned artworks and comic strips, that capture a sarcastic take on producing a T-shirt, and the resources that it drains, with a key focus on water wastage. The artists and graphic designers include Priyanka Paul, Aditi Mali, Manasi Deshpande, Mehek Malhotra, Vinu Joseph, Param Sahib and Sonali Bhasin.
Get to know more about the artists and the collaboration below:
Mehek Malhotra (giggling monkey) is a Designer and Visual Artist currently based in Mumbai. Her work is inspired from her everyday interactions, fleeting thoughts, sights from everyday life in Mumbai, all converted into thought provoking pieces. She likes approaching everything with a bit of humour, and a lot of colour, which makes the viewer comfortable with an artwork. Even when she has to convey something serious, she likes to approach it in a conversational way, by using the language of the audience the artwork interacts with. Giving us an insight into the collaboration, she tells us 'I wanted to talk to an audience that buys clothes without thinking twice and the mindset that 'new day new look new me approach.' For this I studied how this audience talks and that's why I used the concept of 'your basic tee is a basic b* for the planet.' This enabled me to start the whole piece with a joke and emphasise on buying more responsibly.'
Vinu Joseph is a political satirist, an independent journalist and video storyteller. His simple but quirky animations on socio-political topics are popular among his audience. He finds comic sequences in most basic things we do day-to-day. His imagination is quirky and jumps from the ground to cloud nine in a jiffy. 'My main objective was not to throw deep details of the situation to my audience but to make them aware of something they might have taken for granted all this while. It's challenging to convey something this serious in a funny comic video without losing the essence of the original subject. After a couple of revisions, I believe the output came out pretty decent,' he shares regarding the collaboration piece.
Aditi Mali is a webcomic artist and a freelance animator from Pune, India. She shares her work under 'goodbadcomics' on the internet. Her work is inspired by her own life and the life she would like to live. She has a cat, Maau and likes plants, clouds and Maau. She is always drawn to art that is not realistic-looking. Art that is a bit wonky and goes against reality. Art that shows how the artist views the world than how the world presents itself. When asked about her collaboration piece, she shares, 'I knew that I wanted to make the t-shirt do the talking right off the bat. I watched a bunch of YouTube videos and googled about sustainable fashion and materials and boiled it down to what you read in the comic!'
Sonali Bhasin is a cartoonist and illustrator from Delhi, who works on climate change communications by day. She makes cartoons and digital art at @sonalidoodles by night. She started drawing to make fun of herself, to face the truth about her thoughts, anxieties, and complaints with humour and art. 'For the collaboration with the ReFashion Hub, I wanted to use the same humour and introspection to make people reflect on their choices and how they impact the environment. I work on climate for my day job, and I know how hard it is to communicate about the impacts of climate change in a way that is relatable. So I drew up concepts where our environment talks back to us — to me — in a way that it cannot in real life. I wanted it to be funny but also honest, because there is no room for soft pedalling when it comes to climate action! After working with the ReFashion Hub team to develop one of the concepts, I chose a colour palette that worked for me, and then googled how to draw frogs,' she explains.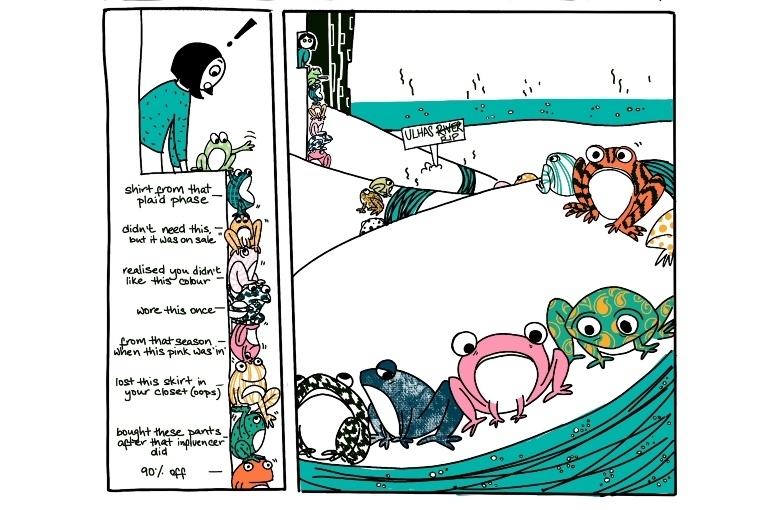 Manasi Deshpande is a caffeine dependent artist from Mumbai, India who draws inspiration from everyday life scenarios to create heart-warming and witty Illustrations. She is a digital communications specialist by profession, passionate about social change and strongly believes that art has the potential to change the world. Talking about the collaboration, she tells us, 'The first step was extensive research followed by a survey within my networks. I asked my friends if they were aware about Fast Fashion's wastage of water and environmental resources or the fact that 2700 litres of water is used to make one cotton t-shirt. Shockingly, not a lot of them were aware and that's when I decided to create something that would help people not only understand the problem but also make them think about their responsibility, as consumers.'
Param Sahib is a name synonymous with colours and everything pop. A designer and mixed media graduate from NIFT Bangalore, Param has completed four years in the industry as a fashion designer and artist. His quirky label Param Sahib Clothing has won hearts and eyes of many eccentric lovers. His sensibility is maximalist to the core and there are hidden details and cryptic messages in his art style. He used to create self caricatures and illustrations for fun earlier and sell them, but during the lockdown, when the world shut down, he delved deep into creating more meaningful art, art with a cause. 'My idea was to be as millennial as possible giving a little backdrop of how the fashion industry is indirectly hampering the environment and how fast fashion plays with our mindset, with a good ticket price,' he shares regarding his collaboration with the ReFashion Hub.

Text Nidhi Verma
Date 18-02-2021
All images courtesy The Artists and The ReFashion Hub