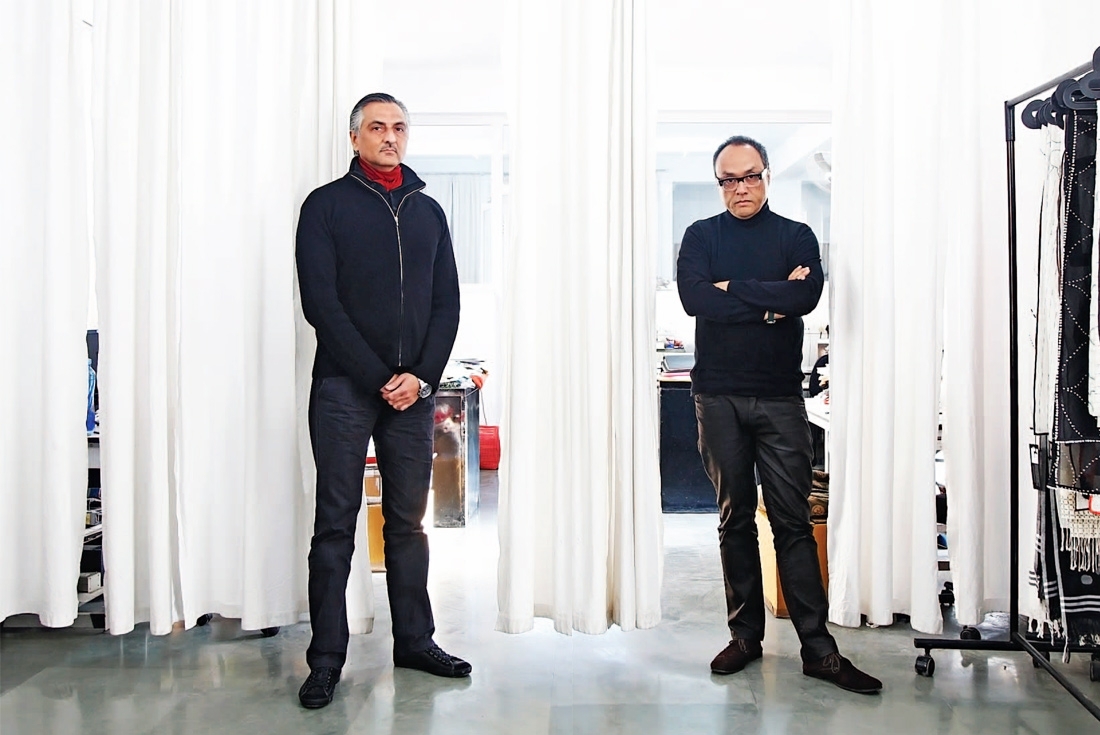 Rakesh Thakore and David Abraham
Photography by Tanuj Ahuja
#ThrowbackThursday with Abraham & Thakore
In an over embellished fashion industry the understated Abraham & Thakore with their beautiful hand woven craftsmanship, natural materials, and wearable silhouettes, have certainly defined their presence. Every season they tell a story encased within the essence of their brand that comprises Rakesh Thakore, David Abraham and Kevin Nigli. Each from a design background, they bring to the forefront a synergy of expertise and creative perspective that forms their very distinct design vocabulary.

After having worked individually and gained experience with other companies, David and Rakesh decided to merge their efforts together. Their inherent love for Indian textile and cottage industry formed their basic vision and design aesthetic. Kevin joined in a few years later. They very simply did what they liked to do and created season after season. In time they found their niche, and cut to today, they are still riding high.

You make no-fuss silhouettes look chic, and cotton avant-garde. Where does your thought and inspiration come from?
We have a very clear idea of who wears our clothes and we do what comes naturally to us because it's very much part of our training. We went to NID, so our background is rooted in craft and Indian textiles. It was our introduction to the world of fashion and working with these materials became our first exercise as designers. Our perception was shaped when we were students. We come from a generation where there was huge respect for natural fibre and handloom.
But over time, things change and we have evolved accordingly. Now in the ecological sense some of the natural fibres are actually worse for the environment. There are manmade fibres that use waste and recycled material. So, with the technological change happening we have also begun to lean more towards manmade rather than natural.

Back to Work by Abraham & Thakore
The world has definitely changed; take us through your evolution and the changes you have observed in the Indian fashion industry?
It has changed drastically and it has effected and reflected on our fashion industry enormously. The whole fashion concept has become such an integral part of contemporary culture. The FDCI hosts 100 plus shows, there are new designers every season, and fashion has become a very viable industry. In real business numbers it hasn't but that doesn't really matter because there is enough exposure. Ofcourse, fashion designers are at the top end of the business. They set trends and are featured by the media. Most importantly they have their finger on the pulse of how society changes. On the ramp we mirror the needs and wants of a society in transition – reflect alternatives, and create trends, therefore it becomes influential. But, in any society this contributes a very small percentage to the overall clothing business. The mass-market stores like Westside and Pantaloons is the trigger down effect from here, and that's how the industry is fed. The role fashion plays in society is part of the sociological structure because fashion is an artefact that reflects the kind of transformation that we are going through. Currently, we are going through it so fast that we really don't know what is even happening, we are trying to articulate something but we don't know what.

Why did you feel the need to take an international route before making your way to India?
We started sampling and we did scarves, accessories and home products. It just so happened that the first client that we met who showed an interest in buying was The Conran Shop from London. It was very circumstantial. For us, at the time, in context to fashion there was no retail industry here. There was one boutique Ensemble in Bombay and that was it. A single boutique could not support a business, however, admirable it was. So, we didn't really have a choice here.

Do you at times feel alienated from the fraternity and where do you place yourselves in the Indian fashion industry?
A very large and successful part of the industry is still trousseau and that's the closest you can get to couture. This is also a very strong and rewarding part in business terms. But that's not something we do because it's not part of our aesthetic, so, we just don't do it. Our resources are still largely craft and hand-based and that forms our design sensibility. We place ourselves in the quieter zone of fashion.

Our conversation with Abraham & Thakore was first published in our Fashion Issue of 2011. This article is a part of Throwback Thursday series where we take you back in time with our substantial article archive.



Text Shruti Kapur Malhotra