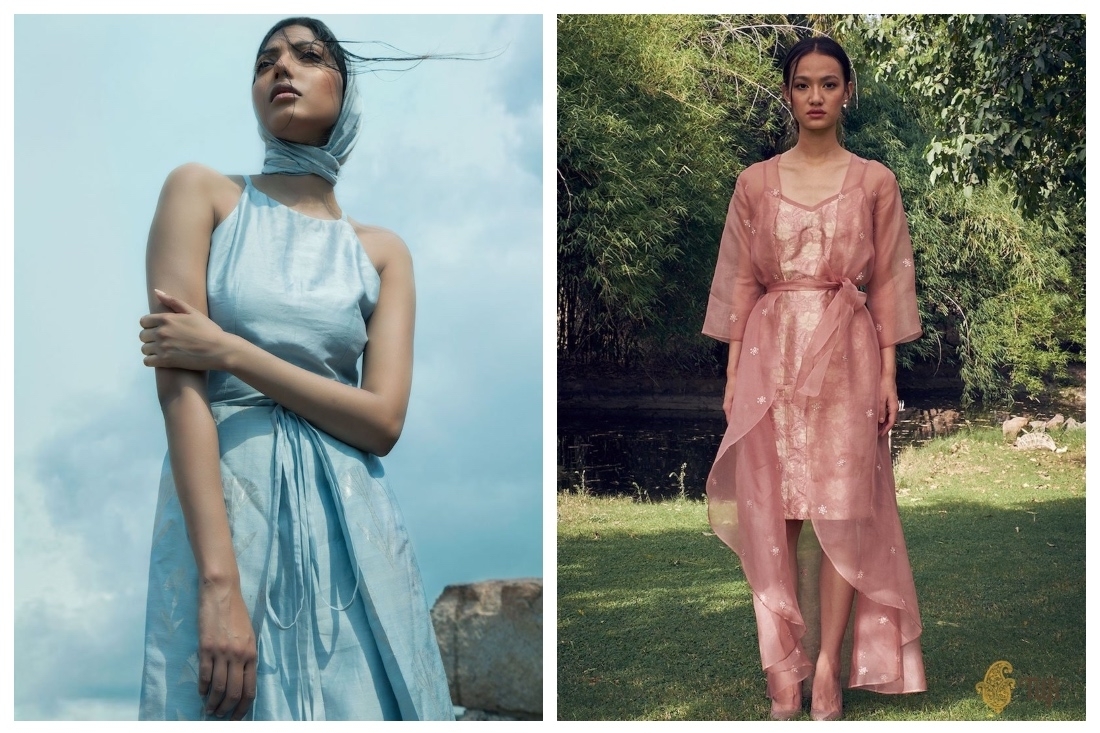 Aditi Chand, the co-founder and CEO of Tilfi and its sister label Terra, calls herself an 'accidental entrepreneur'. Inclined towards academics, she never envisioned opening up a fashion label without any technical knowledge or experience in the industry. Climbing the ladder in the world of finance was Aditi's goal, but the entrepreneur gravitated towards design instantly after being exposed to the brilliant craftsmanship of the artists. Frequent visits to her husband's hometown Banaras, acquainted her with a plethora of talented artisans. She was equal parts in awe of the work they did and disappointed by the state of traditional handloom in the country. 'Conversations often centred around the heydays of the business, steeped in nostalgia of a time when every Indian bride wanted a Banarasi — a reality no longer familiar to the new generation,' she tells me.
What began as a pet project — offering advice to the weavers to turn things around — ended up evolving as Tilfi. The label today exists in tandem with Aditi's desire to initiate social change. She gives us further insight into the endeavour, what it stands for and more.
The Motivation
Our family's experience in textiles goes back to over a 100 years, and specifically in Banarasis, close to 60 years. For over five decades, we were makers and wholesalers of handwoven textiles, and supplied to several retailers and design houses across India. Yet, by late 2000s, changing consumer preferences, the proliferation of power-loom makes and the gradual decline in the continuity of weaving traditions in artisan families, had resulted in a steady contraction of the business. With no successor in sight, the future of the business remained uncertain. Over the years, even as elders in the family guided weavers on how to retain talent in the traditional crafts, we ourselves pursued different courses of study, diverse careers and international opportunities. Going back to Banaras was never on the cards. However, in the winter of 2013, a casual conversation with one of our weavers changed everything.
As he lamented over the unwillingness of his sons to follow in his footsteps and we responded with ideas on how he could motivate them to pursue their 'hunar' (talent), the old man in turn simply queried why we chose not to join our father and grandfather's trade? A moment's self-reflection made the inherent hypocrisy of our stance clear. How could we hope to preserve and further this beautiful art and persuade others to join the trade, if we wouldn't do it ourselves? Hence, Tilfi was born out of this realisation. We decided to return, armed with the experience, education and ambition to build a resolutely Indian, purposeful, artisanal brand. Our outlook was not limited to helping Banarasi handloom survive; we wanted it to thrive and resonate across the world. Tilfi was finally launched in 2016, aimed at writing a new chapter in the glorious history of Banarasi textiles.
The Label
Tilfi is a digitally native and vertically-integrated, direct-to-consumer brand. We maintain complete control over the make and sale of our textiles. Right from designing the product to educating our patrons, and helping them in their purchase decisions, we oversee the entire consumer experience. Consciously, we only work with pure, natural materials and each piece that we make is handmade in Banaras. We have always been fascinated by the human pursuit of excellence and the desire to create something extraordinary that withstands the test of time. At Tilfi, therefore, we identify ourselves as artisanal and craft-led, and our brand is built to champion artistry.
Unknown to many, Banarasi weaving is a very vast craft and not just limited to brocades. There are experts in Banaras, with specialisation in fabrics (katan, satin, cotton, kora, georgette, et cetera), techniques (kadhua, cutwork, dampach, tanchoi, et cetera) and patterns (meenakari jaals, jamawar, jangla, rangkat, et cetera). For generations, weavers have mastered these crafts, and there are craftsmen who for generations have woven only 'satin tanchois' or 'cotton jamdanis' or 'katan kadhua bootis' and nothing else. We see Tilfi's role as big picture thinkers and enablers for these micro-specialists, to match the right designs and techniques with the right skill sets. By developing an in-depth understanding of Banaras' skills, and exploring the possibilities and the limitations of our crafts across these specialisations, we are able to guide and support our weavers to get better each day and push the limits.
Terra by Tilfi
We constantly straddle tradition and innovation. We continually seek to push the boundaries of our crafts and relentlessly introduce newer designs, techniques, fabrics to our artisans' repertoire. Beyond the usual wedding finery associated with Banaras, we see a quiet elegance which is innate to our handwoven textiles, and a luxurious sophistication perfected over centuries. It is this refinement that we wanted to showcase through Terra. Reinterpreting and reinventing the timeless Banarasi by adding an urban glamour to Tilfi's pure, master-crafted handwoven textiles. While Tilfi stands for exquisite artistry which is classical, Terra stands for a discreet sophistication which is luxurious, modern and innovative. We believe that Banarasi handloom is versatile enough to lend itself perfectly to each.
Our experiments in Terra started with capsule collections of jackets and dresses, using textiles designed specifically for them. Starting out slowly, we have built a very niche and loyal patronage for our products. The pandemic actually saw us sell out most of our pieces. Terra was borne out of our explorations and the desire to push brand 'India', and brand 'Banaras', to a global audience beyond the Indian diaspora. As we build Terra's offerings, we hope to be able to offer anyone discerning, anywhere in the world, a product that gives them an option to wear a handwoven textile with equal ease to a boardroom or to a cocktail.
The Fashion of Now
We were lucky to have been a digital-first brand since inception. We did not have to face the challenges of transition like many brands dependent on physical retail. Our challenges centred around logistics of operations, and safeguarding the health and well-being of the large artisan community that we support. Since Banarasi handloom is a decentralised cottage industry, most of our weavers operate from their home. During the lockdown, we continued to commission new projects to them. The sudden shutdown and the time of stillness that it offered, allowed us to focus on more complex projects that take longer to conceptualise and execute. Some of our most creatively challenging assignments were undertaken during this period. The series we have launched subsequently include some of our finest work yet, both in terms of materials employed and artistry involved.
We believe that the luxury consumer in India will be more discerning post the pandemic and more conscious of their choices, opting for timeless instead of trendy, and understated instead of ostentatious. There has been a heightened appreciation for crafts and craftsmanship and more pride in our heritage. We expect this to translate into more deliberate and informed choices.
Text Unnati Saini
Date 07-04-2021