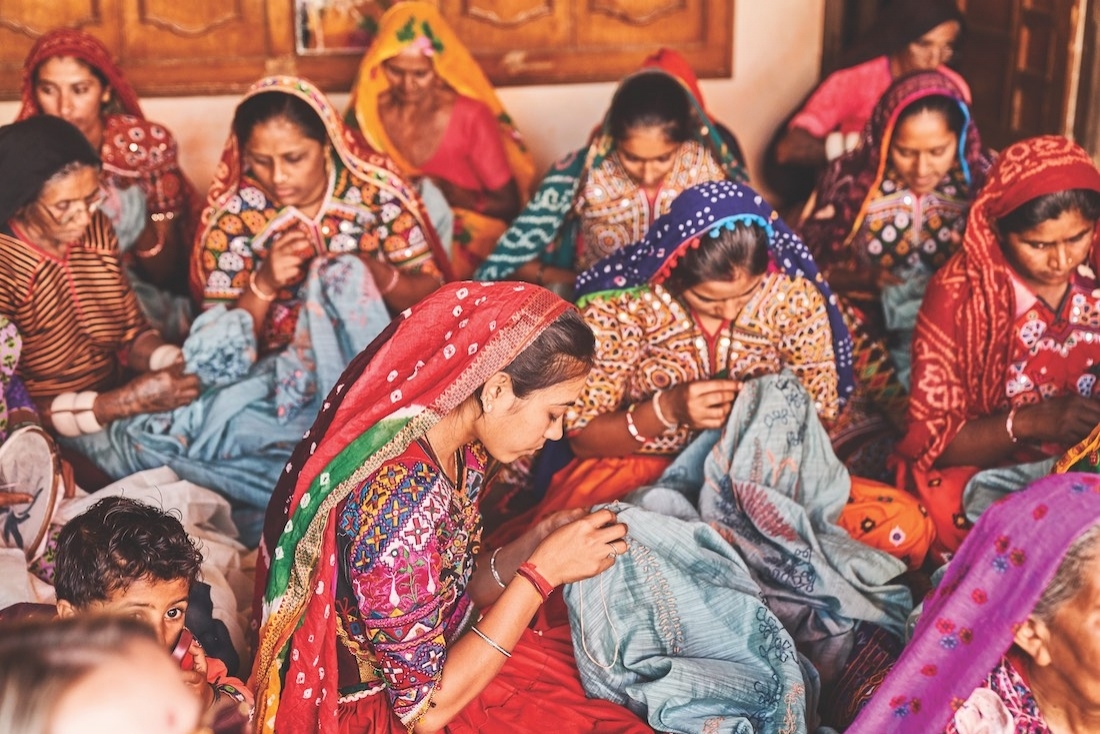 SEWA craftswomen working in collaboration with Anita Dongre
Untold Stories Of Unfashion
Shefalee Vasudev explores the schism that exists between the crafts ecosystem and the Indian media. Unless fashion designers and PR machinery articulate and amplify, stories of handloom and craft remain untold.
Early last month, Mohan Rao Macherla, a well known weaver-activist from Andhra Pradesh sent an email to The Well Wishers of Handlooms and Handicrafts. He shared the response of the Development Commissioner of Handlooms, Ministry of Textiles, to whom he had written in July, to include handlooms and handicrafts in MSME and about the starvation deaths among weavers in Andhra Pradesh and Telangana because of the pandemic. Besides information on schemes for artisans hit by Covid-19, the ministry response added that chief ministers of states and Union Territories had been advised to purchase the finished inventory from weavers and artisans, to put ready cash into their hands at a time when business was tough. A virtual Indian Textiles Sourcing Fair organised by the government in August was also mentioned.
Important information deserved follow-ups by the media to ascertain if the Ministry's initiatives had indeed benefitted those on the ground. Yet, the news barely reached readers, because it did not reach journalists especially those in the 'English' media. If it did, it was simply set aside. Like numerous non-glamorous stories over the years about India's crafts economy that slip through crevices of ignorance and reluctance, unless a fashion designer or a celebrity with a well-oiled PR machinery is involved. Or when a firebrand fuss is kicked by a spokesperson of the crafts sector with strong social capital— Laila Tyabji chairperson of Dastkar, articulate and outspoken is a wonderful voice to make the point.
LAMENT OR LAMINATE
Otherwise, most coverage of the handloom and crafts sector runs under two clichés. Lament or laminate. The former is mounted on loss, the decline of handlooms or rural clusters exploited by international brands and powerful designers—one part of the reality but not the entire story. The other is the song and dance about 'revival' of techniques and textiles by designers for fashion weeks, international exhibitions and new urban markets. 'Khadi', 'handmade', 'sustainable' and 'revival'— dominate the vocabulary used to get the attention of the urban readership.
The rest? Weaver's suicides, their mental health or marital crises, that some weavers have degree courses in loom setting and weaving, yarn innovation, natural dyeing or that they invest time and money to learn how to channelise traditional skills and creative entrepreneurship from teachers like Judy Frater of Kutch's Somaiya Kala Vidyalaya for instance, remain largely obscured. When was the last time the media wrote about the complicated nature of 'progress' in the weaving industry—which means every new weaving machine introduced actually sets back traditional knowledge even as it improves production efficiency. When has there been a fervent outcry for craftspersons' copyrights? The media has possibly glossed over the buoyant story of NGO Parivartan, which began reviving hand weaving in 2013 in Narendrapur in the Siwan district of Bihar by teaching weaving to unskilled women.
"From the point of view of the media in urban spaces or even in smaller towns, it is easier to repeat the clichés that have dominated reporting for years that tell the public that handweaving is outdated and is in dire trouble. This is unfortunate since this ignores the real vitality of this sector," says Uzramma. The first lady of Malkha khadi who goes by her first name, who has relentlessly worked over the years in Andhra Pradesh as a textiles expert and activist, feels that both media and weaver's organistions are responsible for these unbridged conversations. "Yes in some regions hand weaving is in decline, but in others, it is thriving. These periods of decline and thriving are often seasonal or related to migrations for various reasons" she adds.
RETROFITTING STORIES
A schism exists between the media and the crafts ecosystem. Top designers endorsed by top celebrities get top priority. The second level of flurry is for designers who speak of collaborative work with artisans—Rajesh Pratap Singh, Rahul Misra, Sanjay Garg of Raw Mango, Aneeth Arora of Pero, Rina Singh of Eka, or Anavila Misra, the designer of fashionable linens. Then is the partially comprehended coverage of work done by Shani Himanshu and Mia Morakawa of 11:11 eleven-eleven; Shantanu Das of Maku, Paromita Banerjee among many others. They are tapped by journalists for stories on khadi, handloom, Jamdani or sustainability and then trapped there. David Abraham and Rakesh Thakore of A&T are often quoted and rightly so. Thakore in fact, along with the late design and textile guru Martand Singh, is among the core architects of Indian fashion's now strong bridge with handlooms. Yet the veteran textile innovator, Neeru Kumar with years of exemplary work is ignored because she never shows at fashion weeks.
The Russian roulette of making words stick or 'retrofitting stories' as The Indian Express special correspondent Ektaa Malik calls it, goes on. From Banaras (on a surge since the Prime Minister made it his constituency several years back) to Chanderi. From Chendamangalam (picked up by fashion media since the Kerala floods of 2018) to Jamdani. From Khadi (often confused with handloom) to sustainability. Stories are thus told and sold: fashion magazines prize visuals over facts, celebrities over craftspeople, designers over weavers. Newspapers worry about regional stickiness and socio-political preferences of their urban readership.
Aneeth Arora of péro makes use of cotton stripes and checks from West Bengal, mashru stripes from Gujarat and handwoven silks from Bhagalpur along with mulberry silks from South India.
THE DESIGNER'S DILEMMA
"I argue for balance between 'poor craftsman' and 'revival' stories. Designers are either seen as vampires living off the skills of artisans or praised to the skies for bringing artisans into the limelight," says designer Rajesh Pratap Singh. He believes that just as it important to mark the work of designers for their intervention, quality control and refinement, it is sometimes unfair to see the entire crafts world as 'good because it is rural and poor'. Designers like Das and Himanshu whose background work is defined by collaborative dialogues with artisans for design as an ongoing process, find that the way they are written about in the fashion media does not always do justice.
In February this year, as part of The Future Collective: Conscious Culture Design Fair held at Bikaner House in Delhi, a performative installation by 11:11 eleven-eleven included an indigo dyeing vat like area where visitors could actually wet their feet to understand processes of indigo dyeing. Based on the brand's Indigo Flower collection for Spring Summer 2020, it was an intriguing installation. Yet, it barely got the right descriptive coverage. Quite likely because it was hard to comprehend without Morikawa and Himanshu's commentary. Asked if their brand has been rightly interpreted by the media beyond 'Khadi', 'indigo', 'handloom' and 'sustainable', Himanshu sighs, "It has not been easy for us in the last ten years to communicate what we do. But I won't just blame the media because in-depth understanding of the crafts or handloom ecosystem is difficult. When we say hand-spun and handwoven, it is often confused with handloom for instance. That is why it is important for us to tell our story in a tighter, simpler way. I feel the dialogues that take place when we visit craftspeople at their homes and talk about impact of the right display, new technology while retaining craft and culture must also be shared."
Designer Anavila Misra's collection featuring the Khatwa embroidery from Bihar.
Shantanu Das, on the other hand thinks that the media is quick to tag designers within pre-conceived ideas. "No one has time for facts that are not glamorous, socio-political scenarios, material knowledge or anthropological ideas behind weaving," he says. While exotic stories on 'Jamdani' are picked up, processes do not seem to matter to journalists. "But design is also about motivating weavers beyond money, about an ongoing dialogue with them, material vocabularies. It involves critical think- ing without getting trapped by the visual elements of fashion—these are seldom asked about if nothing is 'happening' or moving," adds Das.
Banerjee, also trained at the National Institute of Design Ahmedabad like Das, agrees. "Craft is not considered cool by itself. That is why the media latches on to 'presenting' something. But, in actuality, craft is context based," she says. She emphasises though that fashion designers express and explain better and have contributed to minimising 'Indianness', which used to be a negative submission while talking about artisanal works and the work identity of Indiancraftspeople. Most designers broadly thank the traditional knowledge and skills of Indian craftspeople and the handmade exceptionality of Indian clothing and couture, but seldom do they share their signature with the real name of a craftsperson on labels.
This is contentious and amply noticed by fashion media but digging deeper to find the artisan group or person behind a particular collection of a couturier is reportage never done. With some exceptions. Designers with consistency of engagement, investment in the crafts, sustainability stories and a sturdy PR strategy have been able to substantiate their work while giving equal credence to artisans. As in the case of designer Anita Dongre. "A good example is the Anita Dongre story with SEWA Ahmedabad which made news. I doubt very much if a similar attempt by a rookie designer or a new kid on the block would have garnered any attention for doing the same quality of work with the same artisanal group," says Shilpa Sharma, creative entrepreneur and crafts evangelist.
MAKU textiles by Shantanu Das
REPORTER'S JOURNAL
The media's apparent reluctance to engage directly with weavers or crafts organisations unless brokered by PR persons for city fairs, exhibitions, with press releases and easy access of contacts is not just a matter of biased fashion writing. There is more to it, argues Ektaa Malik of The Indian Express. "Let us not deny that there are class and elitism issues, especially in the English media," says Malik, who writes on fashion and digital trends. "When we can manage political reporting without fluency in regional languages why not on crafts and handlooms?" she asks. Malik finds that journalists are trapped by prejudices just as some designers are. "If a designer can judge a journalist for never having been to Paris and thus incompetent to report on fashion, a journalist perhaps does the same by ghettoising weavers," she says drawing a comparison with film journalists. They only write about stars and directors and forget light technicians, makeup daadas, trolley pushers or odd job boys who slave for big league actors day and night, is her repartee.
Many would agree that pretty fashion is easy to report, but 'areas of darkness' to quote VS Naipaul 'opaque and tedious'. One of the reasons why the crafts ecosystem is not seen as a cultural and creative industry of India is because fashion journalists are not interested in development reportage. Just as development journalists are not in tune with fashion trends. Rosella Stephen, associate editor with The Hindu who attributes media's selective coverage of the artisanal sector to our collective obsession for 'celebrity blitz', says that the rela- tionship of South Indian fashion writers with handlooms is stronger, more realistic. "In the South there is a lot of focus on weaving, whether it is Chendamangalam, Kasavu or Kanjeevaram and there are stories reported without a fashion designer's intervention. But it is also true that weavers don't know how to tell a story and that makes it challenging."
Over the years though mostly because of the push of intermediary organisations, NGOs, weaver welfare groups which have trained artisans to speak for themselves and become e-commerce friendly, there is a nudge to acknowledge the artisan as more than an anonymous pair of hands. Most journalists may still prefer to write about a collaborative exhibition between Khamir in Kutch with Parisian luxury brand Hermes, follow Dior creative director Maria Grazia Chiuri to Jaipur for the launch of a textile lab for women or extol an age-old Banarasi brocade sari because a Bollywood actor wore it for her wedding... but the veil has been lifted. Now to cover the uncovering without the razzmatazz of frothy PR, film stars and fashion.

This is an exclusive from our November 2020 Platform Bookazine. To read more grab your copy here.

Text Shefalee Vasudev