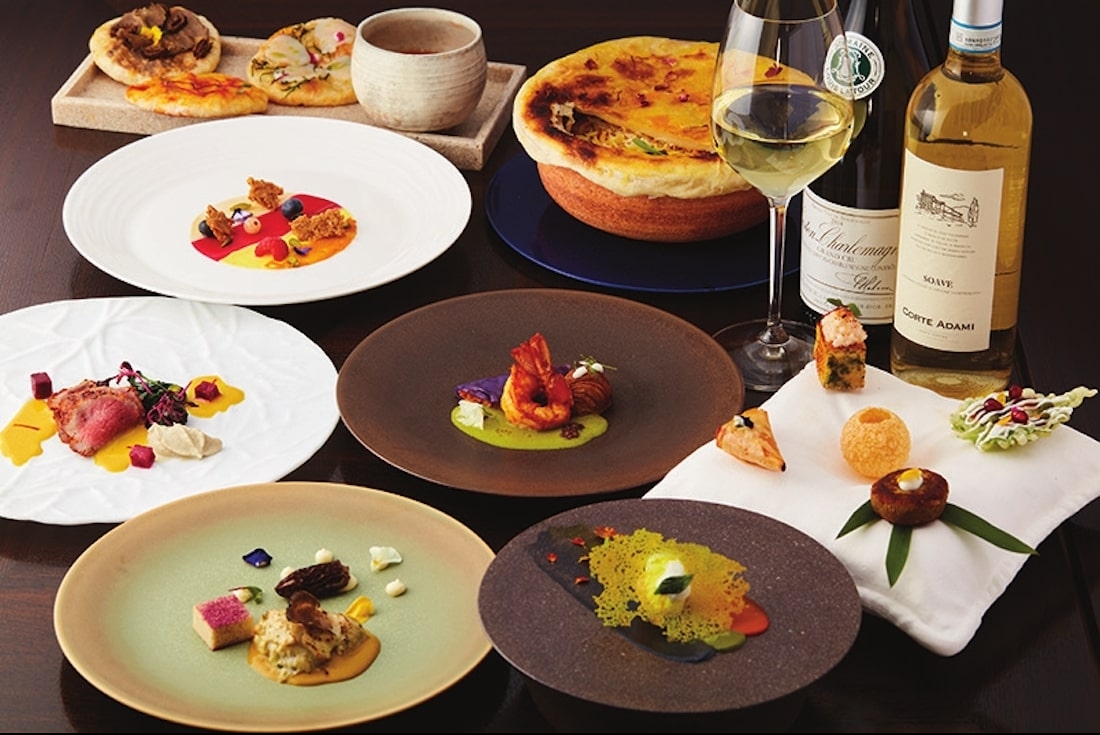 Spice Lab Tokyo
Priya and Sunandan Kapur
Low lighting, a calming blue colour palate, warm, inviting ambiance and most importantly, an absolutely delicious experience await you at The Spice Lab, Tokyo. A country that is as vibrant and current as is charming and old-world, founders Priya and Sunandan Kapur have had a long and stable relationship with Japan. Even though the core of their business is auto, their love for the country and passion for food led them to explore the gastronomical landscape of Tokyo. "We have been associated with Japan for the past twenty years, our mission through this project has been to make a mark in the Tokyo culinary market by introducing a cuisine which represents a perfect marriage of flavours. The choice for location was of prime importance to us. Ginza's uniqueness is unparalleled; an Edo-era district that, today, is a marvel, blending tradition and modern culture like no other high-end district in the world. What better location for us than Ginza – a brand in itself like no other."

Yet nascent, SLT's adaptive Indian cuisine has piqued the interest of many food enthusiasts and critics alike. Fortunately, I was there at the opening and was introduced to their eclectic dishes and innovative presentation. The eight course-tasting menu at the chef's table was a celebration of the culinary diversity for which India is known. The deep care and thought behind the use of ingredients makes SLT unique; only seasonal produce is found in their open kitchen that is spearheaded by Chef Tejas Sovani who has worked closely with Corporate Consulting Chef and Director Ravitej Nath, who was previously the Executive Chef at The Oberoi Group of Hotels in India.

L: Sunandan and Priya Kapur
Together the two masterchefs have curated the menu. "To understand the significance of Japanese cuisine and how to go about creating the perfect harmony of Japanese produce and Indian flavours, our chefs have spent over a hundred days travelling through and experiencing Japan. From local Japanese farmers' markets to countryside farms, they have travelled far and wide to understand how produce reaches from farm to plate and more importantly, the importance the Japanese place on sustainable food sources."

Their main mission was to custom create a menu for the enhanced Japanese sensibility, using the best seasonal Japanese produce with age-old Indian techniques discovered, revived and inspired from varied aspects that define India. Keeping true to their sensibility, seasonal changes in the menu will be seen to adapt to seasonal produce. The menu has coalesced in a manner that can only be described as undeniably magnificent.

To complement the delectable fare, the cocktail menu is unique and adds to the explosion of flavours with each bite and/or sip. Inspired by Tokyo's local drinking culture with a mix of Indian flavours, folklore, progressive global techniques and presentation, the bar menu has been thoughtfully designed. Mumbai Tonic: Gin based cocktail with clove, star anise and green cardamom. Aromatic and flavourful, it was definitely my favourite. As the night ended, I have to admit, my meal was the best Indian fare coupled with interesting conversation and delicious cocktails.


Spice Lab Tokyo did leave me thinking of the cushioned plate that had the mini chaat taster called Pride, inspired by street foods of India – there was golgappa flavoured with ume boshi, butter chicken samosa, shiso leaf chaat, prawn and wasabi dhokla, duck and prune kebab. My palate yearns for the unique prawn dish, The Bay, inspired from Bay of Bengal. It had a mustard sauce, served with tomato lobster rice and cumin potatoes. The star for me was the Bamboo Chicken: inspired from the villages of India where bamboo is used as a cooking medium. Chef Tejas deconstructed the process; the chicken is placed inside the bamboo for about twenty-five minutes and cooked. He opens it at the table and serves it with rose and cauliflower tofu and Kashmiri morels, for vegetarians, chicken is replaced by Honshimeji mushrooms.

And the finale, the dessert: Bittersweet Symphony was layered with distinctive flavours, textures and colours. Coffee mascarpone, vanilla custard, raspberry sauce, pumpkin, cardamom, topped with berries and fennel crumble. The indulgence was definitely the best way to end the most spectacular experience, orchestrated by Chef Tejas, as he took us through the artistry behind each course.

Restaurant Design : This is It Designs (India)
Branding and Identity : The Grafiosi (India)
Uniform : Akaaro (India)
Tableware : Ikkis, Pattterned Studio

This is an exclusive article from the Eat Live Drink section of our all new Platform Bookazine, now available on our app and Magzter.

Text Shruti Kapur Malhotra