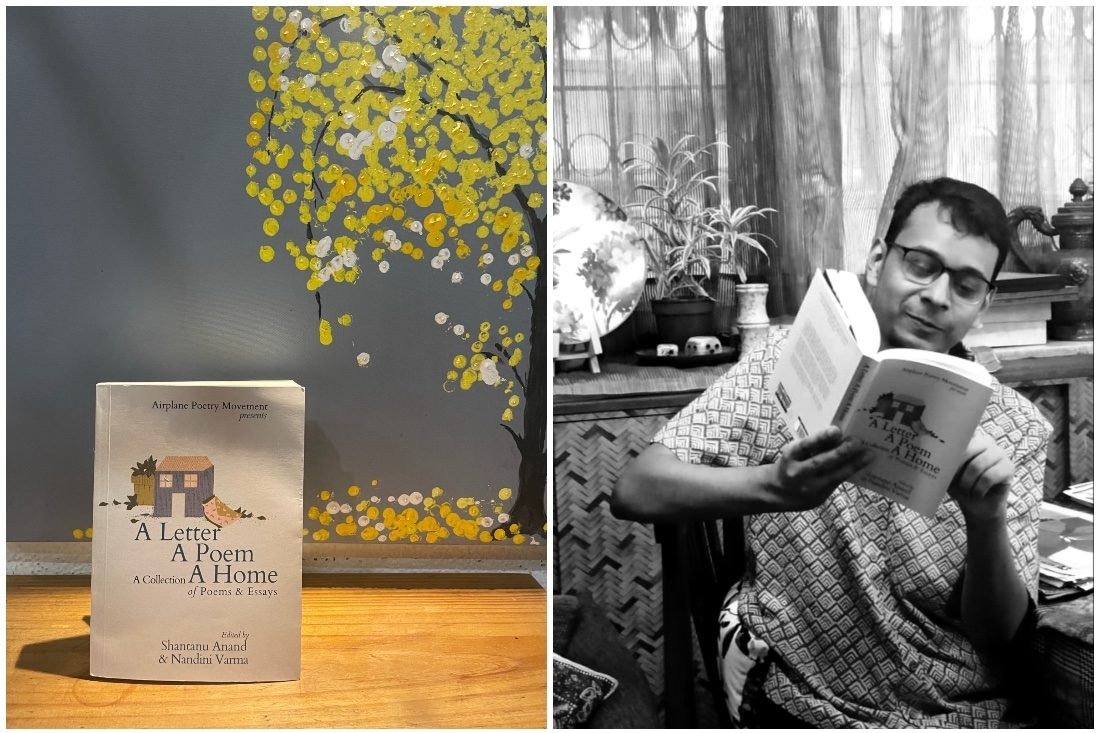 What began with a few poets in Pune huddled around words for warmth, slowly became preparatory sessions in parks for some of the biggest open mics in the city, and eventually led to one of India's most loved poetry collectives. Airplane Poetry Movement's (APM) story is one of finding, nurturing and celebrating voices through the spoken and the written word. Remarkably, in 2019, its founders Nandini Varma and Shantanu Anand, found themselves awarded with a place in the Forbes Asia 30 under 30 list. It's why we took notice when they announced the release of an anthology, that promised comfort from a year and world more fractured than any of us has ever known. The book, called A Letter, A Poem, A Home, declares itself as a contemporary, curated collection of poets across the world 'who wonder, who watch, who imagine, who pause, who listen.' In conversation with Shantanu and Nandini about them, their book, and its promises.
Could you both tell us a little about yourselves and what led to the formation of APM?
On good days, we call ourselves poets. Other days, we're both poetry educators and have mentored and produced shows with thousands of poets across the country. We'd begun writing poems before we made APM, but our world really expanded when we came across performance poetry in 2013 through videos of some American and British contemporary poets. An impromptu workshop at TEDxGateway with the American poet Rives was the turning point for us. It gave us the push we needed to begin our own mini-workshops, in order to train young poets and learn along the way. Over the years we read and studied and watched and listened, and our workshops evolved. So, it's been quite a journey!
How does this anthology speak to the mission of APM?
It's mostly a culmination, but also seems like it's a place from where you take a step towards something else. Maybe that place isn't very big right now, maybe we'll find another anthology here. Everything is a little unclear at the moment. But this book felt like it was wrapping up the last seven years of poetry and all that it brought us. It was our way of finding moments and looking back at those creatively fulfilling years. But it was also a means for us to move forward and continue bringing that love for poetry, and that joy that it inhabits within itself. We're hoping that communities keep growing to support one another. We hope we push our boundaries artistically and dig deeper to find the possibilities that we could reach!
You mentioned the overwhelmingly large submissions you got for the anthology in the preface. In the end, why did you pick the pieces you did?
At first, we picked poems that spoke to us, that moved us or shifted something inside us. Sometimes, there are poems that you never really finish reading. You know when you read them that you will keep coming back to find something new. There is a great amount of craft involved for a poet to reach that emotional pull in their poem. Finding that power was our first step. Then, we came around to shortlisting those poems which came together to form one unit that the collection was going to speak as, even when they held different universes within them.
Could you tell us about the challenges you had in curating the diversity and vastness into a single body of work?
We had some names we wanted to approach from the very beginning. Mostly because during our own journey, they've contributed immensely to our learning. We were really fortunate and grateful that most of them agreed to send their work or had a conversation with us that would become a part of the book. It all came together when we decided that we wanted the book to be divided into chapters, to show the vast universe that poetry holds within itself, so that whoever picks up the book finds something that assures them — yes, this is yours, this is for you! Because that's what poetry did for us and continues to do for many many poets that we've met along the way.
The book says it wants to be a corner of comfort in the world that we call home. What does this comfort mean to you?
It means returning to a place where your heart resides. Where you're sitting with your feet up and your body is leaning back in composure, and you've got popcorn crunching in your mouth. It means where your refrigerator is empty some days but your hand is already reaching out to make a warm cup of tea for yourself. It's where you're dancing and you finally don't care if anybody is watching you, where your songs have reached an unbelievable pitch and you wouldn't call it Indian-Idolesque but that doesn't bother you. Where your grandmother's knitted sweaters take precedence over new jazzy coats — that feels like home, right? It feels like home!
Lastly, what's next for the two of you?
In the next few years, we want to spend a little more time working on our growth. We want to learn on the job about important curatorial decisions and community building, work with diverse artists and learn from them. This knowledge could be in terms of our own histories and the ways in which artists from various communities have negotiated spaces for themselves within poetry and performance arts. So while our mission remains to make people fall in love with poetry, to open more doors, and continue to educate ourselves along the way.
Text Parth Rahatekar
Date 10-02-2021