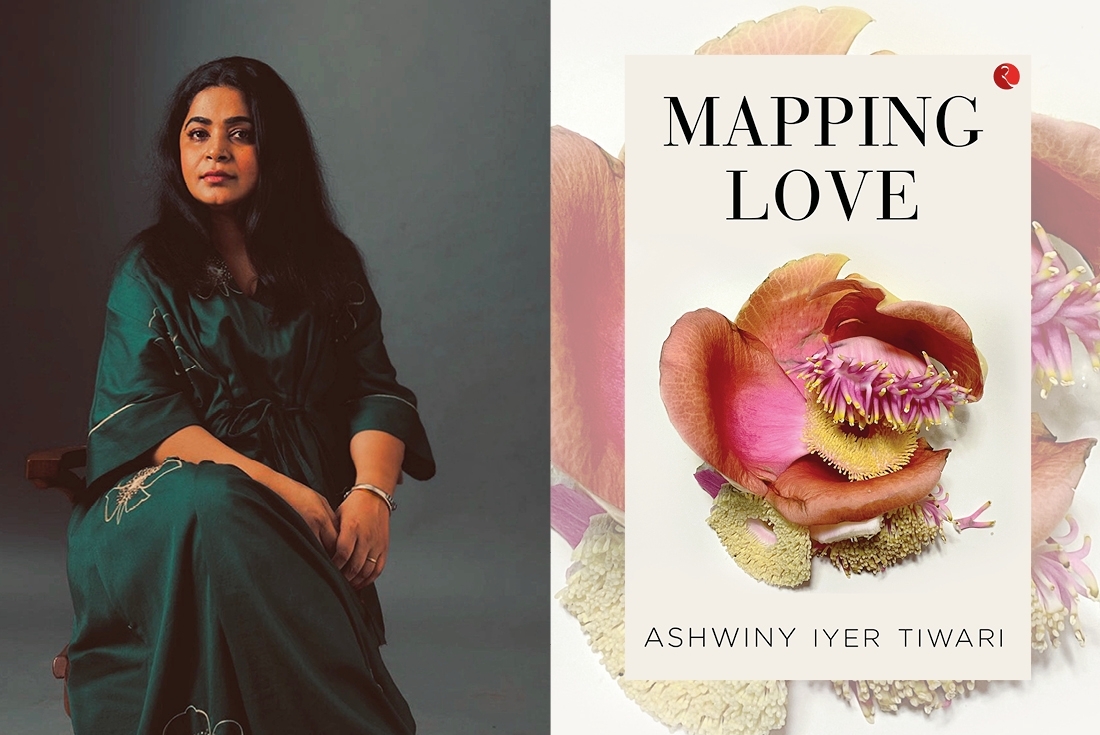 Filmmaker Ashwiny Iyer Tiwari spent over a decade in the field of advertising, devising stories for some of the biggest brands in Southeast Asia. Now known for critically acclaimed and award winning short films What's for Breakfast?, Brothers and Ghar ki Murgi, her riveting narratives have always been thought provoking and set a precedent. With her oeuvre consisting of mainstream Bollywood successes like Bareilly ki Barfi and Panga, the filmmaker has now ventured into the world of fiction writing. Her debut book all set to release on the 1st of August, Mapping Love, is essentially a coming-of-age story, interwoven with the theme of belongingness and trying to find one's roots. It deftly highlights the role played by memory when it comes to complex interpersonal relationships, and above all, love's immense redeeming power.
We're in conversation with the filmmaker, who lets us in on her process, the inspiration behind the narrative and more.
After working in films all these years, what led you towards the world of fiction writing?
I have always been a storyteller, I would say this is just an extension. I have been telling stories since the longest time as I've always had a plethora of ideas. The same happened with Mapping Love. There was a germ, an idea that came to me about four years ago. I went with it and wanted to experiment and see what happens when you actually sit and write. One doesn't really know where the story is headed unless you put it on paper.
With a movie as well, until you actually write the synopsis, you don't know where the plot is headed. Also, considering I don't have a background in Literature or the Arts, I was skeptic about writing. I was hesitant because authors always use a certain kind of language and I didn't wish to mess that up. I invested a whole lot of myself while writing this narrative and I realised you can't gauge your full potential unless you try something. I thoroughly enjoyed the process as well, I discovered my own style. Every creative person has their style, and I think writing Mapping Love helped me find my own voice. The medium here is very different as opposed to what I'm used to. Once you write a screenplay, the film is made and it is no more yours. The idea may be yours but filmmaking is teamwork. Whereas when it comes to writing a novel, from the beginning till the very end, it's completely yours in a way.
You mentioned you're quite an avid reader. Which authors have influenced your writing?
I wouldn't go ahead and say that my writing has been influenced by someone, albeit we all have our favourites. Murakami is one of my absolute favourites. I researched everything about him, ranging from when he wakes up to how he writes, amongst other things. I've always been fascinated by all that goes behind the scenes when it comes to authors, how they articulate themselves, their schedules. Another one of my favourites is Amitav Ghosh. The way he deftly juxtaposes two varied things together is very interesting. I also read a lot of non-fiction. Pico Iyer's work is very engaging as well. I also appreciate the simplicity with which Milan Kundera writes.
Coming to Mapping Love, could you give a blurb in your own words?
To put it simply, it's about the protagonist Oorja Chaturvedi and the wounds she's suffered from the very people who so aptly named her. Her relationship with her father is barely strung together with a few words. The story is propelled when her mother dies, the woman whose nagging love was both her comfort and her secret hiding place from the world. Within the narrative you see new grief melding with old bitterness.
What did your creative process look like for this novel?
I'm always very curious to know how other creative people function. When it comes to my own process, I'm fairly disciplined, this comes from my experience in advertising, dealing with clients and deadlines. Even with filmmaking, things need to move ahead in an organised manner, you're always on a schedule. While I began Mapping Love about four years ago, it wasn't written continuously. While writing I had given myself daily goals to write for about three hours or try and manage a 1000 words each day. One ritual that really helped was always stepping out for a walk post my writing sessions. Some chunks of this novel have also been written during Covid. I think one of the most vital aspects for me was to be completely invested in my narrative and not be distracted by what was going on around me. I also indulged in some serious research considering my narrative involves quite a few different locations. It may be a work of fiction but it was of grave importance to me to get the nuances and the tone correct. Creative writing may be very fluid by nature, but I've always believed there needs to be some discipline to the madness as well.
Apart from Mapping Love, you've also got an upcoming OTT release. What can the audience expect from Faadu?
Faadu is an intense love story. With each project I wish to experiment and do something different. I don't like to take the formulaic route. If one film is a success, doesn't mean that my next will be as well. I'm someone who likes to take up challenges. Each project means starting from scratch, as I did with Mapping Love and also with Faadu. Bareilly ki Barfi was a romance comedy, Panga was a sports drama about a woman who wants to make a comeback after motherhood, with Faadu I'm trying to settle in a completely different space, it's a love story but with a lot of action and intense drama. I think Faadu will be aspirational and dark.
Finally, how do you think your experience on sets changed during the pandemic?
Honestly it was only in November last year that I had been on sets for a short film. Other than that, I've also been producing quite a few ad films. There is now of course a massive shift on sets, you're not only taking care of yourself but everyone else too. Everyone's become far more conscious and cautious — at this point we can expect the unexpected. It's become vital to follow all protocols considering so many lives are involved. Most importantly, I do feel that there's this new found empathy, for the people, the work we do. There's also a lot of respect and gratitude just for the fact that we've been able to work.
Text Unnati Saini
Date 30-07-2021