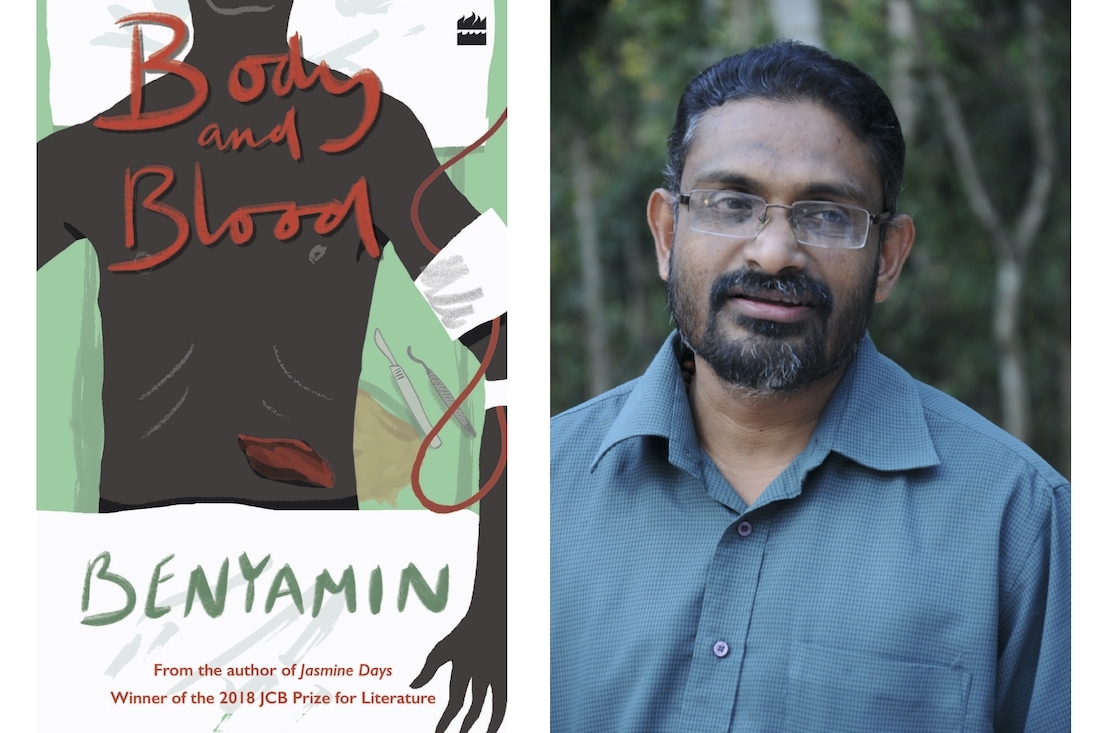 In the past few years, with more and more releases of the English translations of his books, Benyamin's literature has garnered immense critical acclaim. In 2013, his book Goat Days, which revolves around the life of an Indian labourer in Saudi Arabia, was shortlisted for the prestigious DSC Prize for South Asian Literature. Then in 2018, Benyamin became the winner of the JCB Prize for Literature with his book, Jasmine Days. Now, Harper Collins India has acquired some of his work and will be releasing the English translations of the same. The first in this venture is his book titled Body and Blood, set to release this month.
In Body and Blood, Benyamin tackles the grim issue of organ trafficking. The gut wrenching thriller also delves deep into the nexus of power and politics exerted by organised religion. Propelled by criminally-orchestrated accidents and medically-induced comas, the novel is a powerful meditation on God and faith. It questions and explores the deeply problematic practices of religious institutions that lurk all around us. We connected with the author to know more about the book, his literary journey and his experience with the current pandemic.
How were you led towards the world of writing?
I am a late-comer to the world of literature. In school or college days, I never thought about literature or that it would become my passion and profession later. However, I reached gulf at age of twenty-one. It was a drastic change in my life. All of a sudden, I felt loneliness, numbness or something akin to an identity crisis. Then I started searching how I could fulfil my days meaningfully. I found an asylum in reading. When I read, I felt that I found myself. This continued for seven or eight years and those days generated a desire in me to write something. I found that there are many untold stories around me. I felt it was my duty to write them.
After all these years, how would you describe you relationship with writing as?
Over the years I became a professional writer. I quit my engineering job and now earn from my writings. At the same time, I am loving it more and more. Now it is not my mere passion, it is my life itself. I am living in it. I am breathing literature. I am enjoying every moment with literature. Both reading and writing.
What inspired the writing of Body and Blood?
Very accidentally, I read a news report about organ trafficking in a newspaper. Some of the people were arrested including a doctor in Delhi. Till then I had believed that organ donation was a humane thing and should be promoted. After reading the news, I began studying more about organ trafficking and found out how the mafia is working and how they are cheating innocent people. Then it developed as a novel.
The book deals with very rather pressing concerns like organ trafficking. What was your writing process like behind this book?
The novel is set in different cities like Delhi, Goa, Chennai, Pune etc., and main characters are very young people, who migrated to these cities for many different reasons. They are connected to each other through a new generation church. So, mainly I went through works about organ trafficking and how it works. Then I studied about the mode of operation of new generation churches and how they attract the young. Thirdly, I watched keenly the young, their way of life, behaviour, discussions, frustrations, passions and ambitions. Finally for the detailing, I studied each city too.
Many thematic concerns are at play in this book, including the notions of God and religion. What for you was the main propelling force while writing this book?
I am a pure criticiser of the theology behind prosperity of Christ. It is totally against the true teachings of Christ. It is a product of capitalism and market. The so-called evangelists and televangelists are using the innocence and beliefs of common people by promoting prosperity in the name of Christ theology. Especially the young, who are totally unaware of basic Christian theology. They have so many strategies to attract young to their church. As a writer, I felt it was my duty to unmask them.
What kind of challenges did you face with this book?
I still believe that organ donation is a very humane project. I don't want to mislead or discourage people from it. At the same time, I must warn them of organ trafficking too. Same with Christianity as well. I don't want blame all churches and call them fake, but I want to tell people that some of them are manipulating the religion. Keeping the balance between these two was very important and challenging for me.
What do you wish the readers take away from your work?
At the end of the reading, what you gain is very important. It should be an eye opener. It should change your mind set. It should override your prejudice. It should lighten up some dark areas.
Harper Collins has acquired more of your work and will be releasing two more translations of your books. Could you tell us a little bit more about this partnership and the upcoming book releases.
This is first time I am associating with Harper Collins but I felt very comfortable with them from the beginning. I am so happy that I am associating with a worldwide publisher and it will help me reach more readers. Next is a collection of my stories and another one is an anthology on modern Malayalam stories and I am the editor.
The world has been thrust into a rather baffling and challenging time. What do you think the role of a writer and literature should be in our current situation?
Today writing is nothing other than a political activity. For entertainment and passing time, we have so many other medias available, but all those mediums are so blind to reality. They are in a utopian dream world. Then who will address the reality? Who will raise the political questions, other than writers? It is our duty to raise political questions in our fiction. It is the best medium to address the political issues and questions against power. For that we must stay within the reality, open our eyes wide to see it, and be courageous to write about it.
How have you been coping with the pandemic and what will be the new normal for you post it?
Till very recently, there was fear around us. We thought that the lockdown is the only solution to overcome this pandemic time. However, now we are realising that it is not the final solution and we have to live with it till a medicine or vaccine developed. Friends from around the globe, who were affected and survived, keep giving me instructions and precautions to live with virus. So the new normal should be entirely different from our previous days. This normal might last for few years. Wearing masks, social distancing, avoiding shaking hands, hating hugs, washing hands in regular intervals, zoom meetings, working from home, online reading etc., will be our new normal.
Lastly, what is next for you?
As always, I am working on a new novel. However it is in a cocoon and will take time to grow wings and fly high.
Text Nidhi Verma