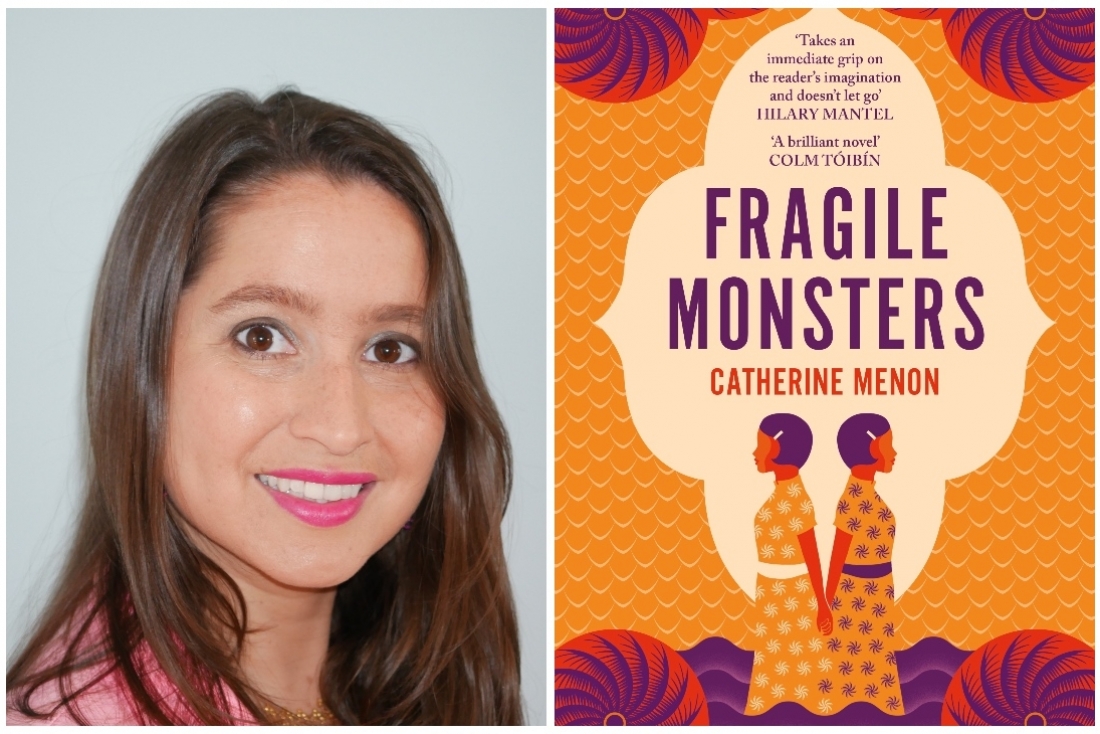 Catherine Menon is a well-known name for those who enjoy the genre of short story writing. With the release of her debut novel Fragile Monsters now, her literary brilliance has been solidified further. In her debut venture, Catherine explores challenging topographies and timelines, ranging from rural Malaysia to World War 2, all revolving around the complicated daughter-grandmother relationship of Durga and Mary. Filial relationships and past tragedies take centerstage as notions of home, belonging and human history, replete with both natural and man-made calamities, pervade the narrative in the background. As more and more difficult truths reveal themselves, it becomes clear that while the past, no matter how unknown to us, can always have significant control on our present, we should always hold on to hope in order to move forward into the future.
We spoke to the author to know more about her and the book.
How were you led towards the world of writing?
I always enjoyed reading as a child — and used to write my own stories in my homework diary! — but never thought of it as something which I could make a career of. There's a definite societal pressure to focus on certain careers: medicine, law, engineering. My parents are both doctors and my brother an engineer! Fiction seemed a hobby to me; something you might take up like joining a tennis club.
I continued to enjoy reading, though, and after I came to Britain, I decided to enrol in a short story course. I was fortunate enough that my first short story won in a competition, so I had positive reinforcement at just the right time! Enrolling in the Creative Writing MA meant that I could give myself permission to write, which really helped with the STEM/self-discipline side of things. Fragile Monsters was written as the dissertation element of my MA.
Which writers and books were your early formative influences?
There are many authors who've been a huge influence on me — Elif Shafak, Isabel Allende, Hilary Mantel — but my favourite is Jhumpa Lahiri. I greatly admire the way her short stories are hugely expansive in scope. Most short stories deal with a single moment, but Lahiri's will often cover a whole life, or even multiple generations. In my favourite, The Third And Final Continent, there's such a sense of all these characters having the entirety of their lives just off-page — not only the narrator, but his elderly landlady, his mother, even his wife Mala.
I so much wanted to replicate that, and one of the ways I attempted — something I still do now — is to 'write myself into' the story. I always start two or three years, scenes, moments before the novel or story is really meant to start, and continue after the end. Sometimes, when I'm really stuck, I go through and find any characters who leave, and then write what happens after that. That's enough to generate creativity and help me find inspiration for how the characters might react in a scene, what they might notice, what they might be thinking of while the fabric of the novel unfolds.
What inspired your debut book, Fragile Monsters?
Fragile Monsters is based on my own father's childhood in Pahang, Malaysia. When I was small he used to tell me bedtime stories about his experiences in Kuala Lipis, which sounded so different to my own life in Australia. It was only as an adult that I realised the darker significance of some of these stories: Kuala Lipis was the headquarters of the Japanese army in Pahang, following the invasion of Malaya. I began to research the stories of people who had lived through that time period and became fascinated by the narratives I uncovered.
What is at the core of your book and what was your creative process like behind writing it?
Fragile Monsters is the story of an Indian-Malaysian family living through the Japanese invasion of Malaya in WW2 and the subsequent Malayan Emergency. It explores the turbulence of this time through the fractured relationship between a granddaughter and her grandmother. Durga is a mathematician, an academic lecturer with a preference for all things logical. Her grandmother Mary is a storyteller, a woman who keeps her secrets close to her chest and tells whatever version of the truth she fancies. When Durga returns to Mary's house in rural Malaysia for a visit, she begins to question the stories Mary has told throughout her childhood. Gradually, she uncovers a confronting new reality, in which her own long-dead mother plays a horrifying role.
I knew that I wanted to explore the way we all tell stories about our past, the way we mythologise certain events and gloss over others until we're no longer even sure what our real memories are. It was important to me to fully recreate the world Durga and Mary live in, so I used primary sources — interviews, letters, publications — to spark ideas for some of the events of Fragile Monsters.

Could you give us some insight into how you conceived and built the characters of Mary and Durga?
I spent a lot of time reading through old newspapers, letters and interviews in the British Library. It was very important to me to hear people tell their stories of that time in their own words. I knew that I wanted to explore the tensions between generations, as well as between a scientific versus story-telling mindset. Gradually, Durga and Mary began to step forward from that backdrop of research, and it was immediately clear to me that here were two characters with the potential for enormous conflict. Durga epitomises the logical, mathematical side of the world while Mary is fonder of slippery tales that have their foundation in feelings rather than lies.
Of course, one of the defining characteristics of their relationship — besides conflict — is that of love. I knew in conceiving the characters that they would have to be very tightly bound together, and the construct of a grandmother and her daughter allows for that immense, underlying love which brings such frustration to them both as well.
Home, family, history and belonging are some of the main themes of your narrative. How have your own roots affected this book's creation?
It's a great question! Fragile Monsters is fictional, of course, but in writing it I was exploring my own familial roots in Malaysia. Writing the novel felt in some ways like a homecoming, as though I were returning to my own roots. In writing fiction we have this wonderful chance to dissect what homecoming really means. Homecomings are rarely completely satisfactory, particularly when the person returning no longer feels as though they have a place in their society, their family, their old world. Fragile Monsters is an exploration of what home might have meant to my family in Malaysia during WW2 and the subsequent Emergency. In writing it, I found myself fascinated by how universal our concepts of home are, and how much they rely on memories and stories, rather than bricks and mortar.
What kind of challenges did you face with this debut endeavour?
One of the first conditions was purely practical: finding the time to write! I have a full-time day job as a university lecturer in robotics, which means my writing time has to fit around this. I found myself getting up at 5am, spending far too much money on notebooks — I write longhand for first drafts — and immersing myself in writing before the pressures of my job claimed my attention.

I also found that the research was a challenge, albeit a very rewarding one. Analyses of WW2 as presented in mainstream media and history books tend to focus on the war in Europe rather than the Pacific, and to subsume the experience of Malaysians and Singaporeans into a global, Eurocentric perspective. Of course, not all Malaysians experienced the occupation in the same way — certainly the different ethnic groups had different experiences, as did people living in towns vs villages — but life in occupied Malaya was very different, for example, to life in occupied France.
Censorship was also an obstacle. All the newspapers, letters, official documents and so on in Malaya had to pass appropriate scrutiny by the Japanese administration there, so a lot of information about daily life simply wasn't recorded. One of the challenges I faced during the research was to pull together everything that hadn't been said in these accounts: to create a story from the words that had been omitted.
What do you hope the reader takes away from your work?
I'd hope readers come away with a sense of the resilience of the characters — and by extension, of their own resilience. Although the characters undergo some very challenging times, I think the ending presents the possibility of redemption. Certainly Durga comes to the realisation that Mary's stories have always been true, in some slippery and yet essential way. I think it's this that gives her the strength to walk away, to go back to KL and begin her life there without the constant ambivalence that's defined her, without her pervasive defences against rejection. It would be wonderful for readers to take that sense of hope and possibility with them.
How have you been coping with the pandemic and what will be the new normal for you post it?
As with everybody else, my life now seems to be conducted completely online! I've been making sure that I connect with friends and family, even if it has to be via a screen, and trying to explore some new experiences to make up for the lack of outside influence. I've been reading hugely, including authors I'd never read before, and I'd very much hope that this is a habit I'll be able to retain into the 'new normal'.
Lastly, what's next?
I'm currently working on my second novel, which explores similar themes of science, storytelling and coming-of-age. I'm immensely excited about it, and about making friends with the new characters. It's been hard to leave Durga and Mary behind, but I'm very much looking forward to the process of creating new characters and complexities.

Text Nidhi Verma
Date 21-05-2021