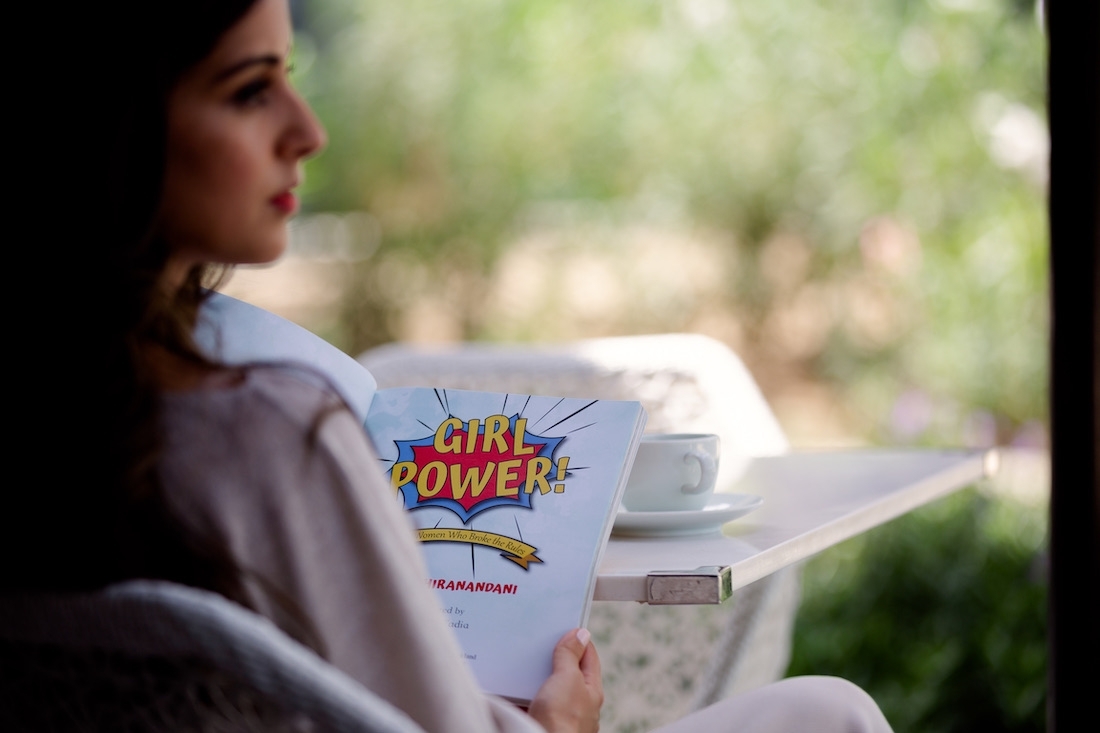 Girl Power
Neha Hiranandani
'For all of us who read there is escape to be found there, there is joy to be found, there is heartbreak and love to be found there.' It was this connection with words and the thrill of feeling a certain emotion that led Neha to start her very loyal and consistent relationship with books, reading and eventually writing. 'I think the romance for writing and literature was there from the time I was a kid. I was obsessive about reading so much so that books were banned on the dining table as I was constantly reading and refused to make conversation.' After her graduation from Wellesley she worked in healthcare in Boston for a short period of time till she realized that she was more interested in education instead. To get a better understanding of it she went to Harvard and did her Masters in Education. After that an internship with UNICEF drew her to India where she did groundwork and converted her internship into a job.
'It was a really interesting time for me as I had been in the US for almost 8 years and I had studied a lot of development issues but I had studied them only theoretically. You know at that age you are a brash upstart and think you know it all but I think India has a way of humbling you and that happened very quickly. Within the first couple of field trips it hit me that I know nothing. I was going to interiors of Bihar and other areas and was interacting with folks far away from my comfort zone. I learnt so much that I wouldn't change that for the world. I spent 3 very informative years with them. And then I got married and we were living between Mumbai and Dubai and I got involved with an organization called Muktangan, which is based out of Lower Parel in Mumbai and they work with municipal schools in Mumbai. So the project I was a part of was to train these women to become teachers.'
Writing for Neha happened after her first child was born. She went through postpartum depression and came out of it after two very challenging and distressing years. The first piece she wrote was on depression and how she came out of it. 'That was one of my most personal pieces till date. I would say that was my turning point and I think once you cross that barrier and move to the other side where you are willing to write openly and honestly you feel free and you can then be an accurate chronicler of your own experiences or what you think of someone else's.' One thing led to another and she began writing for publications. Her writing is witty, meaningful, fun and makes you think. Cut to the present day, she has written her first book titled Girl Power.
To know more about her very informative and inspiring book not only for young adults but also for grownups, I connected with her at her Dubai home over chai and her warm hospitality. I learnt more about how the Mavericks became Girl Power.
What inspired Girl Power?
You know Rebel Girls came out and my daughter who was seven at the time was obsessed like many other girls. As a mother I was so happy that she was reading inspirational stories of other women from all over the world. One day she came running in clutching this beloved copy and asked, "Are there only two rebel girls from India?" She was right, there were two very significant women, Mary Kom and Rani Lakshmibai. And that got me thinking that there are so many stories that our children have not processed and if they have, they might have accessed them in a very textbook kind of way, which isn't a very inspirational way to teach and remember. So I wanted her and kids like her who are interested in reading to have access to these stories in a really fun way.
Bula Chowdhury - an illustration from Girl Power
How did you decide on these superwomen?
For me one of the things I was very clear on the outset was that I did not want this to be a list of just accomplished women. I wanted this to be an anthology of a particular kind of Indian woman who broke the rules. I wanted to call this book The Mavericks because that's what I was thinking when I was writing this. For me these women are the mavericks, they are the ones who have broken the rules, who have smashed the ceilings, who have lived on their own terms. It was about finding stories and many of them untold or at least untold in a mainstream way about women. The common thread is that they are all rule breakers; they are all from different time periods. They are from different walks of life. So you have a scientist but you also have the spy, you have a coolie and you have a queen. So I looked at varied professions and varied time periods. And I am the most proud of the untold stories. There were of course some household names but I did not want to ignore those as they are very important as well and I wanted the stories to be accessible to the reader.
What was the most challenging part?
One of the things we have done in this book is we have kept the stories really tight, and by tight I mean 300 words maximum. That for me was the hardest part of this project, I would say. Cutting the stories down. All these women have lived such textured and layered lives, so to peel those layers and capture that one moment was a big part of the challenge. I found the stories through good old-fashioned research and conversations with people. So finding the untold stories and distilling it down to that Kodak moment was extremely challenging, and at the same time, I had to present that Kodak moment in context.
The book has very interesting illustrations. How did you collaborate with the illustrator?
Scholastic published the book and got Nilufer, the illustrator on board who I worked with very closely. She lent a wonderful dimension to the book and I don't think it would be half the book it is without her. She really worked well as she is very comfortable in different styles. I think we shared such a wonderful collaboration that the book is the better part of it. There were times I suggested a certain way the illustration should be created and at times she went in her own direction. So we really worked well together. Niranjan Mishra did the cover and we consciously decided to keep the cover more pop as there were already so many illustrations of women inside the book that we wanted to avoid having one on the cover. And I kept saying, "Wonder Women. We want Wonder Woman colours." So that was the idea for the cover. Very pop and speaks to the power and strength of these women. And we went with Girl Power because we wanted something accessible and catchy.
The book is just a taster, an introduction to these great women. The whole idea is to go out there and research more on what they did because we have only captured the Kodak moment. This is just the tip of their iceberg.
What would you like readers to take away from the book?
I would like to say that this book is not only for girls. I would love for boys to read it as well. I just feel a lot of our Indian boys are used to seeing many of us only in certain roles, mainly in traditional roles as wives, as mothers and what I wanted to introduce through this is the idea that so many Indian women before us have really broken ground in a non-traditional space.
Lastly as a writer what do you wish your writing to communicate and where do you go from here?
I like my writing to be conversational and accessible. I want it to be as true and honest as possible. I try and talk about issues that at times are ignored, like depression, suicide and other such subjects that many of us deal with but very few acknowledge. So I want to get deep down while keeping the writing accessible. And Penguin Random House has already signed off my second book.

Watch Neha read a few snippets from Girl Power on our Instagram.
Text Shruti Kapur Malhotra