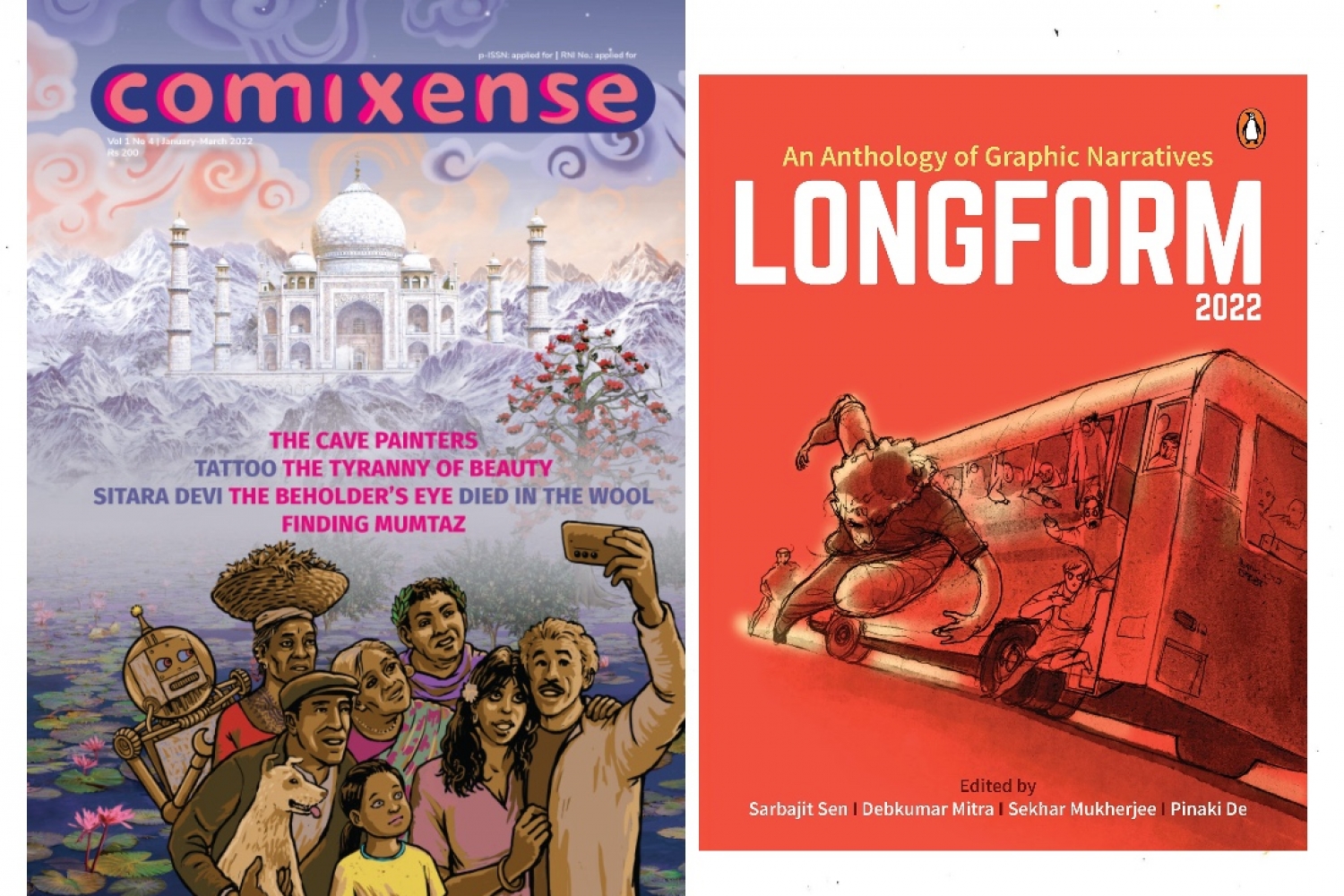 Graphic stories are a wonderful amalgamation of prose and pictures. They can come in the form of comics or graphic novels, engaging you thoroughly and capturing your imagination completely. So, we've curated a list of books with graphic stories you must read this month:
Longform 2022: A Collection of Graphic Stories
An eclectic anthology of comics. From Noah Van Sciver, Tanitoc to Jerry Antony, Sudhanya Dasgupta and Monisha Naskar, Gayatri Menon, Debjyoti Saha, Alendev Vishnu, Anirban Ghosh, Solo and Ojo, Ekta Bharti and Pavan Rujurkar, among others, Longform 2022 presents stories that subvert conventional narratives. Through stories about ordinary people, autobiographies, travel tales and more, this volume establishes comics as a permanent feature on a reader's shelf. The anthology takes us through around-the-corner dystopias, imaginary cities and kaleidoscopic dreamscapes.
Headland by Kate Schneider
In Headland, artist Kate Schneider pays tribute to her departed grandmother. A quietly powerful work of graphic medicine by a promising new comics talent. Following a stroke, 95-year-old Ruth wakes up in a cold, unfamiliar hospital. To escape her grim surroundings, she retreats into a wilderness within her mind. In this interior world she befriends a tortoise who accompanies her on a journey into the unknown. As the days pass, Ruth's hold on the material world wanes and she moves deeper into her own landscape.
Mr. Lightbulb
At once surrealist, comedic, heartbreaking, bitterly sarcastic, and deeply sincere, Mr. Lightbulb is an essential work of comics autobio. With bold, expressive ink strokes and brilliant use of visual metaphor, Wojtek Wawszczyk renders an affecting self-portrait, as his protagonist balances challenging family dynamics with his creative ambitions and desire to forge his way in the world. This book, which clocks in at over 600 pages, combines a grand scope with brisk plotting, adding up to a tour de force of artistry and honesty.
Fine: A Comic About Gender
As graphic artist Rhea Ewing neared college graduation in 2012, they became consumed by the question: What is gender? This obsession sparked a quest in which they eagerly approached both friends and strangers in their quiet Midwest town for interviews to turn into comics. A decade later, this project exploded into a sweeping portrait of the intricacies of gender expression with interviewees from all over the country. Tender and wise, inclusive and inviting, Fine is an indispensable account for anyone eager to define gender in their own terms.
Comixense Volume 1 Issue 4
In the January-March 2022 issue of Comixense, a young comics creator unpacks her relationship with ideals of beauty in The Tyranny of Beauty, a yesteryears film star finds liberation in becoming invisible to the public eye in Sitara Devi, a queer man learns to accept tattooing as a beautiful art form in Tattoo, a small-town boy's lifelong fascination with the grandeur and splendour of the Taj Mahal leads to a strange encounter with some relics of the past in Finding Mumtaz, a dog in the French countryside accidentally stumbles across a cave of many wonders in The Cave Painters, two robots in the far future come across a perplexing artefact in The Beholder's Eye, and a murder mystery in Imperial Rome unfolds around a rare and coveted colour in Died in the Wool.

Text Nidhi Verma
Date 15-04-2022