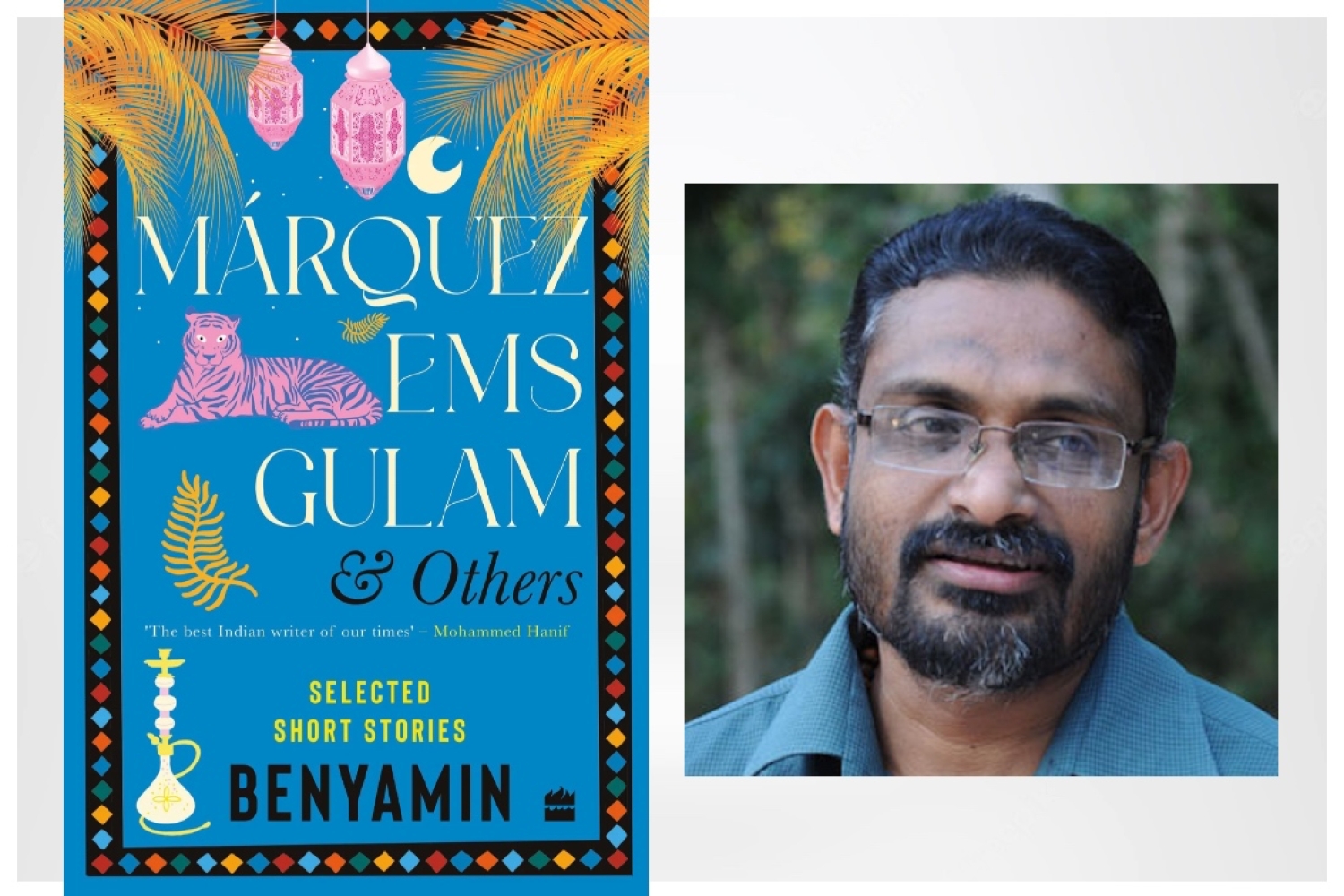 Marquez, EMS, Gulam & Others
"Short stories have great importance not only in Malayalam but also in world literature. Novels have increased in readership in recent times, but the importance of short stories has not diminished at all. I would describe short stories as poems written in prose. So much language and structure are important in the short story. Short stories are the perfect place to capture the experiences that fill our lives like a flash light," explains author Benyamin of his relationship with the literary genre. Marquez, EMS, Gulam & Others, a new collection of his short stories, translated into English, was recently released. "The basis of my stories are the helpless situations in which people get into knowingly or unknowingly. Through it, people, communities, races and sorrows that are unknown to us are brought before us. I believe that these stories fulfill the great task of getting to know the 'other' through it. That is the ultimate goal of story writing and reading. Get to know the other," reveals the author about his new short story collection.
Below, Benyamin gives us further insight:
We had the pleasure of interviewing you when your novel, Body and Blood, had released. Could you catch us up with what you've been working on since then?
The interview was a very pleasant experience. After that, I wrote two novels in Malayalam called 'Silent Journeys' and 'Tarakan's Chronicle'. Silent Journeys is about the global travel of nurses. Tarakans is an experimental, shuffling novel. The novel is written on 120 cards inside a box. The novel has a method that can be read in any order. Meanwhile, I wrote another novel along with ten young Malayalam writers. It was written in such a way that the first and last chapters were written by me and the other chapters were filled in by young writers. Then wrote a screenplay. Its shooting has been completed. The film is releasing in February. So it was busy days.
What inspired the creation of Marquez, EMS, Gulam & Others?
This collection consists of fifteen stories selected from stories written at various times during my twenty-five years of writing career. As I have said in the introduction to this book, none of these stories have been created by me out of thin air. They are all backed by an experience that touched me. These are the experiences that touched me during my life in the Gulf, during various trips, and in my life in Kerala. That's not what I was looking for to make the story. These are the ones that hit me unexpectedly. I made it into a story at the point where it left a wound in my heart and I couldn't help but tell you about it. I just wrote it that way because the best way to say it is as a short story.
Could you give us an insight into your writing process behind these stories, especially in terms of your varied characters?
Ghulam's character is based on an experience a friend shared while drinking tea in a street restaurant in Doha. It was the story of an animal that escaped from a private zoo in an Arab country and an old man who wandered in search of it. That little experience really touched me. I guessed his past and present. I could imagine his mental anguish. That is how Ghulam is born.
The Hmong people I met while working in Bahrain tell me their experiences, customs and histories. The story of 'EMS and Girl' is about a girl who accidentally meets a Malayali man in America. It was not difficult for me to go through the mentality of a girl arriving in America as a refugee. I have met many such girls during my many travels. When a character comes before me, I try to parallelise all the mental emotions they might go through, and I give them perfection.
For this collection, was there a singular thematic concern that pulled these stories together?
No, not like that. But I think they are tied together as stories of ordinary, marginalised, suffering, refugees. At the same time, this is not a theme based collection. I have tried to utilise all the potential of the short story in these stories.
Lastly, what are you working on next?
I am currently in the process of writing a novel based on the eighties. It is currently in the data collection period for that. There is some traveling to do for that. Only then I start writing. In any case, I am sure that a new work will be presented to you, but I cannot say when.
Words Nidhi Verma
Date 25-01-2023