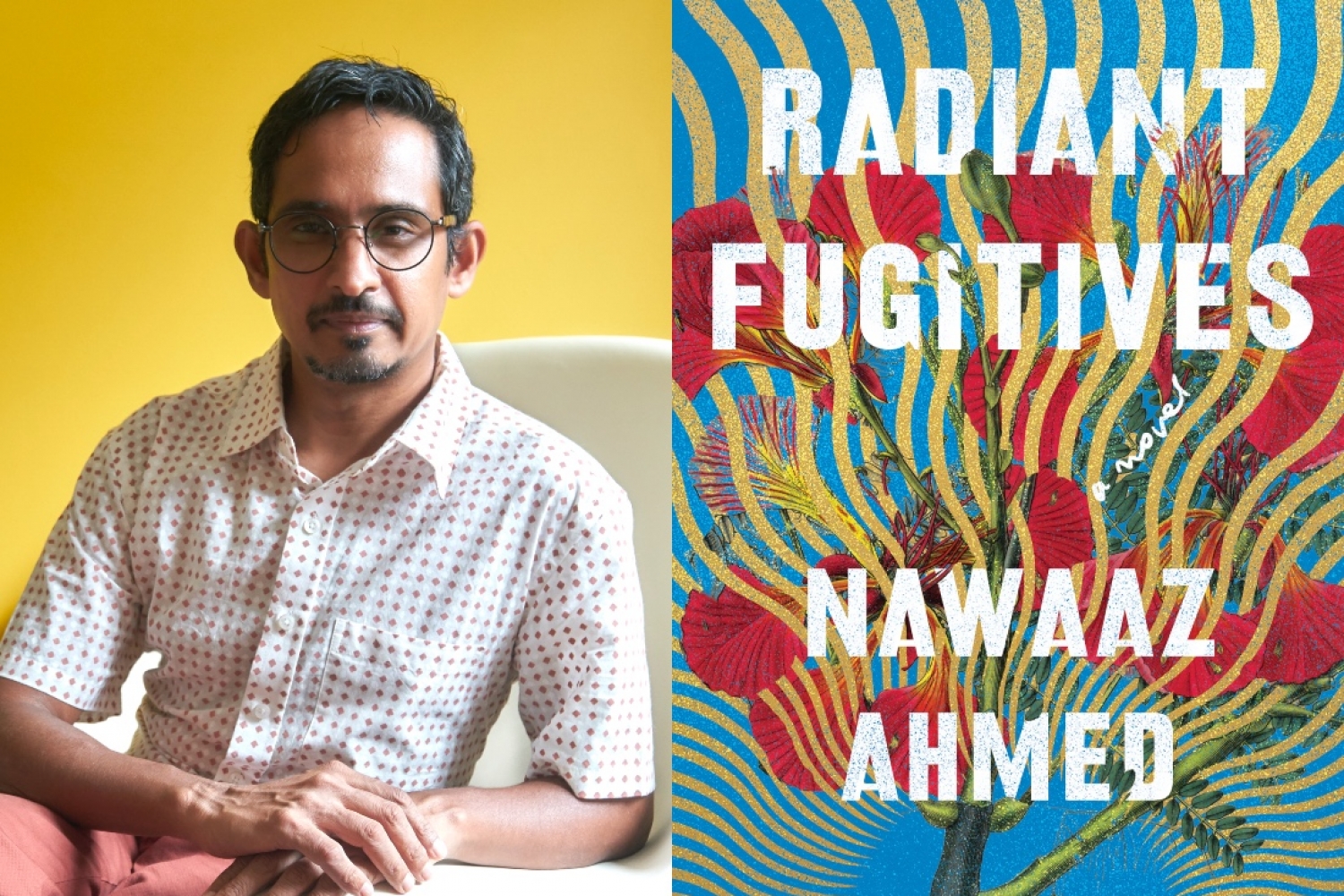 'If not love for my characters, at least empathy for them, an empathy that will be required if we wish to heal the deep divisions in our world,' says author Nawaaz Ahmed when asked what he wishes the readers take away from his remarkable debut book, Radiant Fugitives. These characters include a successful Muslim woman, living in the US and is a lesbian, now nine months pregnant and estranged from the father of her unborn baby; her sister, who is devoutly religious and a doctor, and their ailing mother. As these three profoundly different women come together, bound by filial bonds and unbound by their complicated relationship, they become a microcosm of the country and the era they live in, surrounded by discord and struggling with acceptance, forgiveness, and enduring love.
We connected with the author to know more about him and the book. Excerpts follow:

How were you led towards the world of writing?
Growing up in 1970s-and-80s Tamil Nadu, reading was my main source of escape —mostly mysteries and thrillers. And though I wanted to write similar books myself, I only managed to write the occasional poem, with labored rhymes. I saw no clear path to writing as a career, so I concentrated on Math and Science, which I was good at, hoping that someday I would be able to pursue my other interests. That day came when I got my green-card in the US through work at Yahoo, and I could then quit my job and attend an MFA program to teach myself how to write. By then my interest had shifted to more literary writing, perhaps as a result of the poetry and choreography courses I took while pursuing my PhD (in Computer Science) in the US.
What inspired your debut book, Radiant Fugitives?
I woke up one morning (more than thirteen years ago, when I was preparing my writing portfolio for my MFA applications) with a scene that I wrote down immediately: two Muslim sisters sipping tea, one of them a single mother-to-be nine-months pregnant, the other devoutly religious, their dying mother asleep in the adjacent room, the air crackling with tension. The novel grew out of that scene — could the divisions that had sprung up between the sisters be healed?
What is at the core of your book?
At the core of the book is a family divided along lines of faith and sexuality, trying to reconcile even as external events stemming from a divided country exert additional pressure. The sisters are immigrants to the US, and the book is as much about their place in America as it is about them.
Could you give us some insight into your creative process behind the book?
I wanted to write a book that moved with the force of poetry — associative, allusive, and capable of encompassing the universe. The short sections, the multiple shifting perspectives, the inclusion of poetry, verses from the Quran and lines from political speeches, and an omniscient narrator capable of tackling any topic allowed me to do that. Still, it took me many years of revisions to craft a novel that felt propulsive, even as it sought to encapsulate a decade of American history, from 9/11 to the first two years of an Obama presidency.
Were there any influences, literary or otherwise, that guided or informed your writing of this book?
One book that I reread multiple times during the writing of this book is Tolstoy's War and Peace. The breadth of ambition, the humanity of all its characters, the weaving together of history and fiction were all sources of inspiration. Apart from that, a lot of different poetry — the poetry of John Keats, of course, which plays a large part in the novel, but also the serendipitous poems I found recommended on daily sites.
Identity, family, history and belonging are some of the main themes of your narrative. How have your own roots affected this book's creation?
Growing up gay in India, I felt I had to leave family, home, and country in order to be able to explore and live the truth of my sexuality, just like my novel's protagonist Seema. While not autobiographical, the book definitely deals with the ramifications of such a dislocation, how the quest for identity and authentic living is complicated by the need for belonging and family. Moving to America brought other forms of 'othering' into play — being brown and Muslim in a country with a racialized past and a distrust of Islam. My novel sought to make sense of some of these complex fault-lines.
What challenges came your way with this debut endeavour?
The biggest challenge was how to keep going, draft after draft, as the years progressed, especially as the novel continued to grow in scope. Other challenges included how to hold on to and shape the book's interest in politics and current events, which is usually not regarded as saleable in a debut novel. I'm grateful to my agent, and my publishers in the US and India, for taking the risk.
How have you been coping with the pandemic personally and as a writer?
In my mind the pandemic has become intimately twined with the release of this book. I spent last year holed up in my apartment in New York, working on the final draft of the novel with my editor, and this year preparing for its publication and promotion, as the pandemic raged outside. On the one hand, I'm grateful to have been so gainfully occupied, on the other hand, writing has taken on the dark colors of the pandemic, the distress and helplessness of friends and family and countrymen suffering, both in the US and in India.
Lastly, what's next?
Some other book, I hope, something as unlike Radiant Fugitives as possible!
Text Nidhi Verma
Date 02-09-2021