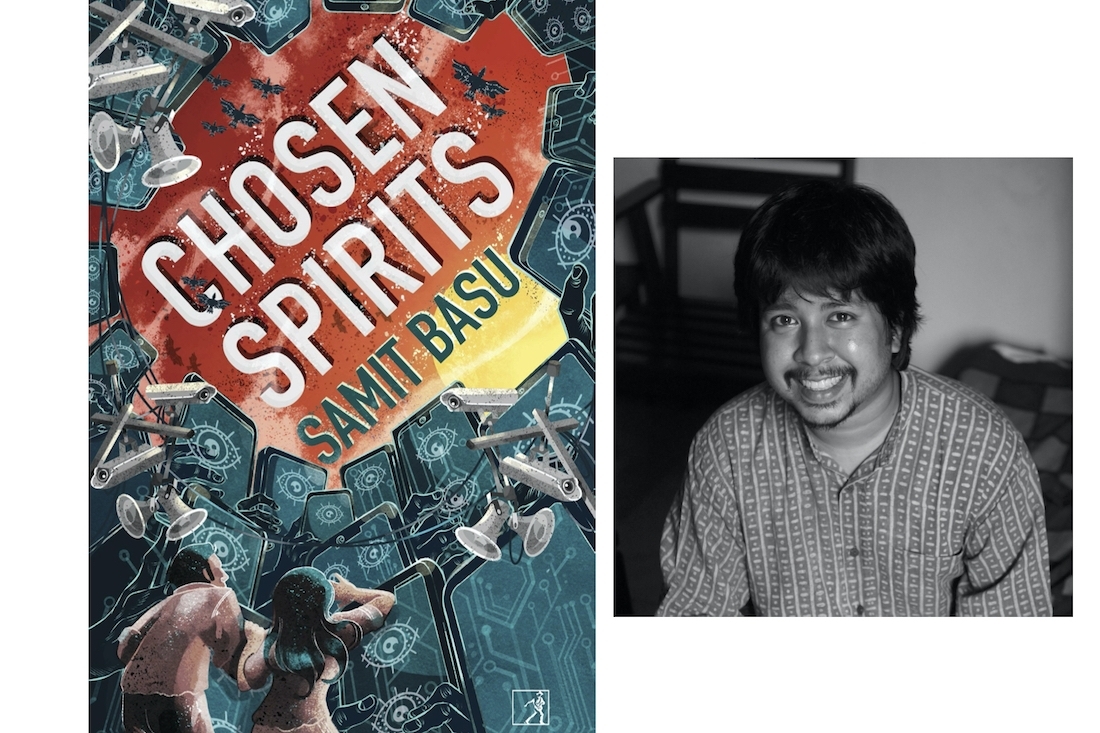 Samit Basu: Chosen Spirits
Shortlisted for the JCB Prize for Literature 2020 Samit Basu's Chosen Spirits is a cautionary tale of a dystopian future. The book follows Joey, a Reality Controller -- image builder for the famous, who is faced by unnamed evils each day at work and personal fronts. When Joey impulsively rescues a childhood friend, Rudra, from his new-elite family and the comfortable, horrific life they have chosen for him, she sets into motion a chain of events — a company takeover, a sex scandal, a series of betrayals — that disintegrates not just their public and private selves, but the invisible walls that divide the city around them. To find the lives they need, Joey and Rudra must reckon with people and forces beyond their understanding, in a world where trust is impossible, popularity is conformity, and every wall has eyes.
Samit Basu is an Indian novelist, film director and screenwriter. His first novel, The Simoqin Prophecies, published by Penguin India in 2003, when Samit was 23, was the first book in the bestselling Gameworld Trilogy and marked the beginning of Indian English fantasy writing. The other books in the trilogy are The Manticore's Secret and The Unwaba Revelations. Samit also works as a film director and screenwriter. His debut film, House Arrest, was released as part of Netflix's International Originals in 2019. In conversation with the author below.
What led you towards the world of writing and filmmaking?
A lifelong love for storytelling in every form. A desire to do something I loved for a living. Wonderful, supportive family and friends. Opportunity, privilege and luck. I think growing up in the 90s in an India that was trying to be open, globalised and forward-moving, had a large part to play in it as well: people like me, who didn't know anyone in the creative fields, were wondering in large numbers whether being a doctor/engineer/MBA were what they wanted to do -- we had choices our parents' generation didn't have.
What inspired Chosen Spirits?
A desire to understand the approaching future, where we will face multiple-choice apocalypses -- political, social, climate-change-led, technology-led, automation-led. I wanted to look at familiar spaces in the near future, but above all else to look at familiar people -- people like myself and those I know, who have the option to stay safe and privileged while the country collapses around them, in exchange for silence, collaboration and apathy.
What kind of challenges did you face while writing this book and what do you hope the readers take away from this story?
It was a difficult book to write, both physically and emotionally, and I hope readers take away a sense of identification with the characters, an understanding of the themes, and an appreciation of the ideas. I'm glad that so far with the reviews and sales and word of mouth, the response has been encouraging.
How do you feel about being shortlisted for the JCB Prize for Literature this year, and what has the experience been like?
It is lovely to be included in the list for such a prestigious prize. Strange, though, for it to be in a year where it's all digital. I've attended previous ceremonies, which were very enjoyable.
How have you been coping with the pandemic and what will be the new normal for you post it?
I'm privileged enough to be safe, so primarily what I'm experiencing is worry for people I know. We are all unlucky to be stuck in the country that has neither the will nor the resources, nor the basic empathy to fight the pandemic: it is simply not a political priority. So who knows how long it will last, or how many more people will die.
Lastly, what are you working on next?
A bunch of things I am contractually forbidden from discussing, and a book, although it's too early to talk about it.