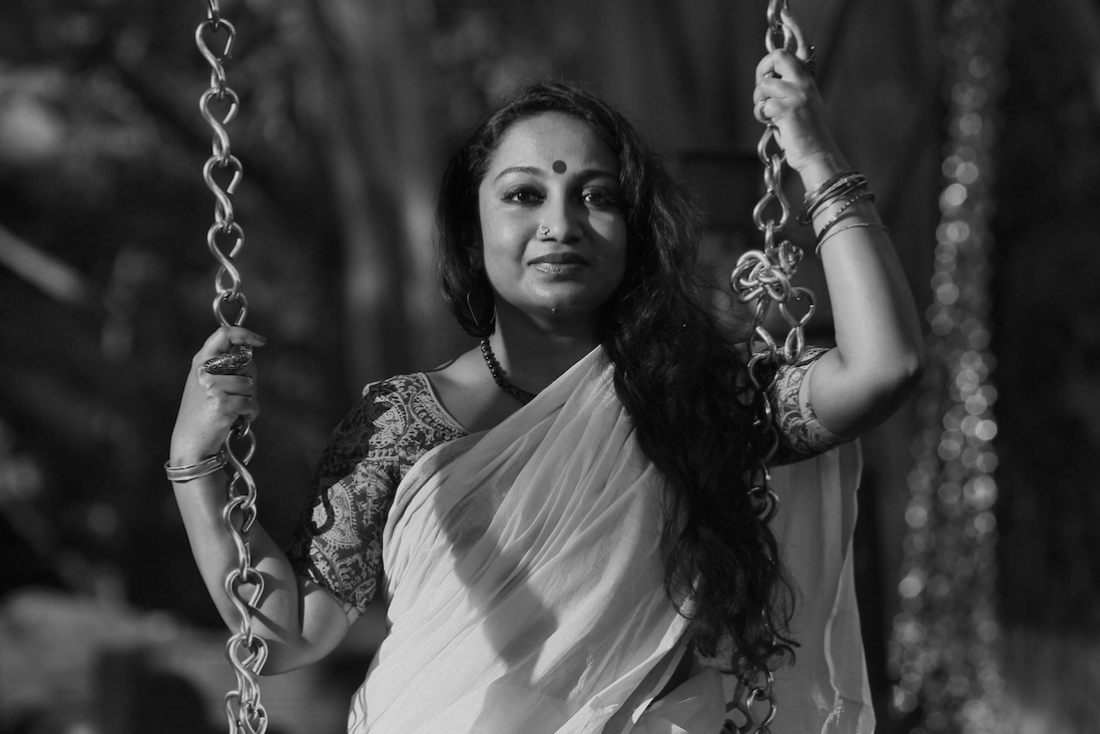 Sharanya Manivannan is a name that is well known and widely appreciated in the wolrd of literature. She is the author of the short-story collection The High Priestess Never Marries, which won the 2015-16 South Asia Laadli Media and Advertising Award for Gender Sensitivity (Best Book – Fiction) and was shortlisted for the TATA Lit Live! First Book Award (Fiction) and longlisted for the Atta Galatta – Bangalore Literature Festival Book Prize. She is also the author of two books of poetry, Witchcraft and The Altar of the Only World, and a picture book for children, The Ammuchi Puchi.
In her debut novel, The Queen of Jasmine Country, Sharanya Manivannan imagines the life of the devotional poet Andal, whose sublime and erotic verses remain beloved and controversial to this day.
Tell us a little bit about how your journey as a writer began and how it has been so far.
I started to write when I was 7 years old, started to publish in magazines a few years later, started to perform at readings in my mid-teens (at the same time, I also began to work as a journalist, and was not fortunate enough to finish college), and published my first book at 23, which was also the year I got my own newspaper column. Those were the significant milestones of my early writing life, but after that is when things got interesting. There was an 8-year gap between my first and following books, during which my life was richly textured (which is not to say that it was not mostly anguish, which it was, but that is never related to whether or not one is publishing books). Career-wise, I was quietly writing, still publishing in journals, having many professional failures. At one point, I relinquished the idea of ever publishing another book, and I'm still in frequent, grateful amazement at what unexpectedly transpired. The turning point for me came in 2015, which was when I was commissioned to perform a poem at the Commonwealth Day Observance in London, and also the year in which received 3 book contracts for manuscripts long in the making. In retrospect, I can say this wholeheartedly: for someone who might be described as having been a prodigy, that long period without success was a very good thing. That 8-year gap, its textures and teachings, has been what has allowed me to cope healthily with having had 4 books published in the last 2 years.
Because let me tell you this: your personal life and your public life are not the same thing. It's dangerous to buy into the idea that they are, even when one is relatively open and always honest. For instance, I've had a difficult year personally, but have also had visible career growth. I've watched other people who are having similar experiences use their work as a kind of drug to stave off having to look into their own hearts, and into the eyes of the people they know beyond that work. And I'm concerned for their eventual trajectories, and so am also very careful about my own priorities. The small things always come first for me. There is a quote I live by, by the writer Aaron Belz: "Love is the king, art merely a jester."
How would you define your relationship with writing as and which authors or books were your early formative influences?
What I said above – on love and art – matters to me a lot, now. But that is now, at the place I am currently at in my career and mindful of what I still want to do. Beneath this necessary conviction are older, stronger veins. Writing is what assuaged my lonely childhood. What kept me alive through dysfunction and abuse within and beyond the family. Writing is what gives me, still, a way to understand my own life. A way of being my own witness and own beloved.
My late teens and early twenties were when my voice became shaped. I devoured books by women of colour, as well as translations. Among the writers who influenced me most were Louise Erdrich, Sandra Cisneros, Michael Ondaatje, Arundhati Roy, Gloria Anzaldua, Adrienne Rich, Dorianne Laux, Ai, Joy Harjo, Barbara Kingsolver, Isabel Allende, Ntozake Shange – and so many more. The translator who changed my life was A.K. Ramanujan.
Why did you choose to revisit the life of Kodhai for your debut novel?
It wasn't a choice, actually. I've been working on another novel for over a dozen years, and never imagined I would have 5 books published now and it still isn't one of them. But I've always had several manuscripts simmering at the same time, for very long periods. In 2014, two dreams about Andal (in one, she told me to write a novel about her) inspired me to add one more note to my list. In late 2017 (just as my most recent collection of poems, The Altar of the Only World, was published), I had slowly begun to return to my forever-in-progress novel and a related graphic novel. I had been to Sri Lanka thrice in a year, and felt ready to get back to work – both those manuscripts are set there, where my roots are. And then Kodhai came to me, and overwhelmed me. I had a draft of Queen in six weeks. Writing the book was an experience of surrender, of intimacy, of the sublime – but I cannot honestly call it a choice.

How hard was it to fictionalise and write about the life of someone who is so mysterious and also quite controversial?
There were events in my personal life that preceded the writing, seeing bigotry in the faces of those I loved and learning to accept that I could lose them, that made it painful for me. But otherwise, it was not a challenge to keep aside the knowledge (and the fear) that the poet who had come to me as muse was someone who had been appropriated almost in totality by misogynist, casteist bastions. If creating her character had been an intellectual exercise, it would not have been possible for me to continue, knowing the risks. But everything about writing Queen was intuitive, so intuitive that even the mysteries unknotted themselves as I went on.
What do you think is the significance of a poet's personal life on his or her work? What did you garner about this fact while writing your book?
This is really what Queen is about – the interior life of a celebrated poet, whose legend has overshadowed her literature. There is a reason why I draw such a clear distinction between Kodhai, the protagonist in my novel, and Andal, who is a part of the Tamil Vaishnavite pantheon. Andal is an epithet, meaning "she who rules", which was given to her later. The young woman who wrote those poems knew herself as Kodhai, which means "strung flowers". When you compare her poetry to the hagiography around her, there are so many things that do not quite align. The orthodox method is to either ascribe philosophical interpretations to her work (in other words, to say that she did not really experience the emotions revealed in those lines, but found them worthy metaphors which we are also meant to transcend), or to erase it selectively. There are two works attributed to her: the girlishly joyous Tiruppavai and the despairing Naciyar Tirumoli. (Her translators into English include Archana Venkatesan, Priya Sarukkai Chabria and Ravi Shankar, P.S. Sundaram and Vidya Dehejia).
One of the mysteries to me was why the Tiruppavai and the Naciyar Tirumoli differed so much in tone. For a long time, as a reader, I simply thought that they must have been written quite far apart, during which the poet must have undergone experiences that broke her heart and even embittered her. But then I realised that the latter work begins exactly where the former ends, chronologically speaking. The Tiruppavai ends as the month of Margali closes, and the Naciyar Tirumoli begins as the following month of Thai begins. What if the writing of the two works was not far apart; and if so, what could have happened in just a month? I found my answer, and thus the plot of my novel, in an academic paper by Dennis Hudson called "Tantric Rites in Antal's Poetry". So in Queen, Kodhai undertakes a ritual vow with her friends that promises to bring her a lover, a husband. During this time, she writes the Tiruppavai – asking, expecting to receive. When the vow yields nothing, she begins secret rites on her own. This is when she begins writing the Naciyar Tirumoli – now she is demanding, sexually explicit and her mood turns darker; she writes of not fitting into society, of withering away. Gone is the girl, and in her place is a woman. The writing of the two works is a very important part of Queen. If you hear oral narratives in ordinary households about Andal, you'll note that the hagiography pays almost no attention to the actual writing of these texts. You will hear in adoring detail about her mysterious discovery as a foundling in a tulasi grove, about her stealing the garland made for Vishnu and then being caught, about her eventual sublimation into the idol of Ranganatha in Srirangam. But you'll never hear about how she sat down and put stylus to palmyra leaf, and put down the words.
I know that in my own description of writing my novel, I spoke of having been overwhelmed and inspired – in the literal sense, as another translator of Andal, H.S. Shivaprakash, deconstructed the word for me once: "in-spired: to be breathed into by the gods". But there is more to it than that, for what I have described is only the actual act of writing, the limited time within which Kodhai-Andal flowed through me in torrents. There is also the question of receptivity. Within the lines of Queen are seeded the experiences I had that gave me empathy for my protagonist: I know what it's like to be a gifted and lonely teenager, I know how powerful sexual awakening is, and I know – oh, how I know – what it is like to long for love, desperately, and not be able to have it, to keep it, or even to find it.
Every writer lives inside her language. Tells her truth inside fiction. One does not need to have a vast life in order to write. You could be a teenager in a small town in 9th century South India, for instance. And you could still contain within you everything.
So Kodhai dreaming of the mythical landscape of Ayarpadi gives birth to another rendition of herself within that dream, committed to permanence in her poetry; and then there was me here in the 21st century spending my nights and days imagining Puduvai, conjuring up a whole life. Dreaming of the dreamer, who dreamt within my dream of her.

Lastly, what are your plans after this book and are there any other writing projects that you are working on?
I would love to return to the two Sri Lanka projects that writing Queen deferred, but I am happy to share with you that on my ever-unfinished dream-list are also a poetry collection, a short story collection, a children's book and another short novel. I truly do not know which among these will I next be immersed in. My approach to creativity is simply to put myself in the way of the miracle, be open to it, and wait for it. All things take, and arrive in, their own time.
TEXT Nidhi Verma