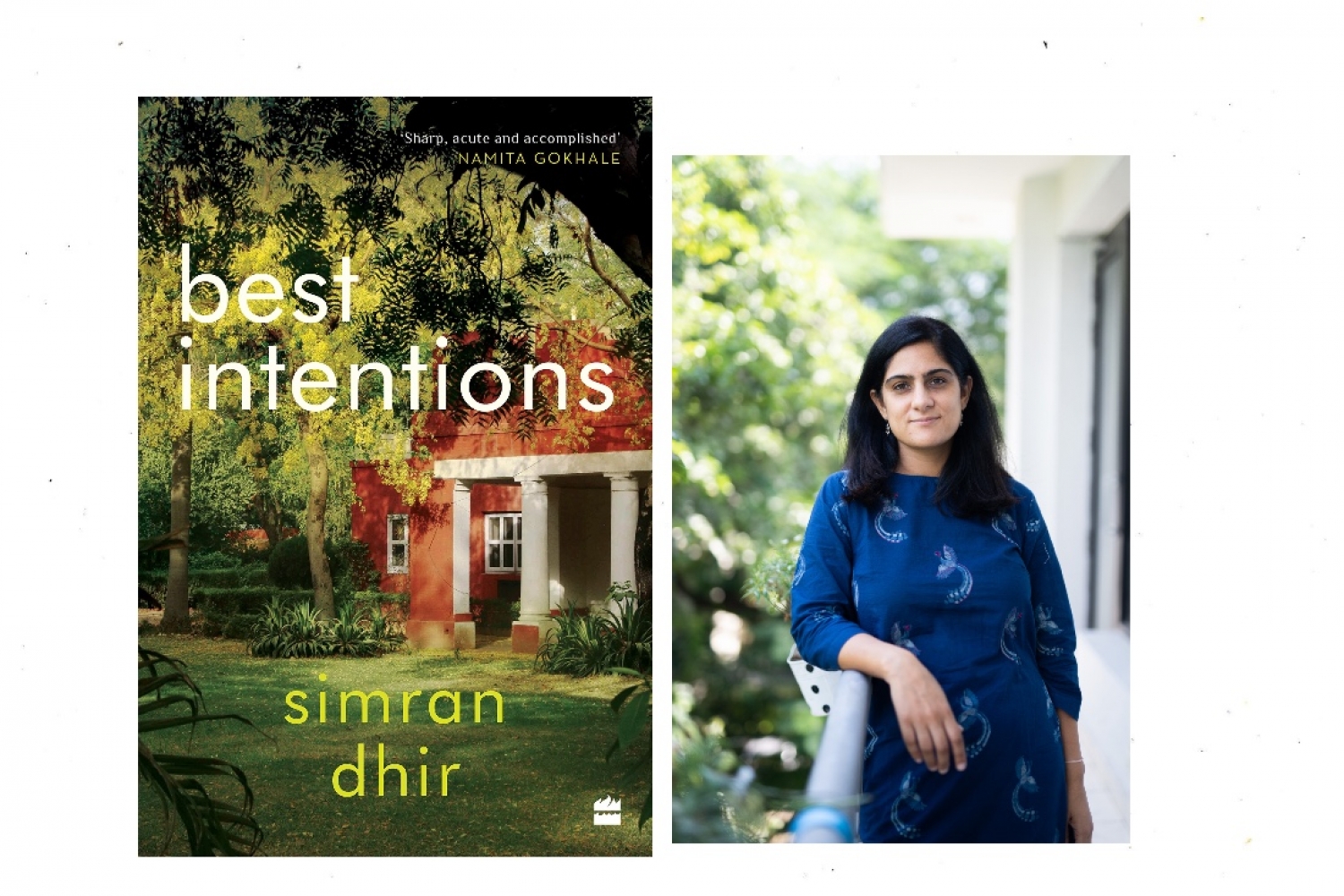 An astutely crafted novel of manners, Simran Dhir's debut book Best Intentions, is an unputdownable read. The familiar setting of Delhi, a gamut of intriguing characters, contemporary thematic concerns and a propulsive narrative, come together to create a book that is at once entertaining and enlightening. The author lends us some insight into the book and its creation below:
The Author
I have always been a reader. Growing up, my four older sisters had books stacked in all corners of our home and, as a result, I was reading ahead of my age through my childhood. Becoming a lawyer was completely accidental, but being a reader is what led me towards writing.
The Book
I had taken some time off full-time work in 2014, and started to go every morning to a library in GK II, in Delhi. It was a basement library with no phone signal, full of books on history and geography. I used to read and take notes, without a real end in mind. I just really enjoyed the few hours I spent there every day. It was during this time that I started to think more deeply about history writing and different versions of history. This was also the time when I had a strong urge to write a story.
So I started writing about Gayatri, a girl living in Delhi, who has quit being a lawyer to work with a historian. Today's India, and Delhi specifically, came naturally as a context because that is the setting I knew best at the time I started writing. Also, Delhi allowed me to choose a set of characters that were familiar enough to (hopefully) be authentic.
The Core
At its core, the novel is a love story set in Delhi, but the novel's political plot tries to convey both the sense of anger and helplessness felt by people at the receiving end of the atmosphere of bullying and violence in India and the sense of inadequacy felt by liberals, sometimes, when confronted with biases and gaps in their own understanding of India.
The Protagonist
Gayatri was the first character I conceived, among the cast of the book. She is a strong, opinionated woman, but not without flaws. I imagined her as someone from a particular class of Delhi society, at an age where everyone is pestering her to get married, but she has weightier issues to deal with. Akshay and Vikram, the two key male characters in the book, conflict with her in certain fundamental ways and the events in the book lead all three to shift their outlook on life in some manner.
Her character came naturally to me, but I did have to consciously develop her 'arc' in the book, that is, make sure she wasn't a hero from beginning to end, but that this story changed her in some way too.
The Creative Process
I don't have a structured creative process. In fact, while writing, I didn't have a timeline or word targets or even imagine this book being published. I started with a cast of characters in mind, the two Delhi families and my three protagonists; I knew their basic motivations, and also broadly where they would end up, but I came to my desk every day not knowing what they were going to do that day. It was a lot of fun.
I love novels that include a romance, but also focus and comment on social or political issues. I also watch a lot of visual series and dramas that are similar in style. Though I wasn't consciously doing this while writing, I have written a book that I'd like to read. Also, I think the atmosphere of political change in India around 2014 also influenced the creation of the narrative.
The Challenges
I didn't face any challenges in the writing; I enjoyed it immensely and woke up each day impatient to get to my writing spot so I could write. I think it was quite challenging to get through the phase of finding out about, and approaching, publishers and agents. It's not easy to break into this space, and unless one is really lucky, there is a lot of rejection to be braved. But if you've written a story that you love, you just plough through it all somehow. And once you find the right editor, the struggle seems worth it.
To The Readers
I hope they love the characters and their world, and think about them after they finish the book. I also hope they take away a sense that even in these polarised times, things are not always black and white.
The Pandemic
The beginning of the pandemic was strange and scary, but my five-year-old son made sure my husband and I were living in the moment for most of it. Some periods of the pandemic were tough, but they too passed. I haven't written a great deal during the pandemic. I spent a lot of time editing this book. But I did have a wonderful writing group in Bangalore where we read and reviewed each other's work even in lockdown.
The Future
I have started writing another novel, also set in Delhi. It will center around a set of characters from a different part of Delhi, quite unlike Gayatri and Akshay.
To read our review of the book, buy the copy of our all new Bookazine here.

Date 17-01-2022