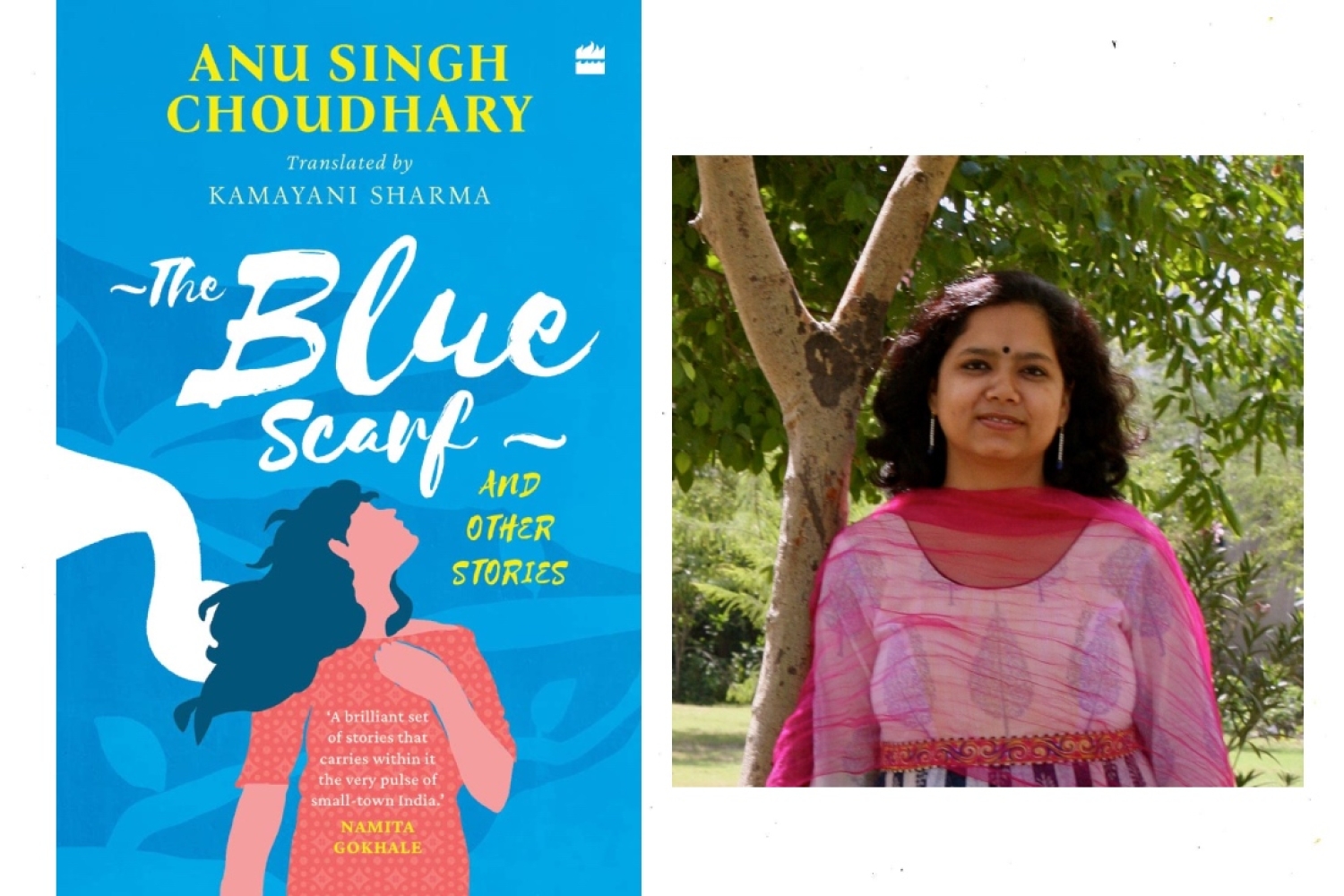 The Blue Scarf and Other Stories
The Author
Anu Singh Choudhary was born in a village in Siwan, Bihar and grew up in a fairly lower middle class neighbourhood in Ranchi. The quest of higher education and opportunities brought her to Delhi, where she lived for over twenty years, after which she shifted to and currently resides in Mumbai, "because of my own need and greed for more work, more exposure and more opportunities," she confesses.
"The one thing that has stayed a constant in my life, like most of us, are stories. The stories that adults told us to amuse us, to trick us, to cajole us. The stories about ourselves that we created in our heads and wanted the world to believe in. The stories that master storytellers and practitioners of various art forms had been telling the world, despite all their internal and external struggles in order to document their lives and times. Very early in my life, I had realised the power of stories — both oral and written. I'd also realised that written stories are more immortal, even though you move on and/or decay as an individual. Storytellers die, stories don't. It was this realisation (which some may call greed to be famous and almost immortal) that led me to the world of writing," reveals the writer, whose book of short stories, originally written and released in Hindi, is now being translated into English, titled The Blue Scarf and Other Stories.
The Translator
"My experience with translation before this was mainly in the context of poetry and critical writing. I had been looking to work on prose when HarperCollins approached me with the commission a couple of years ago. The first story I read from Neela Scarf (The Blue Scarf) could well have been told to me by a friend or appeared on my social media feed," Kamayani Sharma recalls the beginning of her journey as the translator behind The Blue Scarf and Other Stories. "I enjoyed the collection's slice-of-life tales of small-town young women navigating the city. Anu's straightforward tone and breezy style were relatable to me as a reader from the same world as her characters. These narratives are seldom represented in popular Hindi fiction, which has tended to be centred on the experiences of men. So, I was happy to take up the project."
The Book
Slated for release in January 2023, The Blue Scarf and Other Stories revolves around various women, who navigate the diverse circumstances that arise from living in India and their unparalleled resilience. "The women around me — some my peers, some older and quite a few of them who are younger than me. These women and their untold stories of relentless search of a world that could've been a fairer one has been my only inspiration not just for this book, but for almost everything that I write, or will ever write," acknowledges the author of her predominant thematic inclination. She further informs me that, "The courage of these myriad characters, especially women, who hail from different worlds but share their faith in pursuit of a world beyond the uncomfortable status quo — that forms the core of this book."
Women writers were hence her primary influences as well. "Ismat Chugtai and Krishna Sobti are two of my favourite writers. I wish to be influenced by their courage with the characters and way with the language, but it's a long arduous journey of saadhna… riyaaz… relentless practice of writing. And then there is Nora Ephron. If only I could be half as witty, half as prolific," she exclaims.
The Composition
The author admits that there has been no consistent creative process she has followed to write the short stories. "More often than not, a character appears on a page followed by her world and the rest of the story follows in exploration of this world. This may sound a little abstract, but I have never planned a short story. Long format, however, requires a great deal of planning and structuring, which is another kind of process. Which is why I find writing short stories liberating. They are like small doses of safe spaces (and gratification) that I keep going back to every time I am dealing with physical fatigue and mental exhaustion."
In terms of translation, Kamayani's process focussed primarily on making sure that the stories were found and not lost, in translation. Giving me further insight, she shares, "I think my process was quite simple, really. I read the collection through to get a sense of the tenor of Anu's voice and a feel for the plots. This helped me figure out how to approach the collection overall, because there has to be a unifying quality that results from the original writer's vision. Then, as I worked on each individual story, I would read the whole of it closely again and then work line by line, paragraph by paragraph. I tried to adopt a method of zooming in and out of the text by reading it with fresh eyes every few pages. This was to keep the translation supple and avoid common pitfalls like calques and stiff dialogue. On the whole, Anu's language is crisp and candid, in keeping with the forthrightness of the stories she writes. So, my focus was to retain that quality without robbing it of its texture."
This article is an all exclusive from our January EZ. To read more such articles, follow the link here.

Words Nidhi Verma
Date 24-01-2023