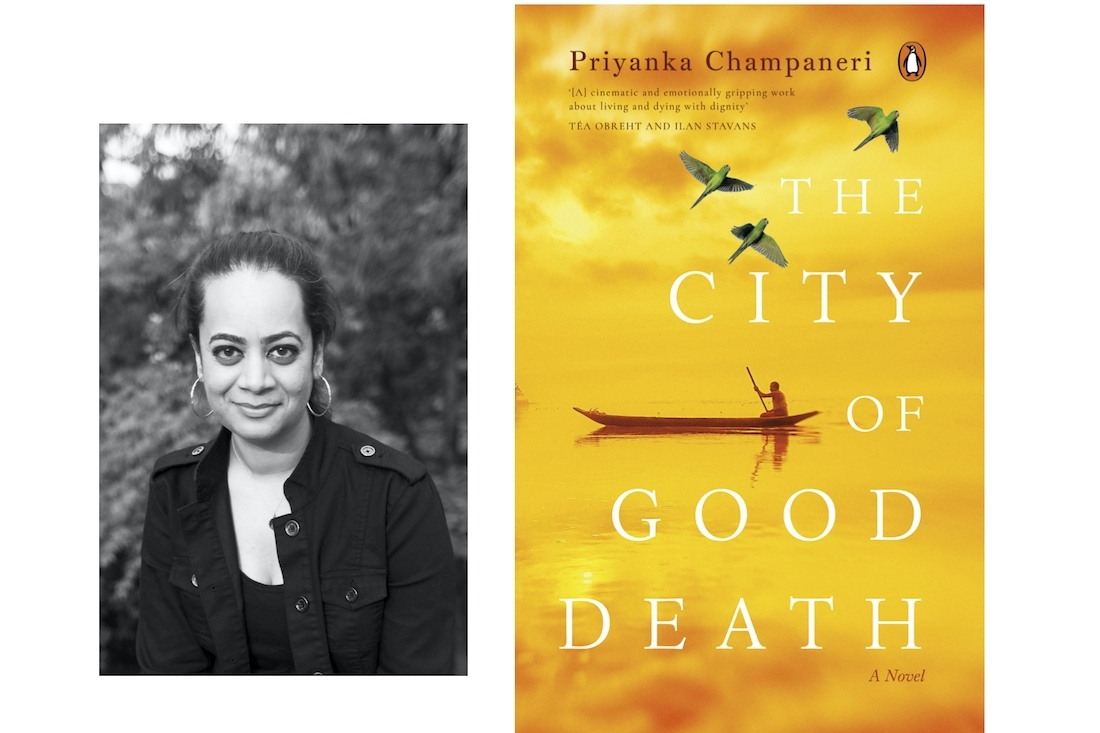 The Book
Winner of the Restless Books Prize for New Immigrant Writing, Priyanka Champaneri's transcendent debut novel The City of Good Death, explores vividly the notions of family and love, memory and ritual, and the ways in which we honour the living and the dead.
Banaras, Varanasi, Kashi: India's holy city on the banks of the Ganges has many names but holds one ultimate promise for Hindus. It is the place where pilgrims come for a good death, to be released from the cycle of reincarnation by purifying fire. As the dutiful manager of a death hostel in Kashi, Pramesh welcomes the dying and assists families bound for the funeral pyres that burn constantly on the ghats. 'The soul is gone, the body is burnt, the time is past,' he tells them. 'Detach.' But one day the past arrives in the lifeless form of a man pulled from the rivera man with an uncanny resemblance to Pramesh. As the unwelcome guest takes up residence in the death hostel, the dying mysteriously continue to live, and Pramesh is forced to confront his own ideas about death, rebirth, and redemption.
The Author
I've been an avid reader since childhood, but writing came to me later in life. All the way up through college, I never tried to write fiction mostly because I assumed I would fail. Because of my deep and varied reading history, I knew how hard it was to tell an interesting story, and I didn't think I was capable of creating something that matched the books I'd fallen in love with over the years. The only reason I finally tried was because of the individuals I met along the way, who pushed and nudged me along the path of writing. I've been so fortunate to have professors and mentors in my life who took an active interest in me and urged me to try writing fiction in a serious way.
In those early years, I was writing primarily because I felt gratified for the support and obligated to at least try. I don't think I realised that this was something I wanted to do seriously until after I graduated with my MFA. By that time, I had a few hundred pages of The City of Good Death written, enough to have a foothold into the story and a feeling that this was something I needed to see through to completion. For the first time, I felt obligated to work. I wanted to finish writing the novel because I needed to see what happened to these characters, who were now living in my mind.
The Influences
The books that I fell in love with as a child are ones I still look to, including all the volumes in Andrew Lang's Fairy Book series, Indian Fairy Tales collected by Joseph Jacobs, and the many comics issued by Amar Chitra Katha — their adaptations of The Mahabharata, Shakuntala, Dasha Avatar, and more. I also loved the sinister humour in Roald Dahl's writing, especially Fantastic Mr. Fox and The Twits. The books I love as an adult are just as influential on me, including Midnight's Children by Salman Rushdie, A Suitable Boy by Vikram Seth, A House for Mr. Biswas by V.S. Naipaul, and any book by Anita Desai, Penelope Fitzgerald, or E.M. Forster. I love an intensely detailed and engrossing epic novel, but I'm equally drawn to the books that can be incredibly concentrated in their form and on the sentence level, with a devastating emotional punch.
The Inspiration and Process
After college, a friend sent me a link to a Reuters article titled 'Check in and Die in Two Weeks, or Get out.' That article turned out to be about the death hostels in Banaras. I was raised in a Hindu household, so I knew that Banaras was an important and holy city, but I was totally unfamiliar with the death hostels. The idea of setting a story in such a place captivated me, but it was many years before I took the leap to write a novel.
I consider myself an organic writer, which means I never know the full plot of a story when I'm working on it — the process of writing is also a search to find out what happens next. This can be incredibly thrilling, especially when a character does something I wasn't expecting, or a twist in the plot occurs that suddenly makes everything fall into place, but it can also be very painful and involve many weeks of wandering in directions that lead nowhere.
The Challenges
My biggest challenge is that I have not, to this day, visited Banaras. I've visited India several times, always as a tourist, but I have yet to see the holy city in person. Additionally, I cannot claim Banaras in my family's heritage — my parents are from Gujarat, and I have the additional layer of separation in being born and raised in the United States. I felt very hesitant to write a book set in Banaras because I did not think I was the right person to tell the story, and for many years I pushed the idea aside. But in that time, I focused on learning everything I could about the hostels and the city. I initially just wanted to understand the religious underpinnings behind Banaras's holy status, but I ended up falling deeper into the research and expanding beyond memoir and ethnography to documentaries, film, and books of photography.
And then something interesting happened: as I was taking down research notes, other things began to pop into my head — character voices, bits of dialogue and scene. I started writing those down as well. The story just brewed on its own in my mind until I was intrigued enough to finally give myself permission to start thinking about writing a novel. And while I lacked personal experience with the city, I drew from what I did have: my lifelong experience with the Hindu philosophy; an intimate understanding of relationships and communal structures in a specific kind of society; and an intensely visual memory that had stocked away every detail I had absorbed from my travels to India.
The Future
I'm very lucky to have remained employed and safe with my family close by during this last year, especially given how many people globally have suffered — and are still suffering — so much hardship. I try to keep myself occupied mentally, and when I'm not working I'm reading, trying to write, knitting, or watching movies. I'm very superstitious, so I can't speak to what's next in any specific way, but I would love to continue to write more novels, and to grow and challenge myself as a writer.

Text Nidhi Verma
Date 01-03-2021